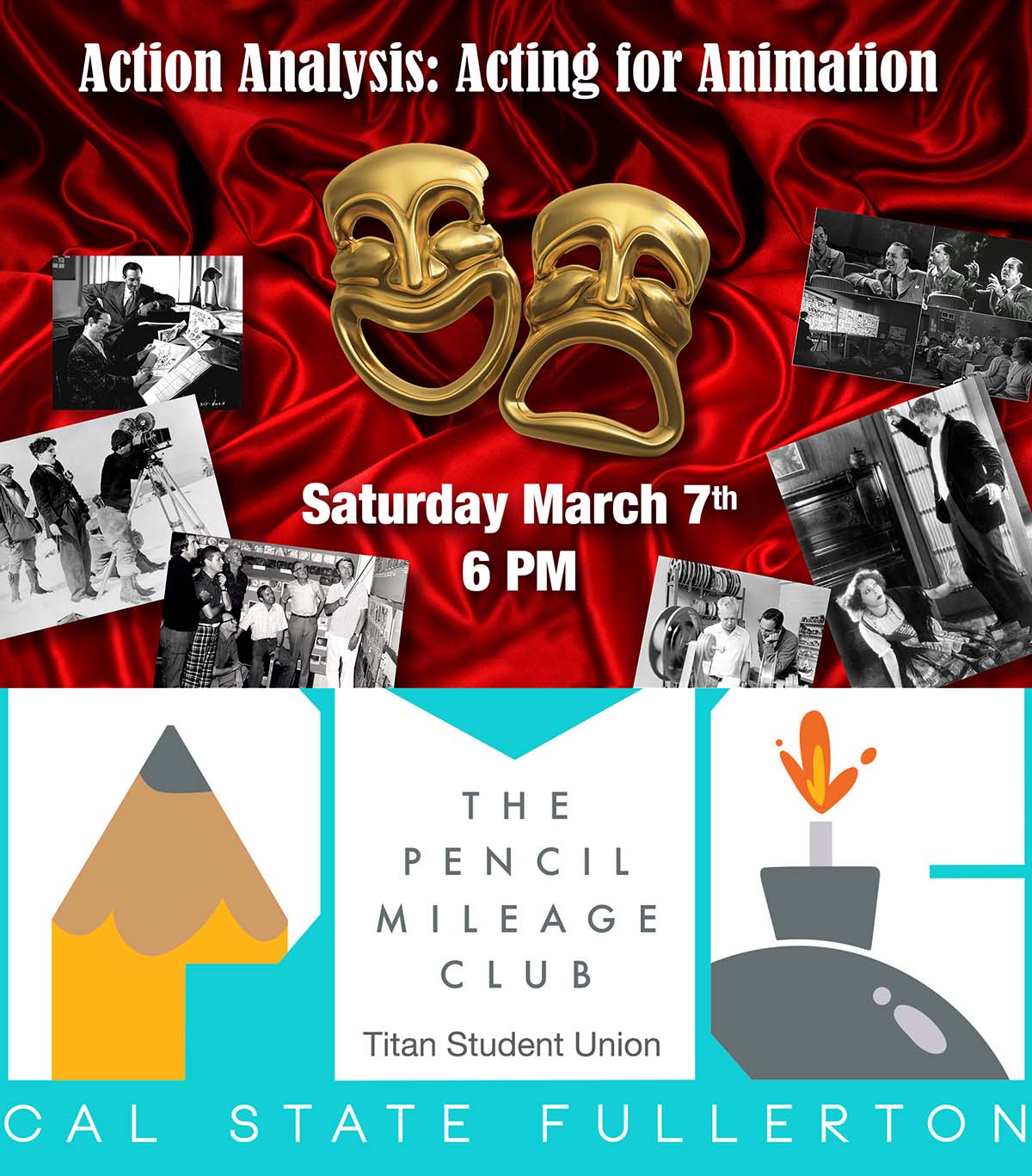 The Pencil Mileage Club at Cal State Fullerton is hosting a screening and group discussion with Animation Resources President Stephen Worth on Saturday March 7th at 6pm. The subject of the program deals with one of the most important aspects of character animation- putting across personality and emotion. We break down acting to its essence, discover what is and isn't expressive. explore the differences between acting for live action and acting for animation, and we sum it all up by setting out a plan for how to incorporate great acting into your own animation.
The Pencil Mileage Club presents
Acting For Animation with Stephen Worth
Cal State Fullerton – Titan Student Union
Saturday March 7th at 6pm
Stephen Worth has been an animation producer for over 35 years for studios like Bagdasarian Productions, Ralph Bakshi, Spumco and Frederator. His credits include television series (Alvin & The Chipmunks, Ren & Stimpy), TV specials (Yogi Bear), a feature film (Cool World), commercials (Target, Nike, Old Navy), rock videos (Bjork) web cartoons (George Liquor, Bravest Warrirors, Bee & Puppycat) and pilot shorts programs (Go! Cartoons, Too Cool Cartoons). He is the recipient of three Annie Awards, including the June Foray Lifetime Achievement Award for benevolent service to the art of animation. In addition to his work as a producer, Stephen is an educator, archivist and writer on the subject of animation. He served on the Board of Directors of The International Animated Film Society: ASIFA-Hollywood for 25 years, and is currently the president of Animation Resources (https://animationresources.org) a 501(c)(3) non-profit educational arts organization which provides self-study materials to animators, cartoonists and illustrators all over the world.
The Pencil Mileage Club is a group of animators, illustrators, and visual art students at CSUF looking to create, connect and collaborate with one another. Our community is passionate about the entertainment arts industry and we help develop connections among the students through speaker events with industry professionals, life drawing sessions, group projects, and more. Our club is committed to keeping members informed and involved in local artistic events and we encourage our members to follow their artistic passions to pursue careers in the art industry. The PMC is a place where students may forge meaningful connections, learn something new, and above all have fun!












by

Comments