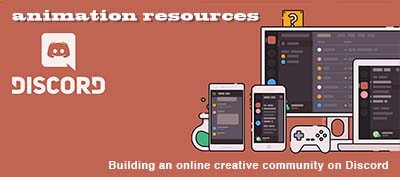 Animation Resources is hosting monthly Discord parties on its Discord server. Join us the last Saturday of every month to participate in discussions and network with fellow artists from all over the world. The party starts at 4:30 pm (PDT) and the program begins at 5:30 pm.
THIS MONTH'S PROGRAM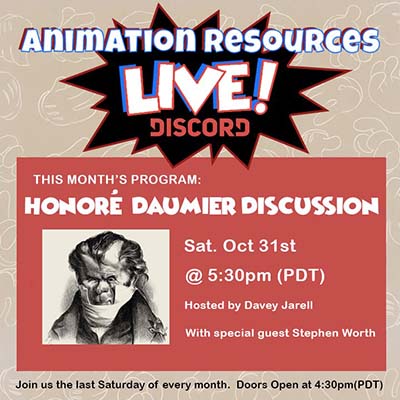 Our schedule of monthly programs under the banner Discord Discussions continues this Saturday October 31st!
Honoré Daumier is one of the greatest caricaturists and political satirists of all time. Born in Marseille, France in the early 1800s, Daumier's drawings, paintings, sculptures, and lithographs influenced not only other artists, but society as a whole. Like most of us today, Daumier believed in a Democratic ideal. You can find a lot of parallels between his satire of 19th century France and modern-day politics. Join Animation Resources President Stephen Worth and Board Member Davey Jarrell on Discord this Saturday, October 31st as they discuss the history of Daumier's work and his impact on society.
Join us Saturday for an informal discussion of a cartoonist who is probably someone you probably don't know, but you should! Find out how wide the world of cartooning is! Have fun meeting other like-minded folks!
HONORE DAUMIER: A DISCUSSION



At The Animation Resources Discord Server
SATURDAY OCTOBER 31st, 2020 5:30 pm (PDT)
HOSTED BY DAVEY JARELL, WITH STEPHEN WORTH
Animation Resources is one of the best kept secrets in the world of cartooning. Every month, we sponsor a program of interest to artists, and every other month, we share a book and up to an hour of rare animation with our members. If you are a creative person interested in the fields of animation, cartooning or illustration, you should be a member of Animation Resources!
ABOUT YOUR HOSTS
Davey Jarell is a member of the Board of Directors of Animation Resources. He is a professional storyboard artist for television and acts as our Director of Programs. Stephen Worth has been working in animation as a producer for 35 years. He is the President of Animation Resources.


ABOUT DISCORD
Discord is a free chat app that supports video, voice chat and text chat. Discord servers are divided into channels, which all have their own subject or theme of discussion. Members are assigned roles which helps everyone keep track of who's who. The Animation Resources Discord channel is a virtual meeting place for our supporters. You can meet other Animation Resources members, talk with the people behind the scenes at our organization, and attend lectures and screenings— all without leaving your home. It's free and open to everyone in the creative community. If you'd like more info on how Discord works, see this article: What is Discord?
Here's how to install the Discord app and login to the Animation Resources Discord Server:
---
1. INSTALL DISCORD
iPhone or Android: Download the app from the App Store or Google Play Store and install.
Desktop: You can access Discord for your Mac or PC from discordapp.com. You can choose to download and install the free Discord app, or enter our channel directly using your web browser.
2. CREATE AN ACCOUNT
Just follow the prompts to create your own login account.
3. JOIN THE ANIMATION RESOURCES CHANNEL
Click the plus sign to the right of the app and select "JOIN A SERVER".
Enter this invite code: vES5YsV
4. YOU'RE THERE!
Take a moment to look around, read the rules and introduce yourself.
---
The Animation Resources Discord Server is open to the public right now. Pop in and look around, and make a point to visit on Saturday!














by

Comments