In 2016, Animation Resources embarked on a project to create audio podcasts for our members on a variety of topics. Initially hosted by Michael Woodside, the project was later turned over to Animation Resources Board Member Davey Jarrell. Along with the help of Stephen Worth and Taber Dunipace, Davey produced a wide range of live programs on our Discord server under the title "Discord Discussions"… an analysis of Chuck Jones' timing process for "How The Grinch Stole Christmas"; interviews with Joe Murray, Lenord Robinson and Craig Bartlett; as well as seminars on advice for independent animators and use of reference. These were recorded and shared with the members of Animation Resources on our Members Only Download Page.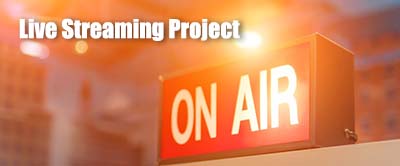 The success of these programs encouraged us in 2022 to take it one step further by creating a live streaming channel. Davey teamed up with Board Member David Eisman to spec out the necessary equipment and technology to be able to serve live video to the entire world. It took us nearly a year to raise the funds, but we now have a first class streaming server.
Our live streams fall under three headings:
ANIMATED DISCUSSIONS: (Hosted by Davey Jarrell) These programs are the continuation of the "Discord Discussions" series, consisting of interviews, seminars and panel discussions on subjects of interest to artists.
MOVIE NIGHT: (Hosted by David Eisman) A monthly program consisting of samples of rare animated films from Animation Resources' digital archive. Each film is discussed and put into context.
MEMBERS UPDATE: (open hosting) In these programs we give our members a peek behind the scenes at Animation Resources, sharing what we are working on and talking about our plans for the future. We will have chat feedback, so the audience can interact with the program and ask questions.
These streams are announced at least a week in advance on the Animation Resources site and across our social media. At this point in time, the live streams are open and available to the general public, but they will not be publicly archived after the program has ended. If you miss a stream, you will need to be a member of Animation Resources and login to our Members Only page, where we have an archive of our recent podcasts.
SUPPORTING THE STREAM
Live streaming video is expensive. If you would like to support the project, please consider JOINING Animation Resources. With more members, we have more funding to produce more programs.
JOIN TODAY!
https://animationresources.org/membership/levels/


Animation Resources depends on your contributions to support its projects. Even if you can't afford to join our group right now, please click the button below to donate whatever you can afford using PayPal.
Recent Programs
Public Podcasts
Our Members Update podcasts are available to the public. Here is an archive of our past programs.
Members Update 003: RefPack048 Review
Members Update 002: Students Are You Doing What You Need To Establish A Career In Animation?
Members Update 001: Live Streaming Update / RefPack047
Members Only Page
Our archive of past podcasts is hosted on our Members Only page. This is the list of podcasts available there for download:
Animated Discussions 009: Leonord Robinson Interview
Animated Discussions 008: Craig Barlett Interview
Animated Discussions 007: Is Reference Constructive Or A Crutch?
Animated Discussions 006: Using Live Action Reference
Animated Discussions 005: Advice From An Educator
Annual Members Only
As a thank you to our annual members, Animation Resources maintains an archive of our past podcasts on the Annual Member Bonus Archive. Here, you will find:
Animated Discussions 003: Joe Murray Interview
Animated Discussions 002: Chuck Jones Bar Sheets
Animated Discussions 001: Slapstick Analysis: The Saw Mill
Video Seminar 001: Background Layouts by Nestor Redondo
Animation Interview 001: Andrew Chesworth
Lesson 001: Warming Up Exercises
Archive 001: About Our Archive Database
Book Look 001: Taschen's Disney Archive












by

Comments