LU GUARNIER 1914-2007
Michael Sporn reported in his blog that animator, Lu Guarnier passed away on December 29th, 2007. (Read his post here.) He writes…
Tissa David told me that the UPA studio was one long space that was divided into cubicles. She called them "stalls" like horses would occupy at a racetrack. Grim Natwick, Tissa and Jack Schnerk shared the end corner cubicle. The only one who had his own space and the only one to have a window was Lu Guarnier.
Here are the studio gag drawings relating to Lu's window…
Stephen Worth
Director
Animation Resources
This posting is part of an online exhibit entitled Grim Natwick's Scrapbook.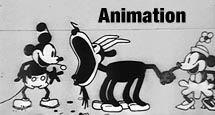 This posting is part of the online Encyclopedia of Cartooning under the subject heading, Animation.













by

Comments