Remember those matchbooks that said "Draw Me!" on the front? They advertised a correspondence course called "Famous Artists". Everyone made fun of "draw Binky the Skunk any size but the same size"; but the truth of the matter was that the Famous Artists Course was no laughing matter- it was one of the best art instructional courses ever created.
Founded by Albert Dorne and Norman Rockwell in the early 1950s, Famous Artists had three courses… Painting, Illustration/Design and Cartooning. Each course consisted of 24 lessons in three oversized binders covering a wide variety of subjects. Each month, a new lesson would arrive in the mail. The student would read the program material, complete the assignment, and mail it back to the school, where a professional artist would critique it and offer suggestions.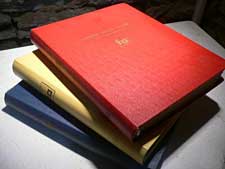 To design the courses, Dorne brought together the top artists of the day… Stevan Dohanos, Rube Goldberg, Milton Caniff, Al Capp, Willard Mullen, Virgil Partch, and Whitney Darrow Jr, among others. The result was a correspondence course that puts many current university programs to shame.
There were two editions of the Famous Artists Courses. The first was published in the early fifties, and the second was published almost 10 years later. There were differences between the two, especially in the Design/Illustration course. A concluding chapter written by the cartoonist known simply as "Chad" was added in the second edition. It deals with design for television.

Chad (last name Grothkopf) was eminently qualified to write this chapter. After leaving the Disney Studios in 1938, he was hired by NBC to create the very first commercials for television. At this time, there were approximately fifty television sets in the entire country! Chad also worked in comic books, most notably in Fawcett's Funny Animals series, for which he created the character "Hoppy the Marvel Bunny", a rabbit superhero. He passed away in January of 2005 at the age of 89.
Animation Resources is fortunate to have a complete set of the Famous Artists courses, and we began digitizing them for inclusion in the database today. The first article we scanned was Chad's introduction to the TV design chapter, and his discussion of the storyboard. These scans are quite large, but the size was necessary to clearly reproduce the text and details in this fascinating article. I hope you find them useful.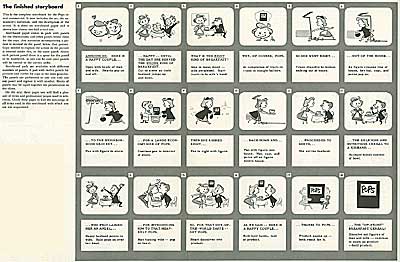 "In this ever-growing field of television, the visual language is supreme, and the artist is the king. So far, there are no famous artists in this young medium. Maybe you will be one of them." –Chad (1960)
The Famous Artists school is still in operation. Visit their website at www.famous-artists-school.com.
Stephen Worth
Director
Animation Resources
This posting is part of an online series of articles dealing with Instruction.













by

Comments