PART THREE: GRIM NATWICK AND MODERN ANIMATION
Studio gag drawing from UPA depicting an animator being laid off, replaced by children cutting out paper dolls.
It's important to keep in mind Grim Natwick's age when you look over his career. When he animated Snow White, he was one of the oldest artists at the Disney studio- 49 years of age. When his former assistant from Iwerks, Stephen Bosustow convinced him to join UPA in 1950, he was sixty. Most animators of his generation were thinking of retirement, or coasting on their past accomplishments until their pensions came through… but not Grim. He dove into the stylistic revolution of UPA with both feet. Grim animated on the early Magoo cartoons, as well as one-shots like "Rooty Toot Toot" and "Gerald McBoing Boing". In the early 50s, he was sent to New York as the keystone animator for UPA's East coast office, where he animated many commercials and industrial films for the company, along with his assistant Tissa David.
When UPA NY shut its doors, Grim worked at various New York commercial studios like Ray Favata and Robert Lawrence Productions. He animated on the first television cartoon series, Crusader Rabbit, and later took in work from Jay Ward and Bill Scott on the George of the Jungle program. He freelanced for Melendez and Duane Crowther's Duck Soup Producktions, eventually settling in with director, Richard Williams. He animated on Raggedy Ann & Andy and travelled to the UK to teach while working on Cobbler & the Thief. He continued to draw into his early 90s, until his failing eyesight made it difficult.

One afternoon, as I sat with Grim on his front porch, he casually mentioned that he had been told that there were machines that animated- computers. He wondered aloud "how they manage to get the machines to hold a pencil" and expressed an interest in finding out more about it. So I called my friend Charlie Gibson, who was a partner at Rhythm & Hues in Hollywood. I arranged for Grim to take a tour of their studio the following week.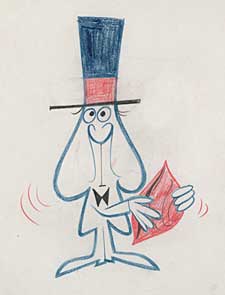 When we arrived, we found the entire staff of R&H standing in the lobby waiting for us. Charlie showed Grim their machine room and demo reel, and sat him down at a workstation to see how wireframe characters are posed. After a few minutes working with the mouse, Grim leaned back in his chair and said, "I've seen some amazing things here today that I never would have imagined possible. I don't pretend to understand everything I've seen, but I have a basic idea of what you do here. I have just one question to ask you… When I animated Snow White or Mickey Mouse, I had certain tricks to put the personality of the character across… a gesture, the raising of an eyebrow, a bit of acting… How do you do that sort of thing with your computer?"

The room went silent. Charlie paused for a moment and replied, "Well, Grim, you just put your finger on the thing we struggle with every day… Computer animation is still very new. We're constantly learning as we go. To answer your question, we study classic cartoons to learn those secrets from great animators like you."
In the space of an afternoon at nearly 100 years old, Grim had gone from "How do they get the machines to hold a pencil?" to putting his finger on the main issue facing CGI animators. His mind was always nimble and able to see the challenges facing animation in the future. He was truly a remarkable man.
EXHIBIT CATALOG: GRIM NATWICK IN THE MODERN AGE
Top Row: A Selection Of Natwick Animals (left to right) Chicken character designs from "Solid Ivory"* (Lantz/1947) / Lion doodle (after Jones' "Inki & The Lion")* (ca. 1947) / Tiger studio gag drawing* (ca. 1944) / Character design for Lantz Wartime cartoon (ca.1943) / Concept for children's book* (ca. 1947)
Middle Row: 1950s Commercials (left to right) Character design (ca.1959) / Self caricature of layout artist Art Heineman (UPA ca.1952) / Studio gag drawing depicting an animator being replaced by children cutting out paper dolls (UPA ca.1952) / Model drawing of Bert Piels (Piels Beer) by Tissa David from Grim Natwick animation (UPA ca. 1955) / Model drawings from unknown commercial by Tissa David from Grim Natwick animation (UPA ca.1955)
Bottom Row: Studio Gag Drawings Self caricature by Bill Melendez (ca. early 60s) / Studio gag drawing depicting Bill Scott explaining to a West coast animator how to dress like an East coast animator (UPA NY ca. 1952) / Three studio gag drawings by Bill Scott depicting the relationships between Grim Natwick, John Hubley and Scott (UPA NY ca. 1952)
* denotes a drawing by Grim Natwick
Next Chapter: THE GREATEST ANIMATOR WHO EVER LIVED (Studio Gag Drawings & Caricatures)


---
Assistant Archivist, Joseph Baptista views the exhibit.
GRIM NATWICK'S SCRAPBOOK
This travelling exhibit has appeared at the ASIFA-Hollywood Animation Archive in Burbank, CA and at the South Wood Historical Society Museum in Wisconsin Rapids, WI, birthplace of Grim Natwick.
Stephen Worth
Director
Animation Resources
This posting is part of an online exhibit entitled Grim Natwick's Scrapbook.













by

Comments