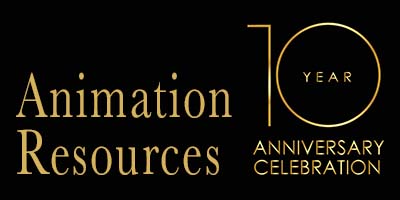 In January of 2013, we re-introduced the Animation Archive as a 501(c)(3) non-profit organization under the name Animation Resources and began accepting memberships. Many of those charter members are still members to this day, and we have grown to become an influential educational resource serving the entire world over the internet. This remarkable achievement is thanks to the tireless work of the countless volunteers who contribute their time and efforts to sharing our archive with the world, and to our members who contribute to our programs financially. Because of their support, we are able to provide benefits of membership that far exceed the cost of membership dues.
Over the past ten years, Animation Resources has digitized and archived a wide variety of treasures, from vintage storyboards to timing documents to gorgeous artwork and rare films from around the globe to art instructional material to classic examples cartooning and caricature. These resources have been used by hundreds and thousands of artists in their self study. We have instituted an audio podcast and video live-streaming project which has featured many important topics and has introduced our members to important artists working in the field of animation. But our most significant accomplishment in the past decade has been the publishing of Reference Packs- downloadable e-books, still framable videos and documentaries on subjects of interest to artists working in the fields of animation, cartooning and illustration. These Reference Packs are curated by professional artists on our Board, including Ralph Bakshi, Will Finn, Sherm Cohen, J.J. Sedelmaier and Steve Stanchfield. In February, we will be offering our fiftieth Reference Pack- a retrospective of the best of past Reference Packs.
Looking back on the past decade, the amount of important work our volunteers have been able to accomplish is staggering. Our members care about the art of animation and are willing to give back to the muse by lending a helping hand to others. They understand that raising up the artists around them raises the art form itself, allowing them to express themselves better through collaboration. Altruism seems like a rare thing in this day and age, but at Animation Resources, it is our stock-in-trade.
2023 is going to be a very exciting year for Animation Resources. We have some changes planned that will take us to the next level and provide even more valuable resources to our membership. We'll have details on those changes in February when we launch our annual Member Appreciation month. Until then, we want to express our profound thanks to all of the people who contributed their time, efforts and dues to make this organization what it is today. The future is bright. The best is yet to come.
Sincerely,
The Board of Directors of Animation Resources












by

Comments