Here is a little bit of comic book history- a copy of Crime Does Not Pay from June of 1947. This particular comic book is not for the faint of heart. It's grusome and extreme. In fact, it marks the absolute peak of comic book sadism that led to the Publishers' Code of 1948 and the condemning of crime and horror comics by psychiatrist, Frederic Wertham in the book, Seduction of the Innocent a few years later.
Soon after this comic was published, publisher Lev Gleason decided to shift gears away from the grusome subjects and focus on a new angle in Crime Does Not Pay comics. Artist/writer Pete Morisi quoted a conversation he had with editor Charles Biro about the change in direction…
Listen, Pete, we've got a good thing going here, and we don't want to lose it. I don't want to see any blood and guts. I don't want any violence. Just give me detail, lots of detail!

Detail of what? What am I supposed to show?

Tits!
Some things never change.
This first story by Fred Guardineer does a great job of translating the crime/noir film style to the comic medium with the maximum amount of action per page… and the maximum amount of gunplay. It also features a cameo by a cartoon version of J. Edgar Hoover!
What's with that jarring comic relief strip at the end?!
This second story is over-the-line ugly in just about every way imaginable…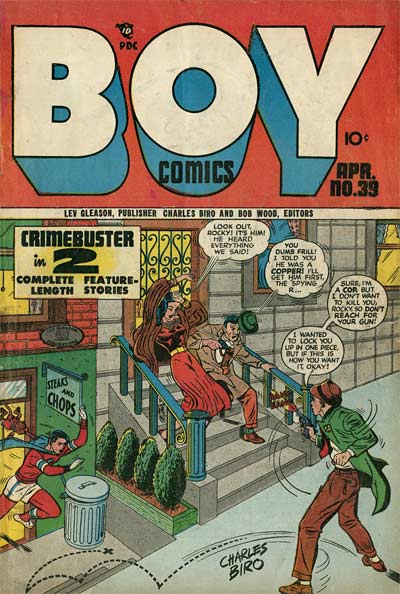 Here's another treasure from our archives- the oddly titled Boy Comics Number 39 from April, 1942. This comic book isn't as interesting for its art, (check out the wonky perspective on that cover!) but rather for its subject matter…
Yes, this noir style comic written by cartoonist Charles Biro and drawn by Norman Maurer deals with the animation business! And check out the names of the incidental characters…
Sound familiar? And the design of "B.S.", the head of NDN Studios, it a pretty clear caricature of Walt Disney!

It seems that Biro had some sort of connection to the East coast animation scene. Does anyone out there reading have more info on this unique comic book? If so, please let us know in the comments.
UPDATE: Mark Mayerson points out the Charles Biro was an animator and director at the Fleischer Studios from 1930-1936. Thanks, Mark!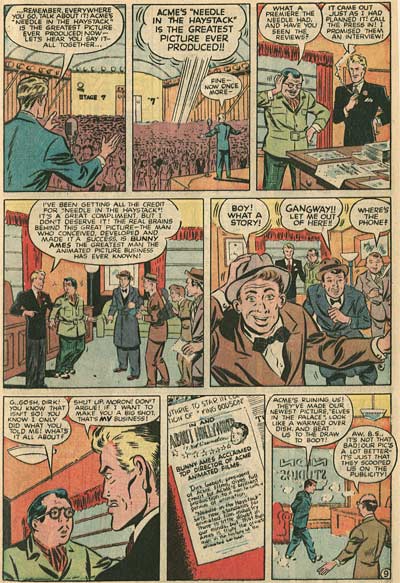 Animation Resources is looking for collectors of gold and silver age comic books, 50s and 60s Mad magazines, 50s Playboys, National Lampoon, etc. who would be willing to lend us their books to digitize. If you'd like to help out, contact me at… sworth@animationresources.org.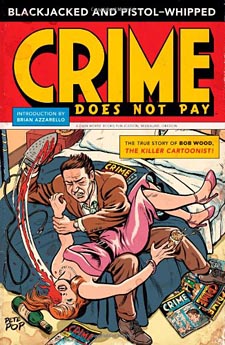 If you are interested in pre-code crime comics, you'll want to check out Fantagraphics' new book, Blackjacked and Pistol-Whipped: A Crime Does Not Pay Primer.
It includes 24 stories culled from issues of "Crime Does Not Pay" between 1942 and 1946. You won't believe your eyes… but make sure you hide these comics under your bed so your mom doesn't find them!
If too much is never enough, also check out The Simon and Kirby Library: Crime,
a collection of impeccably drawn crime comics by the master of the comic book, Jack Kirby.
Stephen Worth
Director
Animation Resources



This posting is part of the online Encyclopedia of Cartooning under the subject heading, Comic Books.













by

Comments