You pick the film! March 17th, 2012
At the Animation Creative League Facebook Group we're taking a poll to see which of three films our members would like to see at our next screening. We have beautifully restored high definition prints of all three choices…
"QUATERMASS AND THE PIT"
(AKA: "Five Million Years To Earth")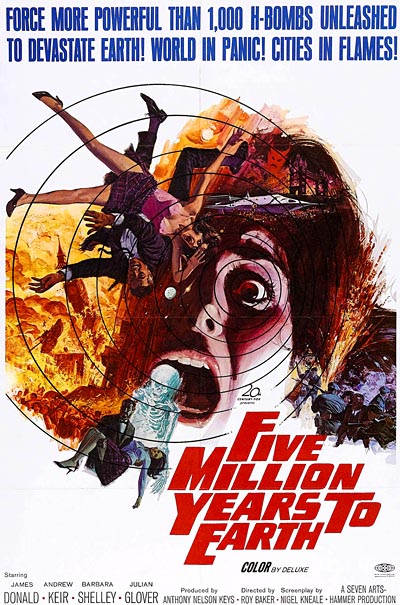 Quatermass and the Pit (US title: Five Million Years to Earth) is a 1967 British science fiction horror film. Made by Hammer Film Productions it is a sequel to the earlier Hammer films The Quatermass Xperiment and Quatermass 2. Like its predecessors it is based on a BBC Television serial – Quatermass and the Pit – written by Nigel Kneale. It was directed by Roy Ward Baker and stars Andrew Keir in the title role as the eponymous professor, replacing Brian Donlevy who played the role in the two earlier films. James Donald, Barbara Shelley and Julian Glover appear in co-starring roles.
The plot, which is largely faithful to the original television production, centres around the discovery of a mysterious object buried in the ground at the site of an extension to the London Underground. Also uncovered nearby are the remains of early human ancestors more than five million years old. Realising that the object is in fact an ancient Martian spacecraft, Quatermass deduces that the aliens have influenced human evolution and the development of human intelligence.

"Quartermass and the Pit" trailer at YouTube
"THE INNOCENTS"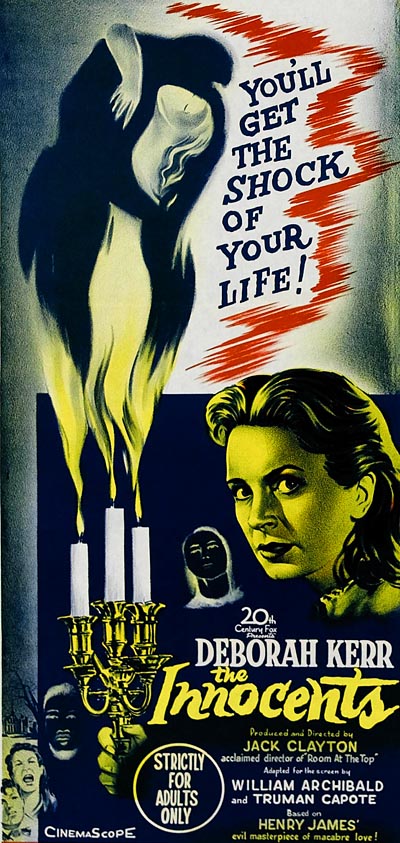 The Innocents is a 1961 British horror film based on the novella The Turn of the Screw by Henry James. The title of the film was taken from William Archibald's stage adaptation of James' novella. Directed and produced by Jack Clayton, it stars Deborah Kerr, Michael Redgrave and Megs Jenkins. Falling within the subgenre of psychological horror, the film achieves its effects through lighting, music and direction rather than gore and conventional shocks. Its distinctive atmosphere owes much to cinematographer Freddie Francis, who employed deep focus in many scenes, as well as bold, minimal lighting. It was filmed on location at the Gothic mansion of Sheffield Park in Sussex. The film includes the first role in cinema for child actress Pamela Franklin.

"The Innocents" trailer at YouTube
"PEEPING TOM"
Peeping Tom is a 1960 British psychological thriller directed by Michael Powell and written by the World War II cryptographer and polymath Leo Marks. The title derives from the slang expression 'peeping Tom' describing a voyeur. The film revolves around a serial killer who murders women while using a portable movie camera to record their dying expressions of terror.
Its controversial subject and the extremely harsh reception by critics effectively destroyed Powell's career as a director in the United Kingdom. However, it attracted a cult following, and in later years, it has been re-evaluated and is now considered a masterpiece.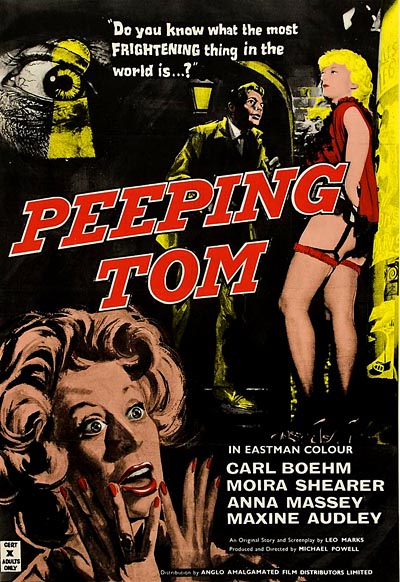 "Peeping Tom" trailer at YouTube
The Animation Creative League meetings are held on Saturday evenings in the middle of the month. Our screening room is located in Pacoima, near where the 5 and the 170 meet. Attendence is by invitation only. We will be announcing the date of this screening and accepting RSVP requests as soon as we complete the voting on the program. Plan to attend a Creative League meeting. It's a great way to meet other creative people like yourself!












by

Comments