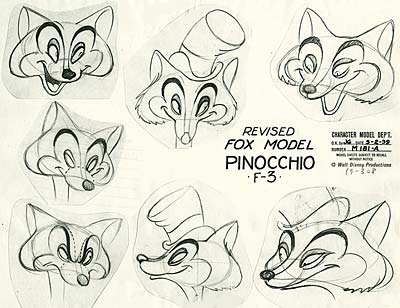 Today, I'd like to introduce you to our latest Animation Resources Alliance member, Van Eaton Galleries. Mike Van Eaton has been a supporter of this project for some time, and he has hosted several fundraisers for Animation Resources at his storefront gallery in Sherman Oaks, CA. His walls are jam packed with wonderful animation art, and he has generously agreed to allow us to digitize material in his inventory for inclusion in the archive database.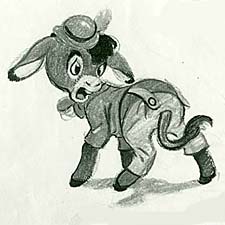 Earlier this week, Mike brought in a box full of Disney model sheets. The Disney Studios was probably the best organized operation ever to produce animated cartoons, and the heart of their production process was the Model Department run by Joe Grant. Concept designs were quickly duplicated and distributed as preliminary models, allowing development at the studio to proceed at a rapid pace. Once designs were approved, they were distilled into sheets full of drawings that captured a full range of angles and expressions. These detailed instructions on how the characters were to be constructed and posed were provided to every artist working on the film.
Here are a few samples of the model sheets Mike Van Eaton generously allowed us to digitize today…
The Reluctant Dragon (1941)
These original production photostatic model sheets are available for sale by Van Eaton Galleries for $50 apiece. If you decide to add any of them to your collection, tell the folks at the Van Eaton Galleries that Animation Resources referred you, and they will donate a portion of your purchase price to our project.
Thanks to the Van Eaton Galleries for their support of this important project.
Stephen Worth
Director
Animation Resources
This posting is part of the online Encyclopedia of Cartooning under the subject heading, Animation.













by

Comments