NOTE: Do not move on to this lesson unless you have completed Lesson Four
LESSON FIVE
Read John Kricfalusi's introduction to this lesson at…
Animation School Lesson 5: Line of Action & Silhouettes
Print out and work with this page from the Preston Blair Book…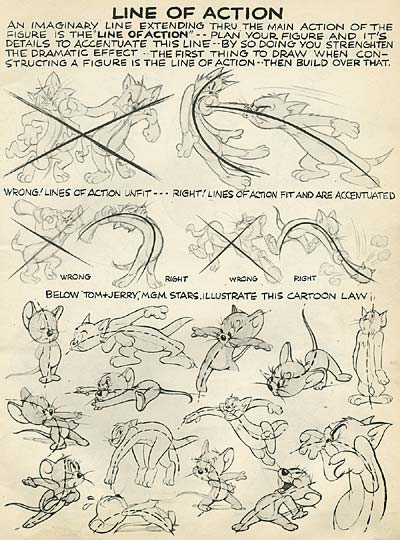 Follow John K's instructions to copy the Preston Blair drawings on this page, using the construction principles you have already learned.
Check your drawings using Photoshop as you did in the previous lesson.
When you are getting accurate copies, copy the Clampett and Disney examples in John K's article.
When you are satisfied with your drawings, post them on your blog.
PLEASE NOTE: The procedure for getting your blog listed on this page has changed. Due to the overwhelming response to this course, I don't have time to add each student's link by hand. Your assignment will be automatically linked at the bottom of this page if you…
Click on "links to this post" at the bottom of this posting.
Click on "create a link".
Copy and paste the HTML code into your completed assignment for lesson number 9.
Publish your post.
Your page will automatically be added to the list of links.
Do not delete or edit your posts or change the title after you have posted them. You will need them later to chart your progress.
Stephen Worth
Director
Animation Resources
This posting is part of an online series of articles dealing with Instruction.













by

Comments