Today we scanned a read-along storybook adaptation of John Sutherland's industrial film, Rhapsody of Steel (1959). Sutherland's studio was very influential in the mid-1950s, employing some of the best designers in the business. This film is no exception. Legendary stylists Eyvind Earle (Sleeping Beauty, Pigs is Pigs) and Maurice Noble (Duck Dodgers, How The Grinch Stole Christmas) collaborated on Rhapsody of Steel, and you can see evidence of both their hands everywhere in these pages. (Earle in the landscapes and textures, Noble in the bold primary and secondary colors…)
Time Magazine said of this film…
Rhapsody of Steel, a 23-minute animated cartoon that cost $300,000, is one of those rare industrial films with enough specific quality and general interest to play the commercial circuits. In the next few months it will be shown as an added attraction in several thousand U.S. movie houses. Made by former Disney Staffer John Sutherland, Rhapsody sets out to tell a sort of child's history of steel from the first meteor that ever hit the earth to the first manned rocket that leaves it, and most of the time Moviemaker Sutherland proves a slick entertainer and a painless pedagogue. Unhappily, the music of Oscar-Winning Dmitri Tiomkin, who is probably the world's loudest composer, bangs away on the sound track like a trip hammer. But the picture's pace is brisk, its tricks of animation are better than cute, and the plug, when the sponsor slips it in on the final frame, is modestly understated: "A presentation of U.S. Steel."
I have included a Quicktime of Rhapsody of Steel at the bottom of this post, and you can find many other John Sutherland fIlms at Archive.org. This book suffers from little tiny pictures and oceans of white space, so I've enlarged a bunch of the pictures so you can see them better.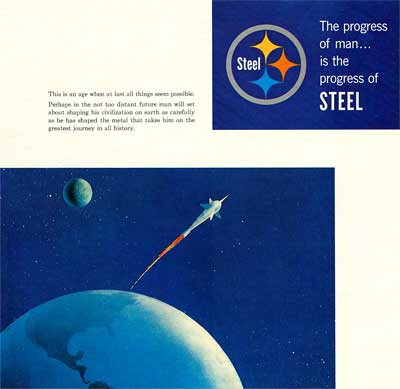 Courtesy of Animation Resources supporter, Kevin Kidney, here
is a video of the film for you to view…
Rhapsody of Steel (Sutherland/1959)
(Quicktime 7 / 22 minutes / 50.5 megs)
Here's a great post by Michael Sporn on Eyvind Earle.
Stephen Worth
Director
Animation Resources
This posting is part of the online Encyclopedia of Cartooning under the subject heading, Animation.













by

Comments