Today's images are a bit of a mystery. Even though untold numbers of these prints have sold over the years, very little is known about the artist who created them. The compositions are all very long and don't fit the computer screen well, so make sure you click on the images and look at the full size scans.
If you had visited Paris on a vacation anytime during the 1930s to the 1950s, odds are you would have brought back one of these prints as a souvenir. My Uncle who was a Rear Admiral in the Navy had a pair of these hanging in his bathroom and as a child I was fascinated by them. Called "The Dirty Dogs of Paris", this series of etchings was created by an artist who went by the multi-ethnic name "Boris O'Klein". His real name was Arthur Klein and he was born in Moscow, Russia in 1893.
O'Klein emigrated to France as a boy and became a successful magazine illustrator in Paris during the 1930s. The story goes that he spent hours watching the stray dogs in the streets outside his studio and realized that their personalities weren't all that different from people. He was inspired to create a few cartoons of the dogs doing what dogs do… peeing on trees, chasing female dogs and sniffing each others' butts.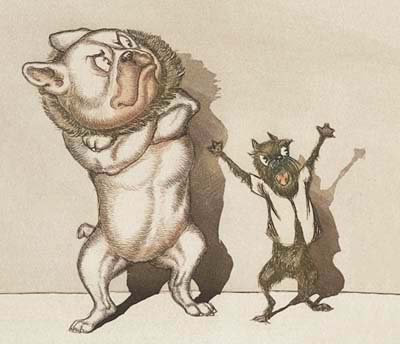 The dog cartoons were just a lark. His real passion was painting hunting and wilderness scenes. But he realized the money making potential of the Dirty Dogs, and supplied a series of etchings to gift shops and galleries all over Paris. They became hugely popular and overshadowed all of his other work. Eventually, they even overshadowed the artist who created them.
I found these prints at eBay. They appear to be quite common. There are at least four or five different signatures on them, depending on the vintage, so it's evident that they were cranked out in quantity by a third party. They appear to be still in production, although the recent prints are not nearly as good looking as the older ones.
Boris O'Klein passed away in 1985. I wish I could tell you more about him, but that's all I know. If anyone reading has any info, please share it in the comments.
Stephen Worth
Director
Animation Resources
This posting is part of a series of articles comprising an online exhibit spotlighting Illustration.













by

Comments