REFPACK 039

Members Only Download
Every other month, members of Animation Resources are given access to an exclusive Members Only Reference Pack. These downloadable files are high resolution e-books on a variety of educational subjects and rare cartoons from the collection of Animation Resources in DVD quality. Our current Reference Pack has just been released. If you are a member, click through the link to access the MEMBERS ONLY DOWNLOAD PAGE. If you aren't a member yet, please JOIN ANIMATION RESOURCES. It's well worth it.
---
MEMBERS LOGIN To Download Videos
JOIN TODAY To Access Members Only Content
---
A Collection of Russian Animation



"Interplanetary Revolution" Nikolai Khodataev & Zenon Komissarenko (1924) / "Kino Circus" Leonid Amalrik & Olga Khodatayeva (1942) / "The Millionaire" Vitold Bordzilovskiy & Yuriy Prytkov (1963) / "The Shareholder" Roman Davydov (1963) / "Shooting Range" Vladimir Tarasov (1979)
Back in the early 1980s when I was in college, I first started doing serious research into the history of animated films. I went to video stores and rented every animated film on their shelves. I had two VHS decks, and I programmed them to record every cartoon program on TV. I went through the tapes, editing and organizing the films. I catalogued them on index cards, noting the title and credit info, as well as the tape and time code where they were located. Over the years, I built up a library of hundreds of tapes. I checked off the titles in the filmography in the back of Leonard Maltin's Of Mice And Magic. I felt like I had a grasp of what animation was.
I was dead wrong.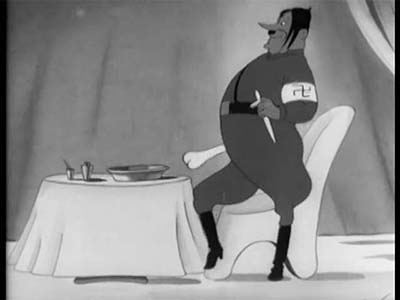 Flash forward four decades… I now operate an archive with thousands of digitized animated films, which includes nearly all of the films listed in the Maltin book along with many, many more. If I have learned one thing over the years, it's that the universe of animation is ever-expanding. I've learned how much I DON'T know, and that is a very valuable lesson indeed.
A month ago, I spotted a listing at eBay advertising a batch of DVDs of animated films from the Soviet Union. There was no way to tell what was on the DVDs since the titles were all in Russian, a language with which I have absolutely no experience. I took a chance and bought them blind. Animation Resources has the facilities to convert video from just about any region format in the world, so when they arrived, I ripped a few disks and looked at what was in there. My mind was blown. I immediately went back to eBay and found two more batches that had different titles included. All total, I was able to acquire over 75 disks. (I'm looking for volunteers to help me catalog and identify the films, if you are interested.) Over the next few Reference Packs, I'll be sharing some unknown treasures with you that might just make you rethink how much you know about animation, just like I have.
---
MEMBERS LOGIN To Download Videos
JOIN TODAY To Access Members Only Content
---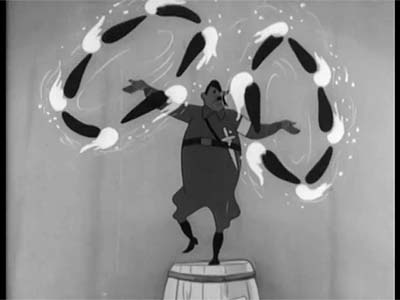 This first batch is a sampling of Russian propaganda films from the 1920s through the 1970s. I don't generally mention this, because I think in the context of Animation Resources' educational charter I really need to… but we don't share animation with our members as entertainment. The actual content of the films is largely irrelevant to our purposes. We don't feel the need to provide more than a cursory historical context to the material we share. We're focused on film making, and we leave discussion about the messages in films to historians and sociologists. So I'm not going to comment too much on the propaganda content in these films, aside from attempting to explain the way propaganda shaped how these films were made. These cartoons reflect the time and place they were made, and if that interests you, you can look up the full context for yourself. I'll try to focus on the artistry and film making techniques used to put across these political points, and just provide a basic historical context.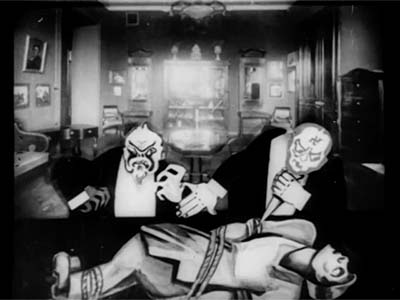 The first film in this collection dates back to the earliest days of animation in Russia. Made in 1924 by Nikolai Khodataev and Zenon Komissarenko, "Interplanetary Revolution" is a blend of hand drawn animation and paper cutout pixilation that at times resembles the work of Terry Gilliam. It's a surreal and often incomprehensible tale of a Red Army soldier who goes to Mars to conquer it for communism, vanquishing capitalists with swastikas on their heads. I'm not going to even attempt to explain how all this happens, because I can't make heads nor tails out of a lot of the film myself. But even though it is primitive in execution compared to the animation being produced in the United States at the same time, it displays a degree of artistry and freedom of expression that American animators were yet to explore. In fact, some of the imagery looks strangely modern.
The second film, "Kino Circus", by Leonid Amalrik and Olga Khodatayeva is the exact opposite. It is a mockery of Adolf Hitler that closely resembles the propaganda films being made by Disney and Warner Bros at the time. The animation isn't primitive at all, and it shows how Western film making techniques had filtered back to Russia during the pre-war years. Because of wartime shortages, very little animation was produced in Russia during this time, so it is interesting to see how high the production values were during the darkest years of World War II.
REFPACK039: Interplanetary Revolution (1924)

MP4 Video File / SD / 7:49 / 100 MB Download
REFPACK039: Kino Circus (1942)

MP4 Video File / SD / 3:35 / 26 MB Download
---
MEMBERS LOGIN To Download Videos
JOIN TODAY To Access Members Only Content
---
During the 1950s, Russian animation blossomed and established its own cultural identity. In a previous Reference Pack, we featured a lavishly animated film based on a Russian folk tale, "Dead Tsarevna & The Seven Bogatyrs". Propaganda had fallen out of favor during this time, so Russian animators were free to experiment with different techniques to create films designed to entertain, rather than indoctrinate. We will be sharing many of these great films in upcoming Reference Packs, but this time we are focused on propaganda films, so we jump forward a decade.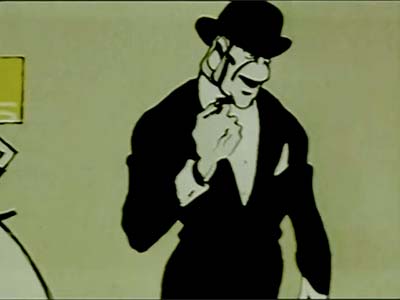 In the early 60s, Western culture and ideas began to flood across the Iron Curtain, and it changed the face of Russian animation. Cold War politics encouraged a resurgence of propaganda films, sweeping aside the lavish folk tales that had prevailed through the previous decade. One of the greatest examples of this period was Roman Davydov's "The Shareholder". Davydov was a brilliant draftsman with a thorough understanding of anatomy and how it applied to the movement of characters. He was also a stylist and caricaturist, which led him to create a simplified, angular approach to the human figure that lent itself perfectly to animation.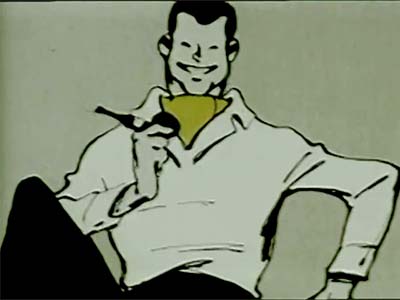 Unfortunately, this film is quite difficult to find. We are sharing two copies, both flawed— one is cropped from the original widescreen format, and one is at a very low resolution. But I think you will want to study this one carefully. Make note of the solidity of Davydov's animation. The characters turn dimensionally and move fluidly, despite the angularity and stylization of the drawing style. The cinematics are brilliant. One scene flows smoothly into another, the montages are full of brilliant design, and the layouts are always stylish, never too busy or cluttered. One of the main highlights of the film is the car chase near the end. The animation conveys the breathlessness of speed with an energy level rarely seen in animated films. I've only scratched the surface in this brief description. Go through the two copies of this film and I think you'll find a lot to learn from this one.
---
MEMBERS LOGIN To Download Videos
JOIN TODAY To Access Members Only Content
---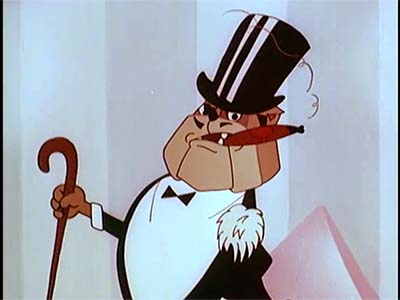 The next film, Vitold Bordzilovskiy and Yuriy Prytkov's "The Millionaire" is a particularly interesting film from a conceptual level. The story is by Sergey Mikhalkov, a writer of rather ugly agitprop books designed to demonize "the enemies of the people"— Nazis, Americans, Jews and capitalists. On the surface, it follows the traditional symbolism of Russian propaganda that dated back to the 1920s. The capitalist is depicted as a cigar chomping bulldog with a top hat and tuxedo. American pop culture is depicted as degenerate. The music is fueled by liquor and sex, and the dancing becomes an animalistic ritual on four legs. The capitalists band together to become a pack of wild dogs, bent on devouring the working class. At the end of the film, it is revealed that without money and power, the capitalist is nothing but a dog. The continuity follows the party line perfectly… but there is a hint here that there might be more to this than the heavy handed propaganda of the story itself.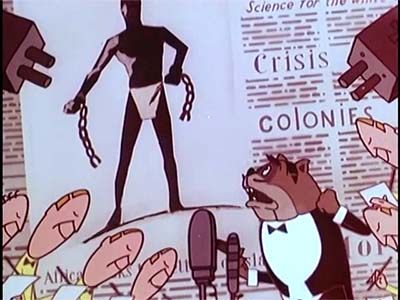 Beneath the surface, animators will recognize something even more revolutionary about "The Millionaire"— its influences. Even though the film may have a traditional message, the style of the animation follows the revolutionary format of UPA. The story is told in Seussian rhyme, just like "Gerald McBoing-Boing", and the color and backgrounds are graphic and simple, just like American mid-century modern animation from the 1950s. In fact, especially sharp eyes will identify the immediate model for this film, Tex Avery's "Crazy Mixed-Up Pup". This has the same sort of title sequence, snap-to-pose timing, and jazzy rhythmic soundtrack as Avery's films at the Walter Lantz Studio. A print must have made its way to Russia, and into the hands of the Soyuzmultfilm Studios' animators.
In Russia at the time, modern art was seen as elitist. It was branded as degenerate… "Formalist" was the derisive term Stalin used for it. Yet Bordzilovskiy and Prytkov slip ultra-modern animation styling past the censors' noses by wrapping it around the symbols and tropes that the government demanded. Which side were they on? The animators obviously had a lot of fun with the nightclub scene with the dancing. Does the ending seem more like an abrupt "topper gag" than a moral message? I'm not sure. Watch the film and see what you think.
REFPACK039: The Shareholder (1963)

MP4 Video File / SD Cropped / 23:32 / 422 MB Download
REFPACK039: The Shareholder (alt.)

MP4 Video File / Low Resolution Widescreen / 23:32 / 73 MB Download
REFPACK039: The Millionaire (1963)

MP4 Video File / SD Widescreen / 9:54 / 128 MB Download
---
MEMBERS LOGIN To Download Videos
JOIN TODAY To Access Members Only Content
---
In the 1970s, the world began to become a more complicated place. Russia began exerting its control beyond the Warsaw Pact nations all over the world, and the world was pushing back. The battles being fought to suppress independence movements in East Germany, Hungary and Czechoslovakia, as well as Soviet interference in the Middle East and Africa, didn't make for clear-cut victories that could be exploited for propaganda purposes. So Soviet animated propaganda looked back to its past glories for inspiration.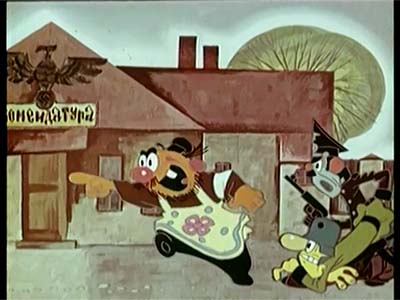 "The Adventures of The Young Pioneers", made by Vladimir Pekar is a concept that appears patently phony to Americans and Western Europeans7. The story trivializes the reality of World War II. A small town where a group of stalwart communist children lives is invaded by goofy Nazi soldiers. The children form a resistance movement, they are betrayed by a collaborator, and they're caught by the Nazis attempting to raise a communist flag. The children face a firing squad, but the Red Army arrives just in time to save the children and and the town from the Nazis.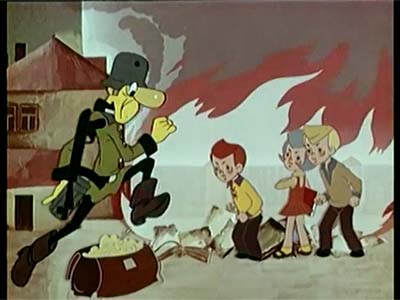 The film is an uneasy blend of stylistically idealized children and highly caricatured "funny Nazis". I suppose in America, "Hogan's Heroes" would be an equivalent example of the same sort of historical awkwardness. But if you look beyond the manufactured spin on history, the film graphically represents the changes that Russian animation was going through at the time. The idealized and beautiful designs of Russian cartoons from the 1940s and 50s was being swept aside by broader, less refined styles based on Western pop culture. Cartooniness wasn't something the Soviet artists were comfortable drawing in the past, and humor had never been the strong suit in their propaganda films. But the animation of the Nazis in "Young Pioneers" is sparky, rhythmic and genuinely funny, while the ending with the Red Army soldier saving the day is stiff and uninspired. It's clear that the animators had more fun animating the Nazis than the "Young Pioneers". The clash between styles in this film reflect Russian animation at the crossroads between its past and its future.
---
MEMBERS LOGIN To Download Videos
JOIN TODAY To Access Members Only Content
---
Eventually, Russian animators were released from the responsibility of creating propaganda that toed the party line, and they was freed to express pure entertainment. Television series like the wolf and rabbit cartoons titled "Well, Just You Wait" broke through to a whole new audience. We will deal with that in a future Reference Pack. But for now, "Young Pioneers" points in the direction that Soviet animation would soon follow.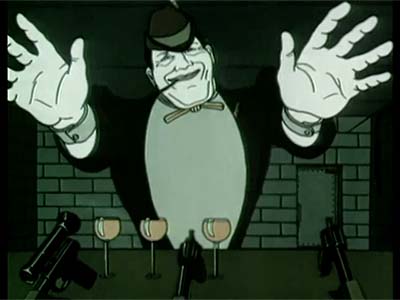 The last cartoon we are sharing is called "Shooting Range", and it carries propaganda further into a complete disconnect with reality. It clearly shows Stalinist indoctrination hitting the brick wall of Western culture. The film unironically jams together two things that just don't mix— Peter Max inspired pop-art and old-school Russian anti-capitalist doggerel. There's absolutely no subtlety here. The evil, cigar chomping capitalist owns a shooting gallery where the targets are Mickey Mouse and an idealized young working family. The animation and style is interesting, even if the concept of the film seems like something from an alternate bizarro universe. By this time, the people of Russia weren't isolated from the rest of the world any more. Films like this must have looked like a blatant lie to them.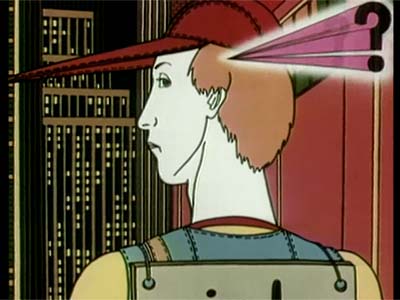 REFPACK039: Young Pioneers (1971)

MP4 Video File / SD / 17:37 / 257 MB Download
REFPACK039: Shooting Range (1979)

MP4 Video File / SD / 19:18 / 249 MB Download
For obvious reasons, Soviet authorities aren't motivated to share obsolete propaganda like this any more; and revisiting these films likely isn't viewed favorably by Russian citizens either. Film prints don't exist outside the Soviet Union, so they have fallen into a cultural black hole. Animation Resources is lucky to have obtained copies of some of these fascinating films to share with you. In the future, we will share even more little known Russian animation.
---
MEMBERS LOGIN To Download Videos
JOIN TODAY To Access Members Only Content
---
Not A Member Yet? Want A Free Sample?
Check out this SAMPLE REFERENCE PACK! It will give you a taste of what Animation Resources members get to download every other month!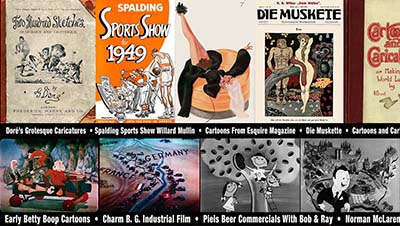 by

Comments