---
REFPACK 041

August-September 2021
---
MEMBERS LOGIN To Download Videos
JOIN TODAY To Access Members Only Content
Every other month, members of Animation Resources are given access to an exclusive Members Only Reference Pack. These downloadable files are high resolution e-books on a variety of educational subjects and rare cartoons from the collection of Animation Resources in DVD quality. Our current Reference Pack has just been released. If you are a member, click through the link to access the MEMBERS ONLY DOWNLOAD PAGE. If you aren't a member yet, please JOIN ANIMATION RESOURCES. It's well worth it.
The Humpbacked Horse



Ivan Ivanov-Vano / Soyuzmultfilm / 1947
Download this article
One of the unquestioned masterpieces of Russian animation is Ivan Ivanov-Vano's The Humpbacked Horse. This lavish film was produced in the years immediately following World War II when Russia was isolating itself from Western influences. Ivanov-Vano mined Russian fables and fairy tales as subjects for animated films, and adapted them to suit the ideological demands of the Soviet authorities who oversaw the Soyuzmultfilm studio. The goal was to create animation that competed with Western studios like Disney, while developing a style that was distinctly Russian.
Based on a poem by Peter Erschov, the narration and dialogue is all spoken in rhyme. The colors and design emulate Russian folk art. It is ironic that as much as Ivanov-Vano struggled to establish his own identity, separate from American animation, the film was greatly admired by Walt Disney, who screened it for his animators as an example of a successful animated feature.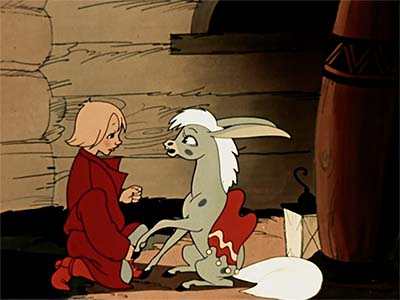 At one point, The Humpbacked Horse was thought to be a lost film. The original film elements were poorly cared for, and by the early 1970s they had deteriorated to the point where they were deemed unsuitable for release. But demand for the film was sufficient that nearly three decades after the film's original release, Ivanov-Vano put together a crew to remake the film. The remake was released in 1975 and a dubbed version was released in the United States titled The Magic Pony. It was not a shot for shot recreation, but followed the original film closely. In the early 2000s, film restoration technology had advanced to the point where a full restoration of the 1947 version was practical. This is the version we are sharing with our members in this Reference Pack.

---
MEMBERS LOGIN To Download Videos
JOIN TODAY To Access Members Only Content
---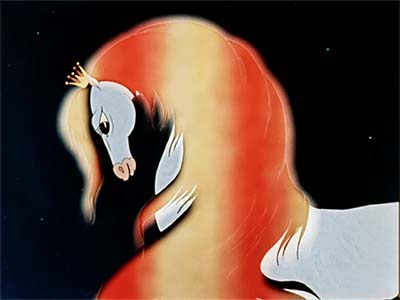 Here is the synopsis of The Humpbacked Horse from Wikipedia:
An old man has three sons. The elder two are considered fairly smart, while the youngest, Ivan, is considered a fool. One day the father sends the three to find out who's been stealing hay from their fields at night. The elder brothers decide to lie hidden in a haystack, where they promptly fall asleep. Ivan, meanwhile, sits beside a birch tree and plays on his recorder. Suddenly, he sees a magnificent horse come flying out of the sky. Ivan grabs her mane and holds on as the horse tries to shake him off. Finally, the horse begs him to let her go and in return gives him two beautiful black stallions and a little humpbacked horse (named Konyok-gorbunok) to be his companion.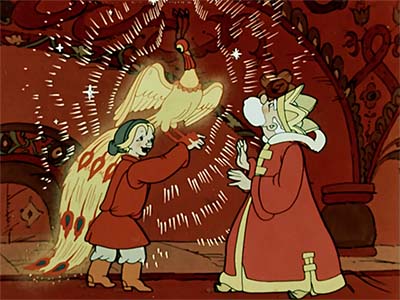 Ivan leads the two black horses to a stable and runs off with Konyok-gorbunok to fetch buckets of water for them. When he comes back, he finds that his brothers have taken his horses. Konyok-gorbunok tells the boy that he will carry him to the city to recover the horses. Ivan sits on its back and they go flying through the clouds. Along the way, Ivan finds the fiery feather of a firebird, which shines without giving off any heat. Konyok-gorbunok warns him that it will cause him difficulty later, but Ivan pays him no mind.
When they reach the city, Ivan outwits his brothers and sells his black horses to the Tsar. However nobody besides Ivan can control the horses, so he is put in charge of the Tsar's stables. Spalnik, one of the Tsar's courtiers, takes an instant dislike to Ivan and hides himself in the stables to watch him at work, so that he can find a way to remove him from the Tsar's favor. Spalnik sees Ivan use the firebird's feather for light and schemes to steal it from him. The next day, Spalnik shows the firebird's feather to the Tsar, who decides that if one feather can be that beautiful, he needs an entire bird. With Spalnik's urging, the Tsar commands Ivan to catch him a firebird or lose his post.

---
MEMBERS LOGIN To Download Videos
JOIN TODAY To Access Members Only Content
---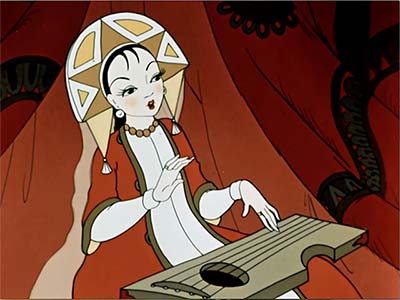 With Konyok-gorbunok's help, Ivan catches a firebird and brings it back to the Tsar's delight. Spalnik convinces the Tsar to order Ivan to fetch the Tsar a beautiful wife. Ivan is summoned and told that the consequences will be dire if he doesn't bring back a beautiful wife for the Tsar within three weeks. Ivan again manages to do this.
The Tsar is overjoyed and begs the young maiden to marry him, but she refuses, telling him that she would only marry him if he were young and handsome. The girl tells him that for him to become young and handsome he would need to bathe first in boiling milk, then in boiling water, and finally in freezing water. Spalnik tells the Tsar to try this out on Ivan first, hoping at last to be rid of his nemesis. The Tsar agrees. Needless to say, Ivan protests, and the Tsar orders him to be thrown into prison until everything is ready the next morning. Konyok-gorbunok comes to Ivan and through the prison bars tells him not to worry. All he needs to do is simply whistle for him in the morning and let him put a magic spell on the milk and water so that it will not be harmful to him. Spalnik overhears this, and kidnaps Konyok-gorbunok just as he is leaving Ivan's cell.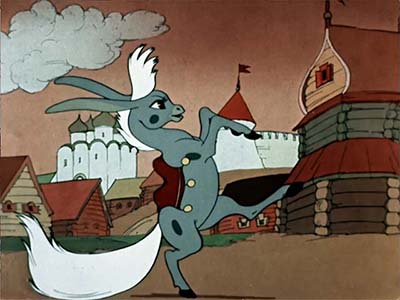 In the morning, Ivan whistles for Konyok-gorbunok, who is tied in a bag. The little humpbacked horse manages to free himself eventually, knocking Spalnik out a window and into a well. He rushes to Ivan's rescue and reaches him at the very last moment. Konyok-gorbunok puts a spell on the three cauldrons that have been prepared. Ivan jumps into the boiling milk, then the boiling water and then the freezing water, and emerges as a handsome young man instead of a boy. The young maiden instantly falls in love with him. The Tsar gets excited and decides that he also wants to be young and handsome. However, the spell is no longer working, so after he jumps into the boiling water he doesn't come back out. Ivan, meanwhile, takes the maiden as his own wife and becomes the new Tsar, with Konyok-gorbunok continuing to follow him as his friend.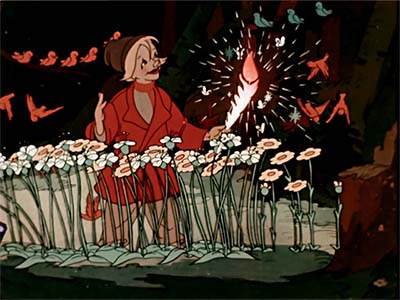 ---
MEMBERS LOGIN To Download Videos
JOIN TODAY To Access Members Only Content
---
There is a lot to learn from this film… The animation of the horses is brilliant and the design and color are dazzling. But also look at the structure and pacing of the film. Events are accordioned out or cut short depending on the flow of the film. The set pieces have plenty of time to play out, but the film never slows down to play out the narrative aspects of the story. This is something that Disney must have admired. His films handle elaboration and exposition in exactly the same way. Disney features never dawdle over explaining a plot point. We will have more treasures of Russian animation in upcoming Reference Packs. We hope you find this useful.
REFPACK041: The Humpbacked Horse

MP4 Video File / SD / 57:21 / 1.07 GB Download
Van Beuren's Tom & Jerry



"Barnyard Bunk" (1932) / "Jolly Fish" (1932)
Van Beuren cartoons are among the most misunderstood animated shorts from the golden age of animation. Armchair animation historians tend to have a certain set of criteria they judge by— either the polish and production values of Disney, or the carefully constructed gags of Tex Avery at Warner Bros and MGM. If you judge like that, Van Beuren cartoons fall far short, but that doesn't mean that there's nothing to learn from these films.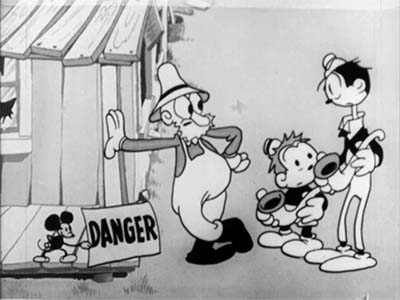 ---
MEMBERS LOGIN To Download Videos
JOIN TODAY To Access Members Only Content
---
Let's start by looking at these two cartoons the way animation historians who aren't cartoonists look at them… The style of drawing varies from shot to shot. A cow does a dance in one scene with one model and walks into the frame in the next shot with a completely different attitude and model. There's no attempt to render perspective or depth except in the most basic way. Most of the action takes place in a flat plane from right to left. Scene cuts don't build to a gag, most gags are completely contained within a single scene. The next scene sets up and plays out a totally new gag. The overall structure of the continuity is extremely basic. In fact, the story of the cartoon can be completely described in a single sentence… "A farmer's farm is falling apart until Tom & Jerry play their saxophones and bring it back to life." Or even more simply, "Tom & Jerry go fishing and are outwitted by fish and ducks." All of these criticisms are true, and all of them completely miss the point.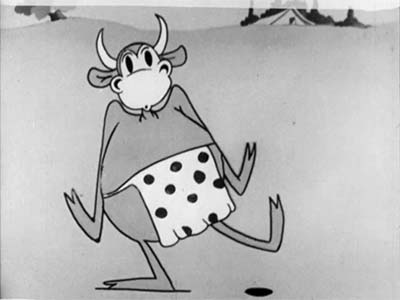 Cartoonists and animators can totally misunderstand the appeal of these cartoons too. It's de rigueure nowadays for every TV cartoon show to do a "retro episode" where the characters are drawn in old timey 1930s rubber hose style. They use a soundtrack full of ukulele music, rinky-tink jazz and Raymond Scott's Powerhouse, not for any particular purpose beyond simple nostalgia. They'll paint backgrounds with farmyards or city streets from the depression and color the cartoon in shades of black and white. Yet the results are always the same… Even though the new old fashioned cartoons look and sound like the cartoons of the 1930s, they just don't feel anything like them.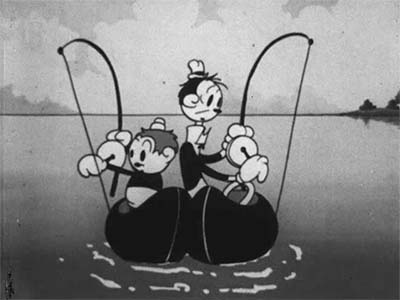 Why is this? The answer is simple. Van Beuren cartoons aren't good because they are carefully crafted and constructed like a Disney or Tex Avery cartoon. And they aren't good because they are in black and white and have peppy jazz music. They are good because they were created by artists who were having FUN.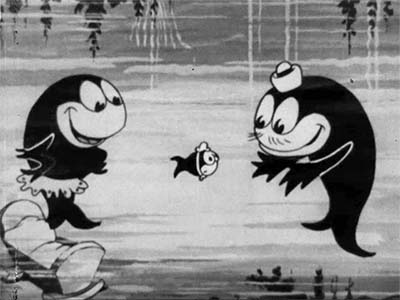 In order to appreciate these cartoons, you have to look beneath the surface. Their appeal isn't in their style, it's in the creative freedom they express. The animation in these Tom & Jerry cartoons was handed out to the animators scene by scene. The artists were given a general idea of what was supposed to happen between the cuts, but if they thought of a way to make it funnier, they were free to go with that. They weren't laying bricks to create a foundation for other people to build on, they were going all out to make their own fifty feet of film as funny as they possibly could.
When the time came to string all the animators' work together, a cursory hookup was all that was needed to transition from one animator's section to the next. They weren't building a symphony, they were competing in a jam session. Every animator was encouraged to improvise, without worrying about continuity, consistency or production value. And this competition for laughs ended up producing films that were jam packed with funny surprises. It's no wonder that a one-of-a-kind animator like Jim Tyer started out his career at Van Beuren, and it's no wonder that Van Beuren was the only studio who fully recognized Tyer's creative spark and allowed him to direct.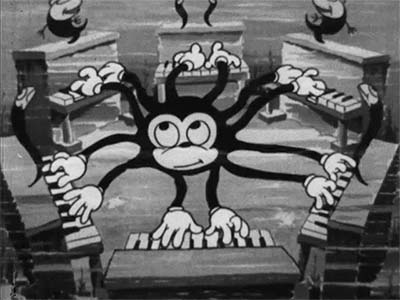 So when you are looking at these films, look past the surface nostalgia and focus at what is going on behind the scenes. Think about applying this kind of freedom to your own films. Imagine how much fun it would be to work on a project where the only requirement is to produce approximately five minutes of animation on a simple theme… where the animators weren't required to conform to a specific model, but instead were encouraged to create the funniest action possible in their own style. Who wouldn't want to work like that?!

---
MEMBERS LOGIN To Download Videos
JOIN TODAY To Access Members Only Content
---
Van Beuren wasn't the "worst cartoon studio in the golden age" as some people have described it. It was one of the few studios that gave its artists absolute freedom. Many thanks to Animation Resources Advisory Board Member
Steve Stanchfield
for sharing these rare films with us.
REFPACK041: Barnyard Bunk

MP4 Video File / SD / 05:30 / 109 MB Download
REFPACK041: Jolly Fish

M4V Video File / SD / 05:25 / 132 MB Download
---
MEMBERS LOGIN To Download Videos
JOIN TODAY To Access Members Only Content
---
Not A Member Yet? Want A Free Sample?
Check out this SAMPLE REFERENCE PACK! It will give you a taste of what Animation Resources members get to download every other month!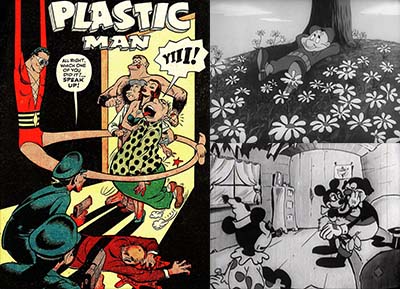 by

Comments