Even if you aren't able to contribute or volunteer, you can help the Animation Resources project by writing a letter of support. We plan to apply for grants and sponsorships to take the project to the next level, and feedback from the users of our resources is vital to convincing potential sponsors that AnimationResources.org is a worthwhile project to support.
We are looking for letters from students, educators, artists and professionals in the animation industry. Your letter should include…
A little information about yourself
The resources that you find most valuable
Examples of how Animation Resources has helped you in the past
What you would like to see Animation Resources do in the future
Your statement of support and encouragement to others to support the project as well
For more information and the address to send your letter of support to, please contact Stephen Worth at sworth@animationresources.org.

Make sure to share animationresources.org with your friends on FACEBOOK, TWITTER and TUMBLR too.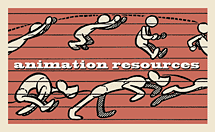 Put this button on your website or blog and link it to www.animationresources.org to help us spread the word.












by

Comments