---
REFPACK 011

July-August 2016
---
MEMBERS LOGIN To Download Video
JOIN TODAY To Access Members Only Content
Every other month, members of Animation Resources are given access to an exclusive Members Only Reference Pack. These downloadable files are high resolution e-books on a variety of educational subjects and rare cartoons from the collection of Animation Resources in DVD quality. Our current Reference Pack has just been released. If you are a member, click through the link to access the MEMBERS ONLY DOWNLOAD PAGE. If you aren't a member yet, please JOIN ANIMATION RESOURCES. It's well worth it.
Three Halas & Batchelor Shorts



"Top Dogs" (1960) "The Stowaway" (1960) "The Cultured Ape" (1959)
John Halas was born in Hungary and in 1932 he was one of the founders of the first animation studio there, Coloriton. He studied with George Pal for a time, then emigrated to England, where he met his wife and partner, Joy Batchelor. They established Halas & Batchelor studios in 1940, taking on commercial work and propaganda films for the Ministry of Information. After WWII, the studio grew with leaps and bounds, tackling the production of the animated theatrical feature Animal Farm. During the 1950s, they moved into television animation, producing Dodo The Kid From Outer Space and Foo Foo.
We are presenting three Halas & Bachelor shorts from their television era. They display remarkable ingenuity despite the limitations of television budgets and schedules. The first film, "Top Dog" employs paper cut out characters in a very appealing way. "Foo Foo The Stowaway" uses simple means to put across its story without compromising movement, design or color. The third film, "The Cultured Ape" is modeled after the UPA style, and succeeds to make its point in a more entertaining way than many of the UPA films it is based upon. In the United States, television animation sacrificed the animation and made up for it with design, but Halas & Batchelor succeed on both counts. These videos will only be available to Animation Resources members for two months, July and August of 2016, after which they will be removed from the download area of the website.
REFPACK011: Snip & Snap Top Dogs (1960)



MP4 Video File / 6:53
137 MB Download
REFPACK011: Foo Foo The Stowaway (1960)



MP4 Video File / 7:09
154 MB Download
REFPACK011: The Cultured Ape (1959)



MP4 Video File / 7:20
331 MB Download

---
MEMBERS LOGIN To Download Video
JOIN TODAY To Access Members Only Content
---
---
MEMBERS LOGIN To Download Video
JOIN TODAY To Access Members Only Content
---
Not A Member Yet? Want A Free Sample?
Check out this SAMPLE REFERENCE PACK! It will give you a taste of what Animation Resources members get to download every other month!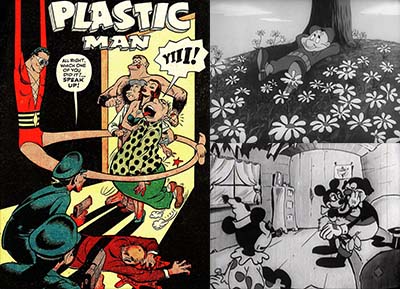 by