This posting is a stub. You can contribute to this entry by providing information through the comments link at the bottom of this post. Please organize your information following the main category headers below….
Birth/Death
February 8, 1908 Taylor, Texas
Death August 26, 1980 died on the job at Hanna Barbera Studios (had been suffering from lung cancer for a year)
Occupation/Title
American animator, cartoonist, and director
Bio Summary
Tex Avery was a natural artist from a young age, he did a comic book in high school, and he went to an art college. He was famous for producing cartoons during the "Golden Age of Hollywood". He is most synonymous for the work he did for Warner Bros. (working in the famous "Termite Terrace") also working for Metro Goldwyn Mayer studios, creating the characters Bugs Bunny, Daffy Duck, and Droopy. His work had a vast far-reaching influence in the 1940's and 1950's. "Avery's directing style broke the mold of strict realism established by Walt Disney".
Early Life/Family
Parents, George Walton Avery and Mary Augusta "Jessie" Bean
Paternal grandparents, Needham Avery and Lucinda C. Baxley
Maternal grandparents, Frederick Mumford Bean and Minnie Edgar
Tex's interest in animation began at an early age. He started drawing comic strips in high school. Where he came up with the famous catch phrase "what's up doc". He graduated from high school in 1926.
Education/Training
Tex spent a summer studying at the Chicago Art Institute. He moved to California in the early thirties. Avery got a job at a small cartoon studio doing inking and cel painting. Afterwards he worked for Walter Lantz as a painter, and eventually landed a job as a story boarder.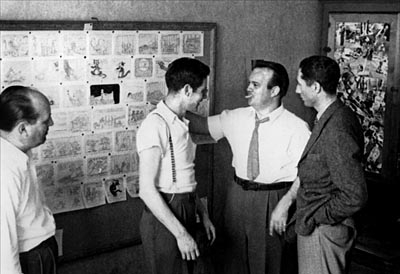 Tex Avery at Walter Lantz's studio
Career Outline
While at Walter Lantz studios, Avery did work on Oswald the Lucky Rabbit cartoon series. He left Lantz studios and had the opportunity to lead his own production team with Warner Bros. In 1935, he was assigned the Looney Toons cartoon series. Along with his creative team of Bob Clampett, Chuck Jones, and Frank Tashlin, Avery had the almost insurmountable task of dethroning the Walt Disney Studio, who were the kings of short animated film at the time. They succeeded by creating such lunatic, zany characters, like Porky Pig, Daffy Duck, and Bugs Bunny. "Unlike Disney, Avery cartoons had their own personality". He later went on to work for MGM in 1941, and created characters like The Wolf, Droopy, and Screwball "Screwy" Squirrel. After MGM, Avery went back to Lantz studios for a short time and directed four cartoons, which introduced the character Chilly Willy the penguin. In the 1960's Tex got involved in commercials for Raid, and Frito Lay's. His final employer was Hanna Barbera studio, where he wrote gags for Saturday morning cartoons like Kwicky Koala.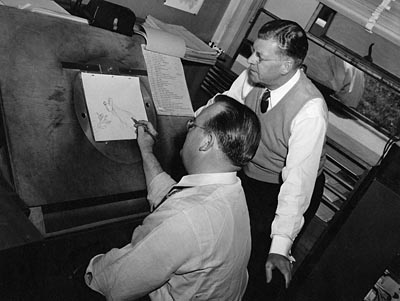 Tex Avery and Fred Quimby at MGM
Comments On Style
Avery had a terrific, zany sense of humor, which showed in his films. His favorite story's to tell were the American "tall tales", that were predominant in Texas. Also I found it interesting that he couldn't see out of his left eye, thus his depth of perception was hindered. But in my opinion it didn't take away from his films, instead it added a sort of "bizarre directional style". I also like how Avery disregarded realism in his works, like laws of gravity, and life and death situations. His characters personalities were very dynamic, almost insane at times (good example would be Daffy Duck).
Influences
Walter Lantz
Walt Disney
Telling his Texas sized "tall tales" and stories.
Appealing to grown ups as well as children.
The loss of vision in his left eye as a result of "horse play" by his co-workers, instead of hindering him, it inspired him to a "driving perfectionism".
Personality
"Savage" sense of humor
Ladies man, athletic until his accident
Fun loving, eccentric, and charismatic
Anecdotes
"What's up Doc?"
"In a cartoon you can do anything"
"Animation owed me a living"
an anecdote from Daws Butler:
"Tex was a marvelous guy to learn the business with. He was the first brilliant (director) I ever worked for, and he's such a fussy man. This was before they had tape, and everybody was afraid of wasting film, so he would rehearse me, until I wouldn't have any voice left. There would be yells- he loved yells. I don't know if he invented the gag, but he sure used it a lot, where the guy hits his thumb with a hammer or something, then looks up and it says, "Hospital Zone- Quiet," and he runs over hill and dale, into the distance, and goes YEOWW! A yell is a yell, and I do pretty good yells, but he would have me do about eight of these, then he'd say, "Gee, that's close." Then he'd say, "Well, let's lay one down," then we'd do one on the film. Then he would always throw in a couple himself, just for protection." ( www.dawsbutler.com)
Miscellaneous
Avery often did the voices of the characters in his cartoons he mostly did the more "buffoonish" types of characters.
Someone who actually had a moderately bad stutter did the voice of Porky Pig.
Avery got the idea for the signature voice of Daffy Duck from his boss, Leon Schlesinger, who had a speech impediment.
When he moved to California, Avery worked loading fruits and vegetables on the docks at Los Angeles, during this time he had to sleep on the beach.
Tex Avery was a descendent of the infamous Judge Roy Bean
Filmography
Director:
Towne Hall Follies (1935) (uncredited)
Quail Hunt (1935) (uncredited)
Gold Diggers of '49 (1935) (as Fred Avery)
The Blow Out (1936) (as Fred Avery)
Plane Dippy (1936) (as Fred Avery)
I'd Love to Take Orders from You (1936) (as Fred Avery)
Page Miss Glory (1936) (uncredited)…, Aka Miss Glory (USA: short title)
I Love to Singa (1936) (as Fred Avery)
Porky the Rainmaker (1936) (as Fred Avery)
The Village Smithy (1936) (as Fred Avery)
Milk and Money (1936) (as Fred Avery)
Don't Look Now (1936) (as Fred Avery)
Porky the Wrestler (1937) (as Fred Avery)
Picador Porky (1937) (as Fred Avery)
Porky's Duck Hunt (1937) (as Fred Avery)
I Only Have Eyes for You (1937) (as Fred Avery)
Uncle Tom's Bungalow (1937) (as Fred Avery)
Ain't We Got Fun (1937) (as Fred Avery)
Porky's Garden (1937) (as Fred Avery)
I Wanna Be a Sailor (1937) (as Fred Avery)
Egghead Rides Again (1937) (as Fred Avery)
A Sunbonnet Blue (1937) (as Fred Avery)
Little Red Walking Hood (1937) (as Fred Avery)
Daffy Duck & Egghead (1938) (as Fred Avery)
The Sneezing Weasel (1938) (as Fred Avery)
The Penguin Parade (1938) (as Fred Avery)
The Isle of Pingo Pongo (1938) (as Fred Avery)
A Fued There Was (1938) (as Fred Avery)
Johnny Smith and Poker-Huntas (1938) (as Fred Avery)
Daffy Duck in Hollywood (1938) (as Fred Avery)
Cinderella Meets Fella (1938) (as Fred Avery)
The Mice Will Play (1938) (as Fred Avery)
Hamateur Night (1939) (as Fred Avery)
A Day at the Zoo (1939) (as Fred Avery)
Thugs with Dirty Mugs (1939) (as Fred Avery)
Believe It or Else (1939) (as Fred Avery)
Dangerous Dan McFoo (1939) (as Fred Avery)
Detouring America (1939) (as Fred Avery)
Land of the Midnight Fun (1939) (as Fred Avery)
Fresh Fish (1939) (as Fred Avery)
Screwball Football (1939) (as Fred Avery)
The Early Worm Gets the Bird (1940) (as Fred Avery)
Cross Country Detours (1940) (as Fred Avery)
The Bear's Tale (1940) (as Fred Avery)
A Gander at Mother Goose (1940) (as Fred Avery)
Circus Today (1940) (as Fred Avery)
A Wild Hare (1940) (as Fred Avery)…, Aka The Wild Hare (USA: reissue title)
Ceiling Hero (1940) (as Fred Avery)
Wacky Wildlife (1940) (as Fred Avery)
Of Fox and Hounds (1940) (as Fred Avery)
Holiday Highlights (1940) (as Fred Avery)
The Haunted Mouse (1941) (as Fred Avery)
The Crackpot Quail (1941) (as Fred Avery)
Tortoise Beats Hare (1941) (as Fred Avery)
Porky's Preview (1941) (as Fred Avery)
Hollywood Steps Out (1941) (uncredited)
The Heckling Hare (1941) (uncredited)
Aviation Vacation (1941) (as Fred Avery)
Speaking of Animals Down on the Farm (1941)…, Aka Down on the Farm (USA: short title)
All This and Rabbit Stew (1941) (uncredited)
The Bug Parade (1941) (uncredited)
Speaking of Animals in the Zoo (1941)
The Cagey Canary (1941) (uncredited)
Aloha Hooey (1942) (uncredited)
Crazy Cruise (1942) (uncredited)
Blitz Wolf (1942)
The Early Bird Dood It! (1942)
Dumb Hounded (1943)
Red Hot Riding Hood (1943)
Who Killed Who? (1943)
One Ham's Family (1943)
What's Buzzin' Buzzard? (1944)
Screwball Squirrel (1944)
Batty Baseball (1944)
Happy-Go-Nutty (1944)
Big Heel-Watha (1944)…, Aka Buck of the Month
The Screwy Truant (1945)
Jerky Turkey (1945)
The Shooting of Dan McGoo (1945)…, Aka The Shooting of Dan McScrew
Swing Shift Cinderella (1945)…, Aka Swingshift Cinderella (USA: poster title)
Wild and Woolfy (1945)…, Aka Robinson's Screwball
Lonesome Lenny (1946)
The Hick Chick (1946)
Northwest Hounded Police (1946)…, Aka The Man Hunt
Henpecked Hoboes (1946)
Hound Hunters (1947)
Red Hot Rangers (1947)
Uncle Tom's Cabana (1947)
Slap Happy Lion (1947)
King-Size Canary (1947)
What Price Fleadom (1948)
Little 'Tinker (1948)
Half-Pint Pygmy (1948)
Lucky Ducky (1948)
The Cat That Hated People (1948)
Bad Luck Blackie (1949)
Senor Droopy (1949)
The House of Tomorrow (1949)
Doggone Tired (1949)
Wags to Riches (1949)…, Aka From Wags to Riches
Little Rural Riding Hood (1949)
Out-Foxed (1949)
The Counterfeit Cat (1949)
Ventriloquist Cat (1950)
The Cuckoo Clock (1950)
Garden Gopher (1950)
The Chump Champ (1950)
The Peachy Cobbler (1950)
Cock-a-Doodle Dog (1951)
Daredevil Droopy (1951)
Droopy's Good Deed (1951)
Symphony in Slang (1951)
Car of Tomorrow (1951)
Droopy's Double Trouble (1951)
Little Johnny Jet (1952)
Magical Maestro (1952)
One Cab's Family (1952)
Rock-a-Bye Bear (1952)
T.V. of Tomorrow (1953)
The Three Little Pups (1953)
Crazy Mixed Up Pup (1954)…, Aka Crazy Mixed-up Pup (USA)
Drag-A-Long Droopy (1954)
Billy Boy (1954)
Homesteader Droopy (1954)
Farm of Tomorrow (1954)
The Flea Circus (1954)
Dixieland Droopy (1954)
I'm Cold (1954)
The Legend of Rockabye Point (1955)…, Aka Legend of Rock-A-Bye Point (USA: video box title)…, Aka The Rock-a-Bye Legend (USA: reissue title)
Field and Scream (1955)
Sh-h-h-h-h-h (1955)
The First Bad Man (1955)
Deputy Droopy (1955)
Cellbound (1955)
Millionaire Droopy (1956)
"The Woody Woodpecker Show" (1957) T.V. series (theatrical cartoon segments)
"Tom and Jerry" (1965) T.V. series (uncredited)
Woody Woodpecker and His Friends (1982) (V) (original material)
"Merrie Melodies": Starring Bugs Bunny and Friends (1990) T.V. series (original material)
"That's Warner Bros.!" (1995) T.V. series (original material)
"The Bugs and Daffy Show" (1996) T.V. series (original material)
"Cartoon Alley" (2004) T.V. series (original material)
Writer:
Quail Hunt (1935)
Crazy Mixed Up Pup (1954) (written by)
Sh-h-h-h-h-h (1955)
"The Woody Woodpecker Show" (1957) T.V. series (writer)
"Tom and Jerry" (1965) T.V. series (writer) (uncredited)
"The Kwiky Koala Show" (1981) T.V. series (creator)
Himself:
Bugs Bunny Superstar (1976)". Himself
Honors
Academy Award/Oscar: (1943) Nominated for Best Short Subject, Cartoons for: Wolf Blitz (1942)
Annie Award: (1974) Winsor McCay Award
Related Links
www.wikipedia.org/biography/texavery
www.imdb.com
www.texavery.com
Bibliographic References
Bright Lights Film Journal/ The Life and Career of Tex Avery
Contributors To This Listing
Theo Young
Josh Heisie
To make additions or corrections to this listing, please click on COMMENTS below…












by

Comments