This posting is a stub. You can contribute to this entry by providing information through the comments link at the bottom of this post. Please organize your information following the main category headers below….
Birth/Death
Birth:January 29, 1915,
Death: May 11, 2002, Grandview, Indiana
Occupation/Title
Storyboard artist,writter, ilustrator.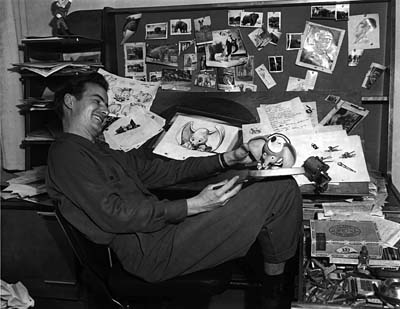 Bio Summary
Bill Peet was hired by Walt Disney Studios in 1937. Although mostly remembered for his character and story work on the feature film Song of the South, during his years at Disney Studios Bill Peet provided a cavalcade of story sketch and character development work on many of the classic Disney films such as Dumbo, Cinderella, Alice In Wonderland, Peter Pan, Sleeping Beauty, 101 Dalmatians, and The Sword In the Stone. He wrote original stories and provided characterization drawings for some of the featurettes such as Lambert the Sheepish Lion, Victory Through Air Power, Goliath II, Ben and Me, as well as a series of popular Goofy shorts.During his 27 year career making animated films, Bill Peet became Walt Disney's greatest storyman.
Leaving Disney Studios in 1964 after completing story and character work on The Jungle Book, Peet launched himself into another successful career as a popular author and illustrator of his own line of children's books.
He has written and illustrated more than 30 books for children which have been praised by parents, teachers, librarians, and children because they make reading fun and teach positive values.
Early Life/Family
Education/Training
Career Outline
Comments On Style
Influences
Personality
Anecdotes
Miscellaneous
In addition to drawing and writing, Peet auditioned voice talent and directed the recording of the dialogue for many of the films on which he worked.
Filmography
PINOCCHIO
FANTASIA
DUMBO
SONG OF THE SOUTH
CINDERELLA
ALICE IN WONDERLAND
PETER PAN
SLEEPING BEAUTY
101 DALMATIANS
THE SWORD AND THE STONE
JUNGLE BOOK
ANIMATED SHORTS :
Goliath II
Lambert the sheepish lion
Susie the little blue coupe
Ben and me
Goofy Shorts:
A KNIGHT FOR A DAY
TIGER TROUBLE
CALIFORNY ER BUST
HOW TO PLAY FOOTBALL
Honors
Annie Award: Winsor McCay Award 1981
Pioneer Award
For Innovation in the Field of Animation
Vintage Animation 1994
Related Links
A-HAA: Story: Writing Cartoons Part Four- The Rough Board
Bibliographic References
BIO-AAA-507
Contributors To This Listing
Ignacio Ochoa
To make additions or corrections to this listing, please click on COMMENTS below…












by

Comments