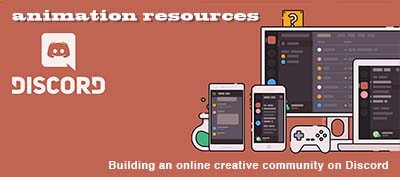 With quarantines and shelter in place orders sweeping the globe, it's important to stay in touch with the creative community. Animation Resources is doing its part by launching a Discord server for animators, cartoonists and illustrators.
What is Discord? If you are under 30, you probably already know. If you are a little bit older than that, here is a quick description of what Animation Resources Discord Server is all about…
Discord is a free chat app that supports video, voice chat and text chat. Discord servers are divided into channels, which all have their own subject or theme of discussion. Members are assigned roles which helps everyone keep track of who's who. The Animation Resources Discord channel is a virtual meeting place for our supporters. You can meet other Animation Resources members, talk with the people behind the scenes at our organization, and attend lectures and screenings— all without leaving your home. It's free and open to everyone in the creative community. If you'd like more info on how Discord works, see this article: What is Discord?
Here's how to install the Discord app and login to the Animation Resources Discord Server:
---
1. INSTALL DISCORD
iPhone or Android: Download the app from the App Store or Google Play Store and install.
Desktop: You can access Discord for your Mac or PC from discordapp.com. You can choose to download and install the free Discord app, or enter our channel directly using your web browser.
2. CREATE AN ACCOUNT
Just follow the prompts to create your own login account.
3. JOIN THE ANIMATION RESOURCES CHANNEL
Click the plus sign to the right of the app and select "JOIN A SERVER".
Enter this invite code: vES5YsV
4. YOU'RE THERE!
Take a moment to look around, read the rules and introduce yourself.
---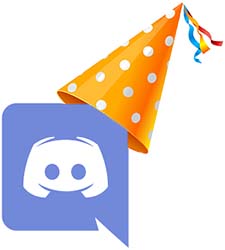 LAUNCH PARTY



May 30th!
The Animation Resources Discord Server is open to the public right now. But we are holding a launch party to celebrate and you're invited! Come meet some of the officers and volunteers behind our organization and help us get it started with a bang. Animation Resources President, Stephen Worth and Board Member Davey Jarrell will be presenting a brief Q&A on Chuck Jones's timing techniques. This is the first of our monthly Discord get-togethers where we screen films and discuss a wide variety of creative topics. Mark the last Saturday of every month on your calendar and join us for our monthly virtual meetings!

Animation Resources

Discord Server

Launch Party

Saturday, May 30th 4pm Pacific Daylight Time
Chuck Jones Timing Techniques Q&A 5:30pm PDT
Discord Invite Code: vES5YsV

ABOUT THE PROGRAM
One of the biggest mysteries about the way cartoons were made in the classic era is musical timing. The number of frames an action would take to perform was planned along with the music that would accompany the movement. This synergy of timing and music is a big part of why golden age cartoons are so much more rhythmic and synchronized than modern animation. Davey Jarrell has reverse engineered Chuck Jones's notes for "How The Grinch Stole Christmas" and he will break it all down and explain how it works. The program takes place in the Animation Resources Discord Server and it starts at 5:30pm PST on May 30th. Don't miss it!













by