Today, we had a visit from the talented cartoonist, Milton Knight. He brought along the original boards from one of his stories for Graphic Classics series.
Milton is an amazing artist… His work is informed by a diverse variety of influences, from Japanese art to Terrytoons. His compositions and line reflect a distillation of the New York cartooning style, while still remaining uniquely his own. I can't think of a single living cartoonist whose work in any way resembles Milton's. He's truly one of a kind.
Milton kindly agreed to let us post this entire story adapted from a short story by Sir Arthur Conan Doyle…
THE GREAT BROWN-PERICORD MOTOR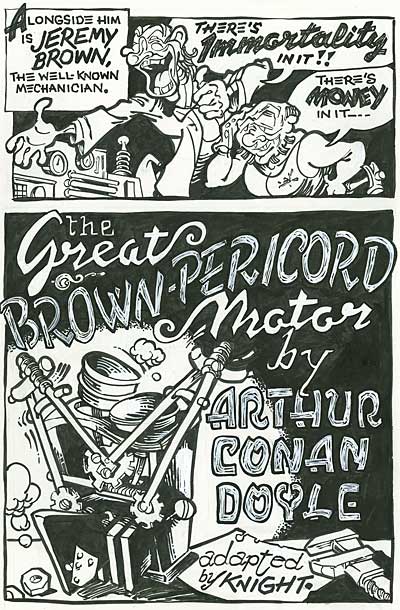 If you enjoyed this story, you can find the Graphic Classics Anthologies at Amazon.
Also, make it a point to visit Milton's Website.
Stephen Worth
Director
Animation Resources



This posting is part of the online Encyclopedia of Cartooning under the subject heading, Comic Books.













by

Comments