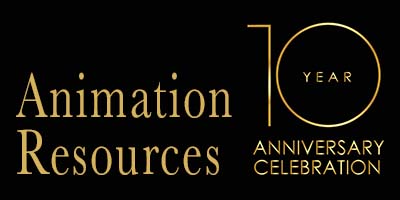 Wednesday is a very important day! It's the day Animation Resources is launching its Member Appreciation Month. This year's event is extra important, because this year marks our 10th anniversary and our 50th Reference Pack!
In honor of all this, Animation Resources has pulled out all the stops to share with everyone the treasures in our archive. Here are the things you'll be able to see beginning on Wednesday:
• We have prepared two huge downloadable e-books with a sampling of the best of the e-books in our fifty RefPacks. Totaling over 550 pages, these two books will be available for download by the general public.
• Animation Resources' Board Member, David Eisman has edited over 2 1/2 hours of clips of videos we've shared with our members over the past decade. It includes classic animation, foreign films, anime, documentaries, slapstick comedy and more! These two videos are introduced by Davey Jarrell and will be streamed many times over the next month, and will be available for download by the general public.
•Davey Jarrell and Stephen Worth have completed a monumental audio podcast that has been in the works since 2007. In it, Stephen traces the history of cartooning through time step by step from the present day all the way back to the 15th century. And if that isn't enough of a leap, Steve then traces the history of cartooning in Japan from the 12th century back to the present! This podcast is almost 3 hours long and it's packed with breadcrumbs for you to follow. The cartoon history podcast will be streamed multiple times over the next month, and will be available for download by Animation Resources members.
• Between February 8th and March 17th, we will have live streams of the Best of RefPack 1-25 video, the Best of Refpack 26-50 video and the Cartoon History podcast. And beginning Sunday February 19th, we will be hosting a series of three Discord Discussions where you can meet the people behind the scenes at Animation Resources and find out more about the 10th Anniversary offerings.
• On Sunday March 19th, we will be hosting an online party in our Discord server. Everyone is invited to join us in celebrating our tenth anniversary. Mark it on your calendar and come visit with all of us then.
We will have more information on all this starting on Wednesday, and we have more surprises too, so keep your eyes peeled for our announcement.
We want to offer a big THANK YOU to our members and volunteers for supporting our important work over the past ten years. Without you, none of this would be possible.












by

Comments