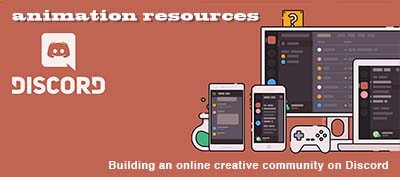 Since we launched our Discord server yesterday, the place has been packed with creative artists from all over the globe. They're sharing their work and networking and meeting lots of new people. One of the most exciting things about our server are the two channels dedicated to in-depth discussion: animation-talk and theory-talk. Animation-talk is for discussing films, and theory-talk is for analysis of technique.
Right now in theory-talk, Animation Resources own David "Pez" Hofmann is taking one of the breakdown clips that volunteer Nicholas Pozega prepares for our daily social media posts and he's analyzing it, figuring out what makes it tick. The scene is from an Art Davis Warner Bros. cartoon called "Bye Bye Bluebeard" and it has very fast action that still reads clearly. Pez asked me to post the clip here so the folks in Discord can access it and still frame through it.
Here is the clip…
And here is a download link so you can open the clip in Quicktime and still frame through it… Bye Bye Bluebeard Breakdown Clip
Every day, we post a breakdown clip on social media and people just look at it and say, "Hmmm. Interesting." But that isn't what these are for. They're for you to analyze and puzzle out so you can apply these techniques to your own work.
Jump into the Animation Resources Discord Server and join the discussion! For information on how to access our Discord server, see… Yesterday's Post on the Discord Launch. Make sure you mark Saturday, May 30th at 4:30pm PDT on your calendar. That is when we are having our Discord Launch Party and you're invited. Tell your friends!














by

Comments