REFPACK 033

Members Only Download
Every other month, members of Animation Resources are given access to an exclusive Members Only Reference Pack. These downloadable files are high resolution e-books on a variety of educational subjects and rare cartoons from the collection of Animation Resources in DVD quality. Our current Reference Pack has just been released. If you are a member, click through the link to access the MEMBERS ONLY DOWNLOAD PAGE. If you aren't a member yet, please JOIN ANIMATION RESOURCES. It's well worth it.
---
MEMBERS LOGIN To Download Video
JOIN TODAY To Access Members Only Content
---
Three Early Columbia Cartoons
"Scrappy's Expedition" (1934) / "Railroad Rhythm" (1937) / "Happy Tots' Expedition" (1940)
I want to make it clear from the outset that I don't think these cartoons are very good from an entertainment standpoint. The gags aren't particularly funny, the characters are devoid of personality, the stories don't make a whole lot of sense, and they contain subject matter that ranges from completely obsolete to downright offensive. "Scrappy's Expedition" features caricatures of radio stars that few people today will recognize. The Kate Smith caricature is accompanied by a song from 1917 that must have seemed out of date even in 1934 when the film was first released. There's inappropriate sexual innuendo sprinkled in everywhere. A ship's whistle behaves like a stereotypical gay man, and in "Happy Tots' Expedition" the characters ride on a rocket in a blatantly phallic manner repeatedly sliding under other characters' butts. "Railroad Rhythm" takes discomfort to a whole new level with stereotypical Eskimos rubbing noses and an incredibly insensitive caricature of character actor Steppin Fetchit as a chimpanzee… So why am I sharing these awful cartoons with our members?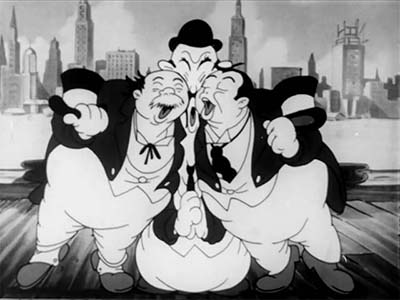 Ancient pop culture trivia and long gone derogatory depictions of people from different races and cultures might be a subject for study by social scientists and historians, but they should hold no interest for film makers designing animation for modern audiences. The content of these old scratchy cartoons— specifically the gags, plots and characters— just don't translate to our modern era. Creating cartoons like this today is a wrong-headed thing to do. But that doesn't mean that there's nothing to learn from these films, and it doesn't mean that breaking them down and studying them is wrong.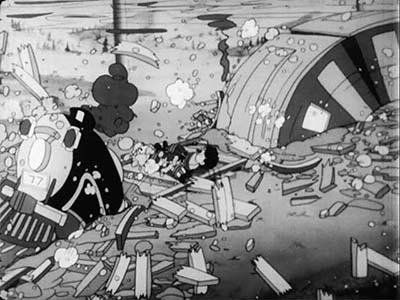 A film maker sees films differently than audiences do. The audience expects to be entertained. A film maker is looking for techniques he can learn from. Even though these three cartoons are about as entertaining as watching paint dry, they do have value. There are some scenes that are brilliantly animated, particularly when it comes to the animation of rain, water and smoke; as well as the rendering of the scale and perspective of large vehicles like ships and trains.
In "Railroad Rhythm" still frame through the scene where the train dives under the tracks at 2:58. Notice how the train digs down in front in to avoid hitting the characters, while the momentum of the cars behind causes them to bunch up. The force from the rear drives the front of the train down into the dirt. As soon as the engine and coal car clear the scene into the hole, the animator creates a repeating cycle of passenger cars to save on pencil mileage, and turns his attention to the locomotive bursting through the tracks on the other side. The engine flexes like rubber back onto the rails and off screen, while incredibly well tracked layers of steam, rubble and railroad ties fly in all directions. Throughout all this, the characters tied to the track strain at the ropes holding them until the train clears the scene leaving a hole and rubble behind. This animation is every bit as complex as anything in a Mickey Mouse cartoon, and it's even more amazing when you realize that the density of nitrate cels meant that all of this animation had to be accomplished on just three layers. Any way you slice it, it's a brilliantly organized bit of animation.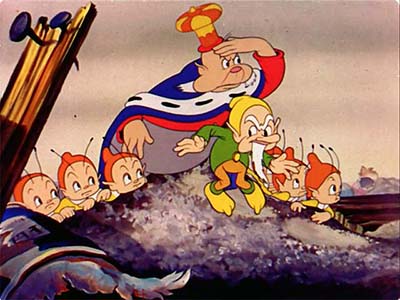 "Happy Tots' Expedition" was clearly intended to emulate the style of animation Disney created for "Snow White", but it does it in a totally bizarre way. Instead of "Squash and Stretch" and "Overlapping Action", the Columbia animators employ "Drag and Droop" and overlap the overlap until the characters wiggle like jello. It's completely unprincipled— solid forms defining bone structure stretch like taffy, just like the soft fleshy jowls and chin wattles. At one point the animator misinterprets the King's jowls as a mustache, and the ink & paint department dutifully corrects it by painting the mustache flesh colored. The King's robe swirls around in random S curves like a cobra. Head and eye proportions change from frame to frame. Hook ups between scenes are sometimes totally wrong. Still frame through the scene at 3:18 with the cyclops take; or even worse, check out the drawings in the mustache scene at 4:39. The topper gag really does top everything that came before with one of the most obscene sequences ever to get past the Hayes Office.
As you still frame through this cartoon you'll find a million hilarious drawings. But it's hard to know whether it was supposed to be funny in that way or not. It might be a devastatingly sharp parody of Disney animation with extreme overlap, rubbery squash and stretch and butt joke after butt joke… or perhaps it's a crew of inexperienced animators making a high splat on the wall. Either way, it's worth taking a close look at and puzzling out what the animators might have intended. It might give you ideas for weird and unexpected ways of animating movement.
I hope you won't dismiss old films because they don't live up to modern tastes. As a film maker, you shouldn't be studying films for their content. You should focus on how they were made. If you do that, even bad films can make you think and inspire you to go on and make much better films yourself.
Many thanks to Steve Stanchfield and Thunderbean Animation for sharing these rare films with our members.
REFPACK033: Scrappy's Expedition (1934)

MP4 Video File / SD / 6:47 / 125 MB Download
REFPACK033: Railroad Rhythm (1937)

MP4 Video File / SD / 6:35 / 124 MB Download
REFPACK033: Happy Tots' Expedition (1940)

MP4 Video File / SD / 6:21 / 112 MB Download
---
MEMBERS LOGIN To Download Video
JOIN TODAY To Access Members Only Content
---
---
MEMBERS LOGIN To Download Video
JOIN TODAY To Access Members Only Content
---
Not A Member Yet? Want A Free Sample?
Check out this SAMPLE REFERENCE PACK! It will give you a taste of what Animation Resources members get to download every other month!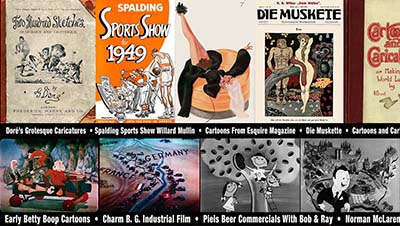 by

Comments