REFPACK 033

Members Only Download
Every other month, members of Animation Resources are given access to an exclusive Members Only Reference Pack. These downloadable files are high resolution e-books on a variety of educational subjects and rare cartoons from the collection of Animation Resources in DVD quality. Our current Reference Pack has just been released. If you are a member, click through the link to access the MEMBERS ONLY DOWNLOAD PAGE. If you aren't a member yet, please JOIN ANIMATION RESOURCES. It's well worth it.
---
MEMBERS LOGIN To Download Video
JOIN TODAY To Access Members Only Content
---
A Collection of Polish Animation



"Dumpling" Lucjan Dembinski (1959) / "Beyond The Wood, Beyond The Forest" Wladyslaw Nehrebecki (1961) / "The Little Quartet" Edward Sturlis (1965) / "A Little Western" Witold Giersz (1960)
In one of our previous Reference Packs, we discussed how The Wan Brothers' "Havok In Heaven" perfectly adapted the format of the animated feature to reflect the art and culture of China. This time we are presenting a couple of films that show how film makers halfway around the globe used animation to reflect a distinctly Polish point of view.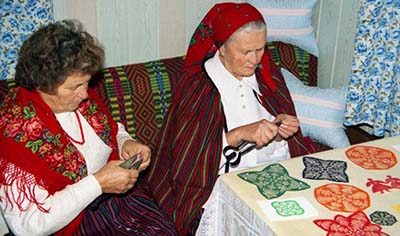 Wycinanki: The art of paper cutting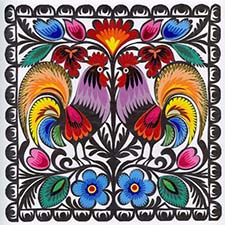 Lucjan Dembinski's "Dumpling" and Wladyslaw Nehrebecki's "Beyond The Wood, Beyond the Forest" both are styled after traditional Polish folk art.
The folk art form known as wycinanki (pronounced vee-chee-non-kee) originated in the Ukraine at the end of the 15th century. Shepherds would cut designs out of bark and leather, and artists would paint colorful floral patterns on furniture, beams and walls of homes. The art of wycinanki paper-cutting for holidays became very popular in the mid-1800s, and regional styles developed. The tradition still continues with skilled artisans competing to create the most beautiful patterns.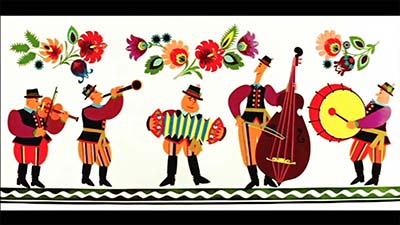 Wladyslaw Nehrebecki, who is best known for the television series "Bolek and Lolek", became interested in the peasant art of his native Poland, and teamed up with a Polish folk art museum to adapt the designs to animation using paper cut outs. The result was "Beyond The Woods, Beyond The Forest". Beautifully composed using a wide screen format, the bright colors and simple shapes are skillfully animated, essentially bringing wycinanki to life. Puppet animator Lucjan Dembinski also mined this rich well of inspiration with a film called "Dumpling" that translated wycinanki designs into three dimensional stop motion animation.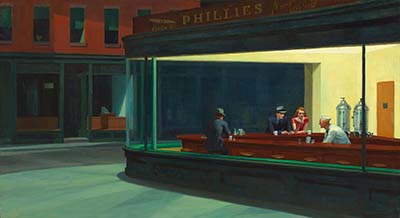 Too often we take culture for granted. As film makers, we look to other films for inspiration instead of seeing the creativity that surrounds us. Obviously in the United States, we don't have anything like wycinanki, but that doesn't mean that we can't draw on our culture for inspiration. Roy Lichtenstein saw comic books as fine art, Andy Warhol painted Campbells soup cans and Edward Hopper created an incredibly powerful image of a diner in the city late at night. Who's to say that modern highway interchanges, television, neon signs, computer screens or billboards aren't American equivalents of cultural folk art. As you watch these films, think about the unappreciated man-made beauty that exists in the place you live and try to incorporate that into your work. I guarantee you it will be a lot more engaging and interesting than recycling the same old tired animation tropes and done-to-death styles.
REFPACK033: Dumpling (1959)

MP4 Video File / SD / 9:44 / 118 MB Download
REFPACK033: Beyond The Wood,

Beyond The Forest (1963)

MP4 Video File / SD / 9:55 / 186 MB Download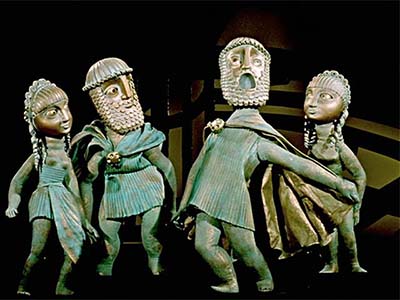 In RefPack 032, we shared a simple film called "Beach" that Edward Sturlis made in 1964. The following year, he made a fantastic puppet film called "The Little Quartet". It's interesting that Sturlis moved so effortlessly from hand drawn animation to stop motion. He must have seen himself as an animator, not a person who just draws or makes puppets. The two skills might be different from a technical standpoint, but the principles of creating personality and displaying it through timing and movement are the same. A lot of current animators define themselves as 2D or CG or Stop-Mo, but an animator is an animator. Sturlis proves it. As you watch this film check out the wonderful musical timing and expressive posing. It's pure genius.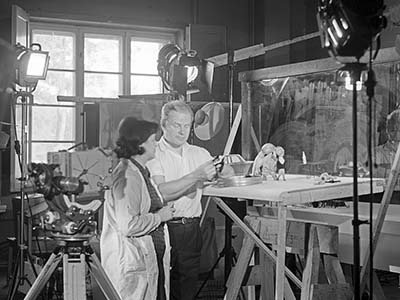 Edward Sturlis at work in his studio
Witold Giersz is a towering figure in Polish animation. He pioneered the art form in Poland as early as 1950 and went on to produce fifty films. Michael Sporn's "Splog" has a great interview with Giersz that you really should make a point of reading. That blog post will give you a sense of his work and biography. But I would like to focus on a specific aspect of his technique here…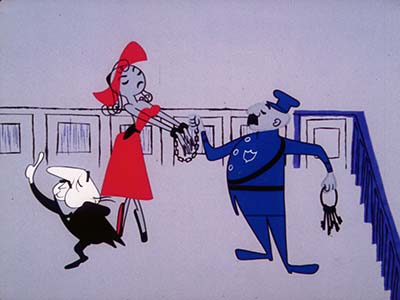 "Rooty Toot Toot" / John Hubley / UPA (1951)
In the past decade or so, there has been renewed interest in "modern animation". Books have been written on artists like Mary Blair and studios like UPA. Highly stylized animation is de rigueur for title sequences of CGI features, often looking more expressive and appealing than the film itself. Television animation and internet cartoons are produced with programs like Flash using libraries of modular virtual puppets designed with the flair of the 1950s cartoons and early 60s TV animation. But even though it's nicely designed and colored, modern stylized animation always seems to look flat compared to films like "Rooty Toot Toot" and even some of the television commercial reels Animation Resources has shared here in the past. Why is that?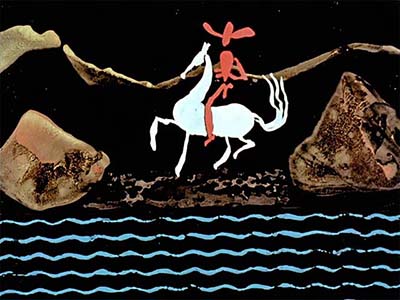 If you analyze Witold Giersz's film "A Little Western" you will spot the missing element. The film looks deceptively simple— flat featureless shapes, abstract textured blobs for backgrounds, simple bold primary colors. But behind that simple surface, there is a magic trick being performed.
Still frame through a few scenes and you will see simple, elegant flat shapes. Play it in motion and those flat shapes turn into solid volumetric forms. How can it be two dimensional and three dimensional at the same time? The secret is the fourth dimension of time and space. Ward Kimball once said that the art of animation doesn't exist in individual drawings. The art is in the differences between the drawings. The way those flat shapes change from one to another is the secret that gives it form. Look at Grim Natwick's animation of the courtroom scene in "Rooty Toot Toot" for another brilliant example of fourth dimensional animation. The characters exist as two dimensional shapes which reveal their three dimensional volume only when they move. Think about that as you watch "A Little Western".
REFPACK033: The Little Quartet (1965)

MP4 Video File / SD / 9:44 / 118 MB Download
REFPACK033: A Little Western (1960)

MP4 Video File / SD Widescreen / 5:27 / 112 MB Download
---
MEMBERS LOGIN To Download Video
JOIN TODAY To Access Members Only Content
---
---
MEMBERS LOGIN To Download Video
JOIN TODAY To Access Members Only Content
---
Not A Member Yet? Want A Free Sample?
Check out this SAMPLE REFERENCE PACK! It will give you a taste of what Animation Resources members get to download every other month!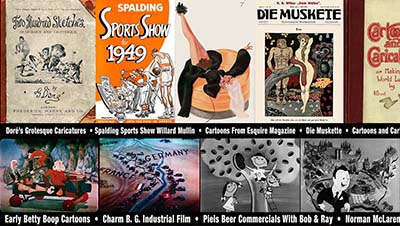 by

Comments