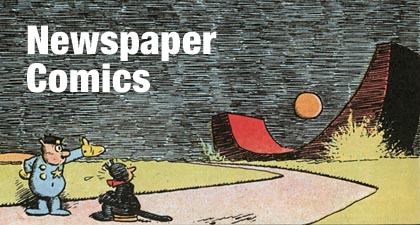 The Encyclopedia of Cartooning is the newest part of the Animation Resources website, and it's still very much under construction. If you are interested in what we plan to do in this space, have a seat and listen to this interview with Stephen Worth where he outlines the history of cartooning and talks about the issues that will be a big part of this section of the Animation Resources site…
A-HAA Podcast hosted by Michael Woodside and Danny Young: Stephen Worth on the History of Cartooning

---
Al Capp was an individual of no small complexity, and his intricate personality could be off-putting to say the least- or even downright contradictory. Capp's star seems to have fallen recently. Contemporary critics seem inclined to recall only his controversial later years, which were marked by divisive anger and a bitterness of the kind to which satirists seem particularly susceptible. Unfortunately, this oversimplification of Capp's complicated persona has overshadowed his creation, invalidating his real legacy.
"With Li'l Abner," writes Richard Marschall, "Capp was calling society absurd, not just silly; human nature not simply misguided, but irredeemably and irreducibly corrupt. Unlike any other strip, and indeed unlike many other pieces of literature, Li'l Abner was more than a satire of the human condition. It was a commentary on human nature itself."
Animation Resources supporter, Mike Fontanelli has dug into his extensive collection of "Cappiana" to share with us the story of this remarkable cartoonist.
---
ARTICLES
---
BIOGRAPHY
---
INBETWEENS ARTICLES
---












by

Comments