Here is another interesting item from the collection of Carlo Vinci. These photographs were among his most prized posessions. They are turn of the century reproductions of the paintings of Eduard von Grutzner. Grutzner was born in 1846 and received classical art training at the Munich Academie under the noted realist painter, Karl von Piloty. Grutzner specialized in genre paintings, which formed the basis for the style of many classic book illustrators who followed. He was famous for his paintings of jolly gatherings in alehouses, hunting scenes, and humorous images of monastic life, which these particular images represent. Grutzner was successful and popular in his day, and died in 1925.
The family isn't quite sure where Vinci obtained these photographs, but my guess is that they date back to his earliest years as a professional artist. After graduating from the National Academy of Design, Vinci was hired to do reproductions of classic paintings. It's entirely possible that these were used by him as reference for reproductions of one or more Grutzner paintings. It's easy to see why Vinci treasured these pictures. The compositions are classically perfect, the caricatures are well observed, the lighting is beautifully rendered, and a Falstaffian sense of humor makes the images a lot of fun.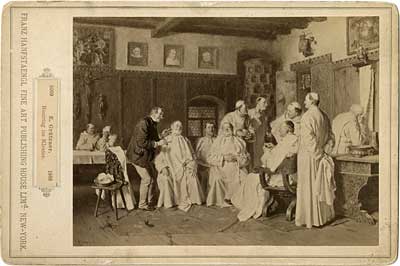 Stephen Worth
Director
Animation Resources
This posting is part of a series of articles comprising an online exhibit spotlighting Illustration.













by

Comments