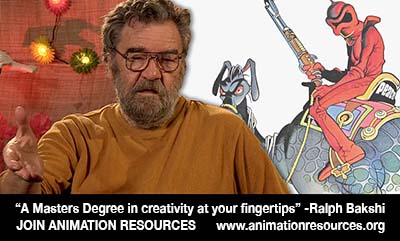 For those of you who are on the fence about joining Animation Resources, over the next three days, I am going to post a sample of our Members Only bi-monthly Reference Packs. Every other month, members are given the opportunity to download two DVD quality cartoons, and a high resolution PDF e-book curated by the Board of Animation Resources. The Reference Packs are available for a limited time, and once they expire off the site, they may never be available again.
Click to BECOME A MEMBER



OF ANIMATION RESOURCES!
Today's e-book was recommended by our Advisory Board member, Ralph Bakshi.
---
Jack Cole's



Plastic Man



Issues Nos. 1, 2 & 3 (1943)
Jack Cole's "Plastic Man" debuted in Police Comics in 1941 and was an immediate hit. Cole's offbeat humor and Plastic Man's ability to take any shape gave the cartoonist the opportunities to experiment with text and graphics in groundbreaking manner, helping to define the medium's vocabulary, and making the idiosyncratic character one of the few enduring classics from the Golden Age to modern times. Plastic Man gained his own title in 1943.
This PDF e-book contains the first three issues of Plastic Man comics and includes a biography of Jack Cole. It is optimized for display on the iPad or printing two up with a cover on 8 1/2 by 11 inch paper.
REFPACK001: PLASTIC MAN PDF



Adobe PDF File / 183 Pages
245.5 MB Download
To download the file, RIGHT CLICK on the link (Mac users OPTION CLICK) and select SAVE TO DISK. We are delivering high resolution files to you. When you click, it might take several minutes to finish the download, so please be patient.
---

Click to JOIN TODAY!
---












by

Comments