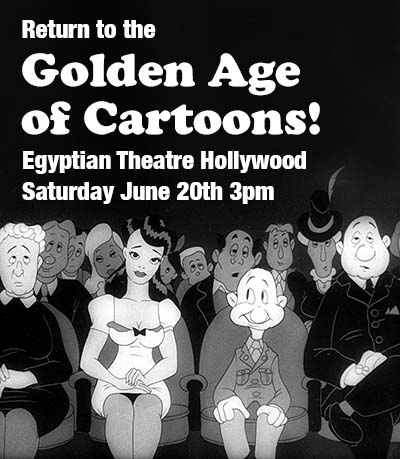 PRESS RELEASE
ANIMATION RESOURCES
STEPHEN WORTH
sworth@animationresources.org
FOR IMMEDIATE RELEASE
GOLDEN AGE CARTOONS SCREENING
Egyptian Theatre – Sat, June 20, 2015 – 3:00pm
Presented by the American Cinematheque and Animation Resources
Hollywood, CA May 22, 2015
A Time Machine Trip Back To The Golden Age Of Cartoons!
Back in the 1920s and 30s, cartoons were a truly magical experience. Hand drawn doodles danced and sang projected as big as a house on the silver screens of lavish movie palaces. Every short cartoon was a window into a world of its own, and artists were free to use their pencils and paint to make fun of absolutely anything- no rules, no censors.
Today, times have changed. Animation is primarily a children's medium. It's made with computers, and the scope of the cartoon world is limited by the size of the TV set in our living room. Classic animated films of the past have suffered the ravages of time, gradually deteriorating, being bumped out of broadcast TV schedules, fading away until they're little more than just a pleasant memory.
But on June 20th, film preservationist Steve Stanchfield will turn back the hands of time and present a program of newly restored vintage cartoons on the big screen at the legendary Egyptian Theatre in Hollywood. Stanchfield is a champion of rare and forgotten animation, and his company, Thunderbean Animation is helping preserve our cartoon heritage, utilizing modern digital technology to return these precious films to their former glory. Also on board for this exciting program is Stephen Worth, the president of Animation Resources, a 501(c)(3) non-profit organization devoted to serving animation artists and researchers. Worth will be sharing the stories of the artists who made the films and providing historical background.
The program will include a little bit of everything, from animation's biggest stars to its most unusual obscure characters. There will be silent films and sound films, early experimental color cartoons, as well as good old black & white. Highlights of the program include a newly restored copy of Ub Iwerks' "Hells Fire", presented in color for the first time since it debuted in 1934. Felix the Cat, the very first cartoon superstar, will be represented by pristine prints of "Felix the Cat Shatters the Sheik" and "Draggin' the Dragon (1926). There will be rare stop motion puppet films by Lou Bunin, a wartime training film made by Warner Bros that was never released, and rare films starring the deliciously obscure Mickey wanna-bes, "Cubby Bear" and "Binko the Cub". The rarest of the rare will be back up on the big screen where it belongs!
Steve Stanchfield will have DVDs and blu-rays of restored cartoons for sale in the lobby after the program, and Animation Resources will be on hand to provide info about their organization.
Saturday June 20th, 2015 3pm
American CInemateque: Egyptian Theatre
6712 Hollywood Boulevard
Hollywood, CA 90028
Tickets for this program are $11, and are available for advance sale at the Fandango link below. They will be on sale at the Egyptian Box Office the day of the event.
WEB LINKS:
ORDER TICKETS ONLINE AT FANDANGO
http://www.fandango.com/egyptiantheatrehollywood_aaofx/theaterpage?date=6/20/2015
EGYPTIAN CALENDAR LISTING
http://www.americancinemathequecalendar.com/content/the-golden-age-of-cartoons
FACEBOOK GOLDEN AGE CARTOONS EVENT PAGE
https://www.facebook.com/events/804998502903937/
Animation Resources is a 501(c)(3) non-profit arts organization serving professional animators, students, cartoonists and illustrators. Currently, Animation Resources has two major projects… The Animation Archive is a searchable database of biographical information, high resolution scans of artwork and digitized animated films. The Animation Creative League is a community that brings together artists in the Los Angeles community for screenings and seminars. To find out more about Animation Resources, see…
ABOUT ANIMATION RESOURCES
http://animationresources.org/about/
FOR MORE INFORMATION, CONTACT:
Stephen Worth
President, Animation Resources
sworth@animationresources.org
PUBLICITY IMAGES:
GOLDEN AGE CARTOONS SCREENING IMAGE 01
GOLDEN AGE CARTOONS SCREENING IMAGE 02
GOLDEN AGE CARTOONS SCREENING IMAGE 03
GOLDEN AGE CARTOONS SCREENING IMAGE 04
GOLDEN AGE CARTOONS SCREENING IMAGE 05
GOLDEN AGE CARTOONS SCREENING IMAGE 06












by

Comments