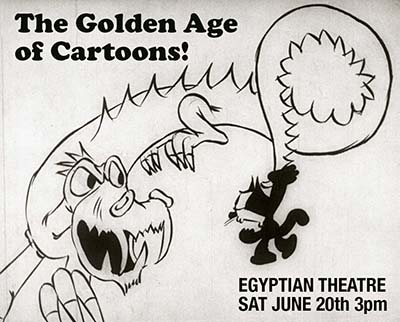 RARE AND RESTORED!
A Time Machine Trip Back To The Golden Age Of Cartoons
Egyptian Theatre – Sat, June 20, 2015 – 3:00pm
Presented by the American Cinematheque and Animation Resources
Film preservationist, Steve Stanchfield presents a screening of rare and wonderful animation on the big screen at the Egyptian Theatre in Hollywood… Silent films, talkies, early color films, puppet animation… a little bit of everything! Don't miss it!
ORDER TICKETS NOW!
http://www.fandango.com/egyptiantheatrehollywood_aaofx/theaterpage?date=6%2F20%2F2015
EVENT FACEBOOOK PAGE
https://www.facebook.com/events/804998502903937/
PRESS RELEASE
http://animationresources.org/press-release-golden-age-cartoons-screening-june-20th/
PLEASE SHARE!












by

Comments