REFPACK 033

Members Only Download
Every other month, members of Animation Resources are given access to an exclusive Members Only Reference Pack. These downloadable files are high resolution e-books on a variety of educational subjects and rare cartoons from the collection of Animation Resources in DVD quality. Our current Reference Pack has just been released. If you are a member, click through the link to access the MEMBERS ONLY DOWNLOAD PAGE. If you aren't a member yet, please JOIN ANIMATION RESOURCES. It's well worth it.
---
MEMBERS LOGIN To Download E-Book
JOIN TODAY To Access Members Only Content
---
Blaeksprutten (Cuttlefish)



1912-1913 Christmas Annuals
The Scandinavian countries (Denmark, Sweden, Norway, Finland, & Iceland) have contributed many traditions to the celebration of Christmas around the world: Christmas trees, elves, reindeer, advent calendars, and even Santa Claus. But one of the most unique holiday traditions in Scandinavian countries is the "Christmas book flood". Catalogs are distributed of special books and magazines, and people order them as gifts for friends and family. More books are sold in this part of the world between November and December than the rest of the year. Scandinavians are among the most literate people in the world. Amazingly, 1 in 10 Icelandic residents is a published author. The holiday tradition of giving books as holiday gifts is so ubiquitous, Scandinavians don't even recognize it as a tradition. They assume all countries buy special books for Christmas.
In addition to books, Norwegian publishers put out annual Christmas magazines, the earliest of which date back to the mid 19th century. These early annuals featured sheet music, stories, humorous cartoons, satirical gossip about local public figures and recipes, and they were usually presented in a horizontal format to set them apart from monthly and weekly periodicals.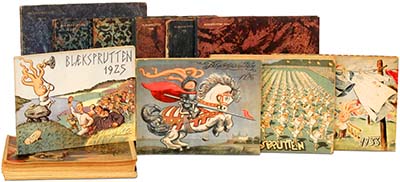 In Copenhagen, a satirical Christmas annual magazine called Blaeksprutten was launched in 1889. The title translates to Cuttlefish, and the idea was that the writers and artists who worked for the magazine had their "tentacles" in all aspects of life in Denmark. The magazine blended both the tradition of the Christmas annual and the satirical magazines flourishing around the world at the time. Beautifully printed, the magazine featured catty theater reviews, humorous stories and poems, and sentimental music; and it was illustrated with panoramic "birds eye view" shots of Danish villages bustling with life, fanciful subjects in lavish color, caricatures and line drawings in ink. The principle artists in the beginning of the 20th century were Alfred Schmidt, a well known caricaturist and poster designer; painters Paul Gustav Fischer and Axel Nygaard; line artists Sven Brasch and Gerda Ploug Sorenson Sarp; and fashion illustrator Gerda Wegener. Blaeksprutten is still being published every Christmas after 125 years.
This publication is pretty much unknown in the United States, but Animation Resources has been working to collect a sampling of these hard-to-find magazines to share with its members. We hope you find it useful to your in your studies.
REFPACK033: Blaeksprutten 01

Adobe PDF File / 124 Pages / 812 MB Download

---
MEMBERS LOGIN To Download E-Book
JOIN TODAY To Access Members Only Content
---
---
MEMBERS LOGIN To Download E-Book
JOIN TODAY To Access Members Only Content
---
Not A Member Yet? Want A Free Sample?
Check out this SAMPLE REFERENCE PACK! It will give you a taste of what Animation Resources members get to download every other month!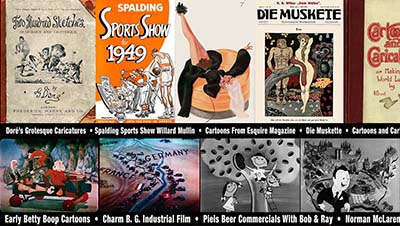 by

Comments