---
REFPACK 040

June-July 2021
---
MEMBERS LOGIN To Download Videos
JOIN TODAY To Access Members Only Content
Every other month, members of Animation Resources are given access to an exclusive Members Only Reference Pack. These downloadable files are high resolution e-books on a variety of educational subjects and rare cartoons from the collection of Animation Resources in DVD quality. Our current Reference Pack has just been released. If you are a member, click through the link to access the MEMBERS ONLY DOWNLOAD PAGE. If you aren't a member yet, please JOIN ANIMATION RESOURCES. It's well worth it.

The world of animation is much bigger than it might appear to us at first glance. We are all familiar with the films we grew up with, but Hollywood wasn't the only place that produced great cartoons… Poland, Japan, Russia, China and Europe all have their own traditions and a rich history of animated film making. Animation Resources' archive contains many foreign films that are rarely seen in the United States. We feature a sampling of interesting animation from around the world in each Reference Pack.
Download this article
Adventures of Mowgli – Ep 1: Raksha



Roman Davydov / Soyuzmultfilm, Russia / 1967
Download this article
In a previous Reference Pack, we featured a Russian propaganda film titled The Shareholder. Directed by Roman Davydov, the film showcased dynamic stylization and tremendous draftsmanship. A few years later, Davydov was given the opportunity to take his skills one step further with an adaptation of Rudyard Kipling's The Jungle Book. The story was broken into five short films, which were produced by Soyuzmultfilm between 1967 and 1971. In 1973, the five films were trimmed and merged into a single feature film, and in 1998 it was released in America in a dubbed version narrated by Charleton Heston.
Over the next several Reference Packs, we will be sharing the five shorts with their original soundtracks. Although the dialogue is in Russian, if you are familiar with the books or the Disney version, you'll have no trouble following along. Davydov's first film was produced independently of Disney's Jungle Book and was released the very same year. They make an interesting subject for comparison and contrast. Disney's version relies heavily on the personalties of the voice actors, rather than the characters in the story itself. It's funnier, tending towards being goofy at times, and takes a relatively light-hearted pass at the story. Davydov's version couldn't be more different. It follows the book more closely, addressing the themes of death, duty and the meaning of being a human being.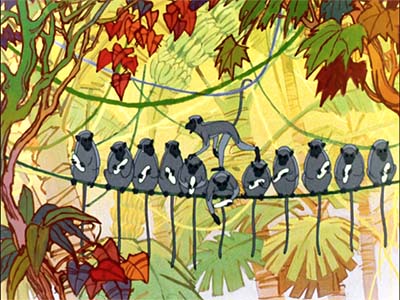 This time we are presenting the first episode, titled Raksha. Here is Wikipedia's synopsis of the action:
The story begins with a golden jackal named Tabaqui and his master, the dreaded tiger known as Shere Khan. Shere Khan rises and stretches and walks to a camp in the jungle with Tabaqui guiding him. With great cruelty and hatred, Shere Khan attacks the campsite. Whilst doing so, he accidentally burns his right forepaw, allowing a young child named Mowgli to escape. Mowgli wanders into a wolf cave in the jungle. Shere Khan tracks him down, and unable to fit through the cave's entrance, he demands that the wolves give him his prey. The wolf mother, Raksha refuses and drives him away. Shere Khan, angered by her defiance taunts them and says that the wolf pack will pay as he skulks away. Meanwhile, Tabaqui runs around the jungle telling the animals that a wolf pack has adopted a human. Bagheera, the black Indian leopard, is minding her own business when Tabaqui appears to tell her the news. Bagheera scolds him for spreading malicious gossip and chases him away. Tabaqui cowers in fear as Shere Khan appears. Bagheera puts on a defiant display that causes Shere Khan to back off.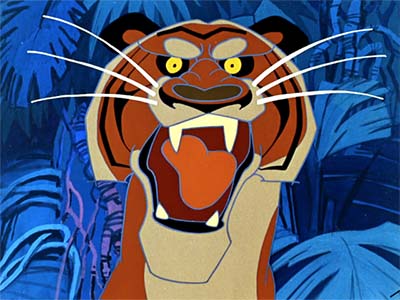 Meanwhile Mowgli is adapting to the life of a wolf cub under the training of Baloo the Bear, matching the performance of the other wolf cubs at every turn. The elders of the wolf clan are evenly split about whether or not they should allow him to stay until they see Mowgli bravely pinch Tabaqui's nose, who has come to taunt him. Shere Khan appears and demands that he be given his prey. Akela, known as the "Lone Wolf" and patriarch of the pack, refuses to turn over the boy, and Raksha and Baloo come to his defense. Shere Khan is undeterred until Bagheera also appears and offers the wolf pack a freshly killed bull in return for keeping Mowgli alive. Shere Khan is forced to admit defeat, but he vows that he will still eat Mowgli one day.
REFPACK040: Mowgli Ep01

MP4 Video File / HD / 19:45 / 1.42 GB Download
---
MEMBERS LOGIN To Download Videos
JOIN TODAY To Access Members Only Content
---
SD VIDEO: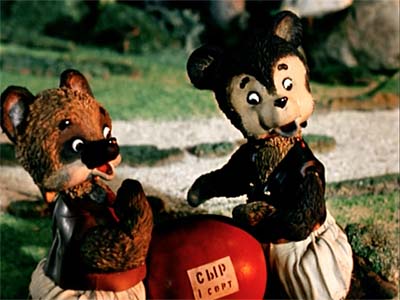 Two Greedy Bear Cubs (1954)



Vladimir Degtyaryov / Soyuzmultfilm, Russia / 1954
It's interesting that in Russian animation there was no separation between mediums. An animator might work on a hand-drawn film and then follow it up by working on a puppet film. Puppet animation reached its zenith in Russia in the 1950s and 60s, and continues to be popular there to this day. During the Cold War era, the emphasis was on presenting an uniquely Russian point of view. The Iron Curtain isolated Russia from being able to view many films from Europe and America, so the focus was on adapting Russian folklore and literature for the screen. The film we are sharing with you today is one of the most elaborate and refined puppet films that I have ever seen… Two Greedy Bear Cubs.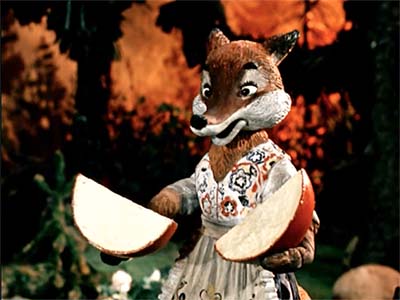 Based on a Hungarian folk tale, The Two Greedy Bear Cubs has a simple story that is easy to follow… Once upon a time there were two little bear cubs. They lived in a cabin in the forest with their mother. The two cubs were very competitive and argued constantly, trying to get the better of the other cub. One day, their mother had her fill of their bickering and kicked them out of the house. The two cubs decided to take a walk through the forest, where they discover a large wheel of cheese. The bear cubs argue over who saw the cheese first and attract the attention of a clever fox. The fox offers to arbitrate their disagreement. The bears give her the cheese to fairly divide for them. The fox breaks the cheese in half, but one half is bigger than the other. The cubs argue over which one should get the larger half, but the fox interrupts them and solves the problem by eating the smaller half herself. She breaks the larger half into two pieces, and again the halves aren't equal so she eats the smaller half. This continues until there are just two small pieces of cheese left. She gives each bear cub a tiny piece and points out that now they have equal shares. The cubs learn a lesson on selfishness and greed.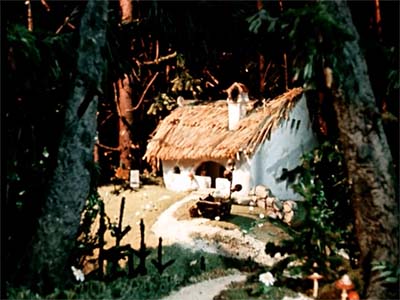 This film has wonderful production design. The sets are beautifully composed to fit the action and the forest has incredible depth. The puppets are beautifully designed and dressed, and they are capable of a wide range of poses and expressions. Puppet animation doesn't get better than this.
REFPACK040: Two Greedy Bear Cubs

MP4 Video File / SD / 09:46 / 128 MB Download
---
MEMBERS LOGIN To Download Videos
JOIN TODAY To Access Members Only Content
---
SD VIDEO: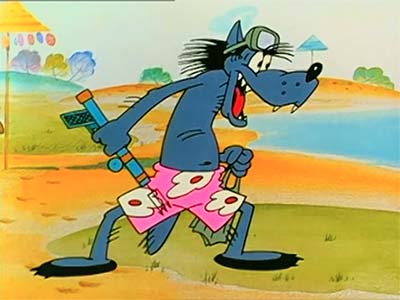 Well, Just You Wait! – Ep 1: City And Beach



Vyacheslav Kotyonochkin / Soyuzmultfilm, Russia / 1969
The premise of Nu, Pogodi! (which translates into English as Well, Just You Wait!) was pitched by a writing team of satirical humorists to many directors at Soyuzmultfilm, but was rejected every time. Finally in 1969, Gennady Sokolsky agreed to direct a 2 1/2 minute pilot for the series in an omnibus film called "Happy Merry Go Round". The general consensus at the studio was that the cartoon was "low class" and beneath the dignity of Soyuzmultfilm, but director Vyacheslav Kotyonochkin strongly believed in the concept, so the studio decided to take a chance and allow him to direct a few episodes… and then a few more… and then more.
Kotyonochkin was proven correct. The cartoons were a huge success. Between 1969 and 2006, Soyuzmultfilm ended up making 22 episodes, and in a 2014 poll of audiences all over Russia, Well, Just You Wait! was voted the most popular cartoon series of all time by a landslide. Although the series resembles both Tom & Jerry and the Roadrunner and Coyote series, the director, Kotyonochkin claimed not to have ever seen any of these Hollywood cartoons until 1987 when his son got a video tape recorder and Western tapes began to be imported.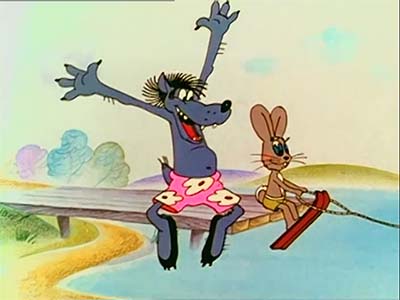 We will be sharing more of these Wolf and Rabbit cartoons in upcoming Reference Packs, but to start the ball rolling, here is episode 01, "City And Beach". Although the drawing style is basic and a bit crude, it's still got a spark of life that is too often missing from American television cartoons. This is due to a difference of approach. American TV animation from this era tended to rely on voices to convey personality and mood. The drawings in American animation were clean and "on model", but the movement was static, with most action occurring off screen. For instance, if a character tripped and fell, he would trip and fall off screen and a sound effect and camera shake would convey his off screen landing. Then the camera would cut to a tightly composed static shot of the character disheveled in a pile of stuff. The backgrounds in American TV cartoons are generally detailed and beautifully painted. It's easier to paint one nice background and a single clean static pose than it is to do full animation.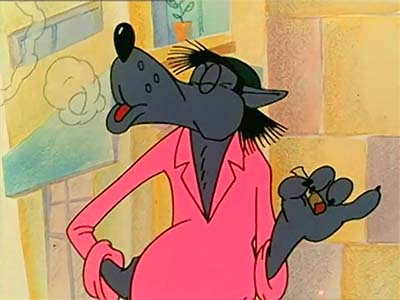 In these Russian cartoons, there is almost no dialogue, and the action almost always occurs on screen. Static tableaux are rare, as are detailed backgrounds and "on model" drawings. These cartoons focus on expressive poses and movement, and save time and expense by avoiding the careful cleanup required for character model details and overlapping action. The theory here is, if it moves funny, it's funny… and they are right about that. Shamus Culhane once lamented that television animation consisted of mostly lip-sync animation. He would have preferred to do away with lip-sync entirely and just have simple drawings that really move. Well, Just You Wait proves that he was absolutely right about that.
REFPACK040: Well Just You Wait Ep01

MP4 Video File / SD / 09:25 / 195 MB Download
---
MEMBERS LOGIN To Download Videos
JOIN TODAY To Access Members Only Content
---
SD VIDEO: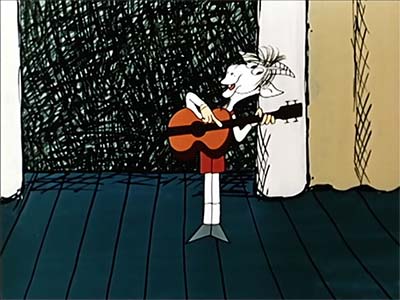 Koziolek Matolek – Ep 1: Singing Competition



Zofia Oraczewska / Studio Miniatur Filmowych, Poland / 1969
Now we shift from Russia to Poland. Studio Miniatur Filmowych in Krakow was established in 1958, and since then it has produced nearly 1,500 animated films. This series, titled The Strange Adventures of Koziolek Matolek was produced between 1969 and 1971 and 26 episodes were made. We will be sharing more of these in upcoming Reference Packs.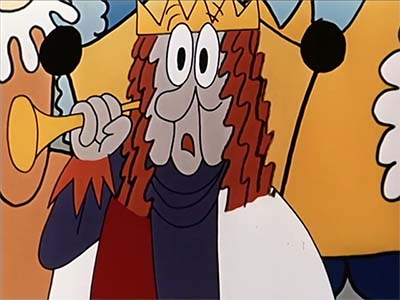 Koziolek Matolek was created in 1933 as a character in Polish comic books. The idea behind the character is a bit surreal, and might seem odd to us in America… Koziolek Matolek is a goat who undertakes a quest to find Pacanow, a town where he has heard that they make shoes for goats. His travels take him to the ends of the Earth and throughout time from the jungles of Africa to medieval Europe to the Wild West. Although the character's adventures have been well known for generations in Poland and are a staple of children's literature there, I don't believe any of the stories, comics or cartoons have ever been translated and distributed outside of that country.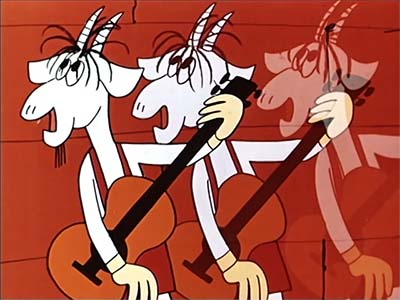 The cartoons were directed by a variety of animators, and the character looks a bit different in each of the individual director's episodes. Again, the focus is on movement and funny expressions, albeit even more economically so than with Well, Just You Wait!
REFPACK040: Koziolek Matolek Ep01

MP4 Video File / SD / 08:57 / 203 MB Download
---
MEMBERS LOGIN To Download Videos
JOIN TODAY To Access Members Only Content
---
SD VIDEO: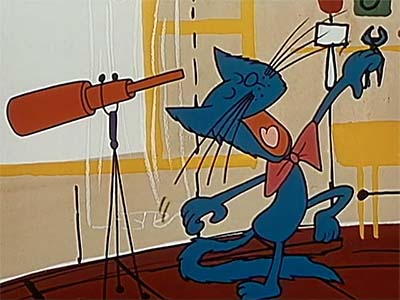 Dog, Cat And… Ep 1



Zofia Oraczewska / Studio Miniatur Filmowych, Poland / 1972
Finally, we are sharing one other cartoon series produced by Studio Miniatur Filmowych, Pies, Kot I… which translates to Dog, Cat And… This is a different sort of take on the Tom & Jerry model, with the opponents outsmarting each other instead of just chasing each other out of hate or hunger. There is more to the relationship between the characters than just rivalry. This particular cartoon is the first episode in the series, so it establishes the situation, but as you see more episodes in upcoming Reference Packs, you might start to discern how it relates to slapstick comedy teams like Laurel & Hardy and Fatty Arbuckle and Buster Keaton. The dog and cat are not just generic animals, but individual personalities with a dynamic relationship that is much more engaging than most "cat and mouse" or "dog and cat" cartoons.
Again, these cartoons are almost devoid of dialogue with the focus on loose, funny animation. In fact, the drawings are often hilarious on their own, even removed from their context within the gag sequence. The facial expressions are well observed, and the poses employ clear silhouettes that form funny graphic shapes.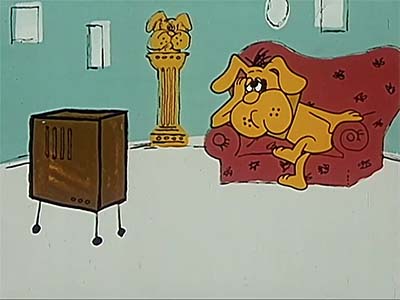 Well, Just You Wait!, Strange Adventures of Koziolek Matolek, and Dog, Cat And… are all very efficient at what they do. They could easily serve as a model for internet animation. The internet encourages repeat viewing more than television does. When you watch a dialogue driven cartoon on TV, once you've heard the jokes, you don't need to watch it again. However, a short cartoon that looks and moves funny is entertaining no matter how many times you watch it. And for the animator who is making the cartoon, it's a lot more fun to animate simple funny characters than it is to animated a lot of tedious lip-sync.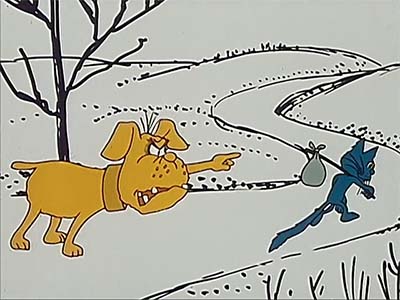 Dog, Cat And… looks like it was a lot of fun to make. The film makers at Studio Miniatur Filmowych didn't feel constrained by the ordinary lives of animals. Their characters can drive cars, build their own houses and go to exotic places. That freedom allowed the animators to keep their series fresh, and gave them the opportunity to experiment within a 10 minute format. Simple drawings, funny movement and no rules… these are the kinds of series that would work well as episodic internet cartoons.
REFPACK040: Dog Cat And… Ep01

MP4 Video File / SD / 09:23 / 172 MB Download
---
MEMBERS LOGIN To Download Videos
JOIN TODAY To Access Members Only Content
---
Not A Member Yet? Want A Free Sample?
Check out this SAMPLE REFERENCE PACK! It will give you a taste of what Animation Resources members get to download every other month!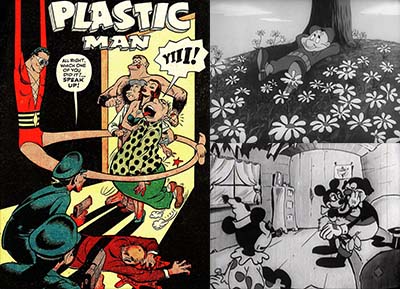 by

Comments