Every other month, members of Animation Resources are given access to an exclusive Members Only Reference Pack. These downloadable files are high resolution e-books on a variety of educational subjects and rare cartoons from the collection of Animation Resources in DVD quality. Our current Reference Pack has just been released. If you are a member, click through the link to access the MEMBERS ONLY DOWNLOAD PAGE. If you aren't a member yet, please JOIN ANIMATION RESOURCES. It's well worth it.
---
REFPACK 040

June-July 2021
---
MEMBERS LOGIN To Download Videos
JOIN TODAY To Access Members Only Content
Walter Lantz's Oswald



"In Alaska" (1930) / "The Candy House" (1934)
Most cartoon fans are aware of Disney's Oswald the Lucky Rabbit, but not many are familiar with Walter Lantz's version of the character. At the Disney Studio, Ub Iwerks was the animator supervising the Oswald Cartoons. In New York Bill Nolan was performing the same duties on the Krazy Kat and Felix the Cat cartoons. Both animators were instrumental in refining the technique of rubber hose animation, even though they had never met. Iwerks was aware of Nolan's work would go to the theater to see the latest Felix and Krazy Kat films when they were released. Likewise, Nolan made a point of seeing Iwerks' Oswald and Alice in Cartoonland cartoons. A friendly transcontinental rivalry developed.
Margaret Winkler and Charles Mintz pulled the rug out from under Walt Disney, signing a distribution deal with Universal for a new series of Oswald cartoons, and hiring Walter Lantz to replace Disney. And as fate would have it, Carl Laemmle pulled the rug out from under Winkler and Mintz putting Lantz in charge of the Universal Cartoon Studio. Lantz chose Bill Nolan to supervise the series, and Nolan found himself directing the character Ub Iwerks created.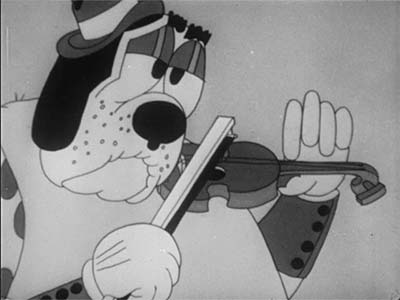 ---
MEMBERS LOGIN To Download Videos
JOIN TODAY To Access Members Only Content
---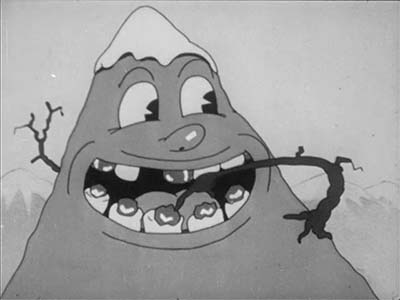 Nolan was a master of rubber hose animation. One of the earliest Oswald cartoons at Universal, In Alaska, shows how much further he took the character than Iwerks ever had. His animation is loose, rubbery and sometimes surreal; but most of all, it is laugh-out-loud hilarious. As you still frame through this cartoon, check out the funny drawings. Even the incidental characters are amazing to look at.
Lantz and Nolan were partners at first, but Lantz had aspirations to become an independent producer with his own studio. Lantz and Nolan parted company in 1935 and Walter Lantz Productions was established to supply cartoons independently to Universal as a distributor. Lantz negotiated ownership of the characters, including Oswald and proceeded to shift the personality of the character to a blander disposition, more resembling Mickey Mouse.
---
MEMBERS LOGIN To Download Videos
JOIN TODAY To Access Members Only Content
---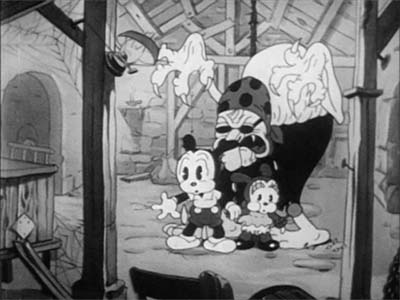 The Candy House is a transitional cartoon at the end of Nolan's tenure at the studio. The difference between this cartoon and In Alaska is stark. The focus has shifted from funny drawings and movement to elaborate backgrounds and fairy tale themes. Once Nolan was gone, the Lantz cartoons struggled to find their own style for a while. Oswald was getting a little too tired to be the cartoon star of the studio, so they set to work developing new characters, like Pooch the Pup, a monkey trio named Meanie Miney and Moe, Baby Faced Mouse and Li'l Eight Ball; but none of them caught on. The Walter Lantz Studio finally found its legs when they started producing color cartoons, and the introduction of Andy Panda and Woody Woodpecker eclipsed Oswald, relegating him to the role of a side character.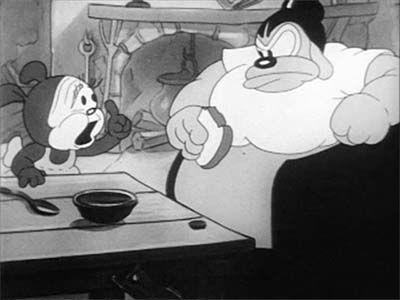 Rubber hose animation doesn't deserve its reputation of being primitive and old fashioned. It's a valid style of animation that focuses on simple shapes and rhythmic movement, rather that realism and complexity. This simplicity allowed the animators to focus less on how the character looked and more on how they moved. Today, we associate rubber hose with the 1930s, but there's no reason that modern ideas couldn't be put across with simple shapes and rhythmic movement. The efficiency and freedom the style allows makes it a good model for internet animation.
REFPACK040: Oswald In Alaska

MP4 Video File / SD / 05:44 / 108 MB Download
REFPACK040: The Candy House

MP4 Video File / SD / 08:30 / 78 MB Download
---
MEMBERS LOGIN To Download Videos
JOIN TODAY To Access Members Only Content
---
Not A Member Yet? Want A Free Sample?
Check out this SAMPLE REFERENCE PACK! It will give you a taste of what Animation Resources members get to download every other month!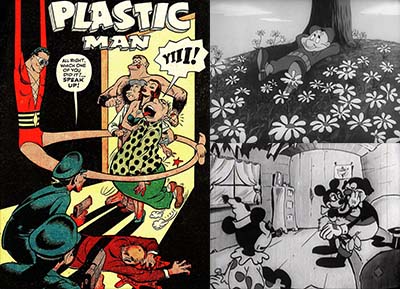 by

Comments