People who aren't members of Animation Resources don't understand how comprehensive our Reference Packs are. Over the next couple of weeks, we will be posting what each section of our current RefPack looks like, starting today with the Featured section. If you are a member of Animation Resources, click on this post to go to the Members Only page. If you aren't a member yet, today is the perfect time to join! Our current Reference Pack is one of our best yet, and General and Student Members get access to a special Bonus Archive with even more material from past Reference Packs.
What are you waiting for?



JOIN TODAY!
https://animationresources.org/membership/levels/

Every other month, Animation Resources shares a new Reference Pack with its members. They consist of an e-book packed with high resolution scans and video downloads set up for still frame study. Make sure you download the Reference Pack before it's updated. When it's gone, it's gone!
---
JOIN TODAY To Access Members Only Content
---
REFPACK048: October / November 2022
PDF E-BOOK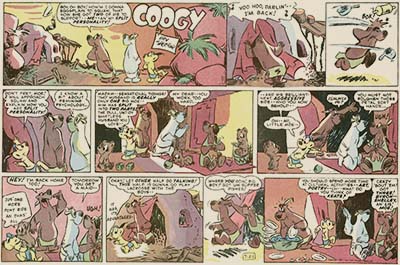 Irv Spector's Coogy



1951-1952
Download this article
Irv Spector was an animation story and layout artist who also worked in newspaper comics and comic books. He worked at Lantz, Mintz, Warner Bros, Fleischer and Famous Studios over the years, as well as freelancing at many of the TV animation studios of the 60s and 70s.
During WWII, Spector served in the Signal Corps as a cartoonist alongside Stan Lee; and after the war, he joined Harvey Kurtzman at Lee's Timely Comics in New York drawing stories for Super Rabbit. Spector's comic work was featured in other funny animal titles, including Lucky Duck, Toytown, Funny Frolics, Muggy Doo, Supermouse, Teepee Tim and Giggle.
Spector's newspaper comic, Coogy is little known today, largely because of its limited distribution. The strip ran on Sundays in the New York Herald Tribune— it wasn't widely syndicated like the comics in King Features or Hearst newspapers. This is a shame, because Coogy is an excellent comic, with brilliant compositions and great character posing and acting.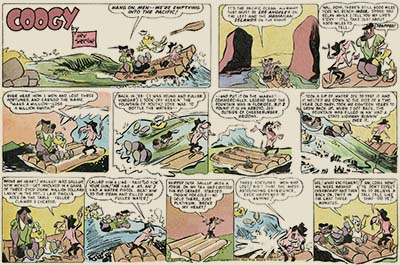 In his blog, Stripper's Guide, Allan Holtz shared a press release for the launch of the strip…
'Coogy' Sunday Page Due from Herald Tribune

Cartoonist Irving Spector crossed the country 13 times in three years awhile back and thereby became infatuated with the desert in New Mexico and Arizona. "I remember everything in vivid detail," he says. "I can draw it without seeing it." That helps explain the locale of his Sunday page, due May 27 from the New York Herald-Tribune Syndicate. The characters apparently stem from 20 years of animated cartooning and the result: "In animation, you get so you consider that animals are people."

Mr. Spector's career goes back almost, but not quite, to the age of 14. At 14, he tucked some of his drawings under his arm, hied from his home in Los Angeles to the Walt Disney studio, in Hollywood— only to learn that Mr. Disney was "out". He came back that night though and noticing a light on at the back, gathered his courage and walked right into a story conference attended by, among others, Walt Disney. "They all seemed amused and Mr. Disney was kind." says Mr. Spector. "He told me there'd be a place for me at Disney's when I finished school."

As a matter of fact, the cartoonist (who has recently taught motion picture cartooning at the College of the City of New York) didn't finish school. He left with half a year still to go at the age of 16, got a job with Universal Studios. A year and a half later he went to Disney's as an assistant. and, at 20, he became an animator for Columbia Studios. As a writer later for Warner Bros., he helped in the development of the "Bugs Bunny" type of humor (zany, wacky humor as opposed to sweet, cute animals, he explains.)

Mr. Spector's animals, none of which struck us as sweet, include the title character, which has rather faint resemblance to a cougar and serves mainly as the interlocutor of the piece. Others are Big Moe, a bear; a tortoise; and Arresting Sam, a deputized dog.

The cartoonist, who is now connected with Famous Studios as a writer, started the strip as a small-sized Sunday filler in December.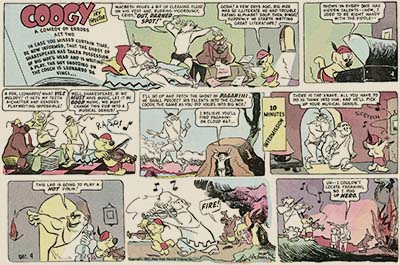 Coogy ran from 1951 to 1954, and it quickly graduated from a filler to full half page Sundays. It is clearly based on Walt Kelly's Pogo, but it also mirrors some of George Herriman's desert landscapes from Krazy Kat as well as character designs from late 40s funny animal comics.
The stories were satirical covering a wide range of topics… prospectors, singing cowboys, boxing, television, psychiatry— the group in this e-book feature a story line on historical figures like William Shakespeare, Leonardo da Vinci and Nero. The strip even did parodies of movies and books, like Dashiell Hammett's The Maltese Falcon and Ernest Hemmingway's The Old Man and the Sea.
Spector's son has said that Harvey Kurtzman invited Spector to join the staff of Mad when it was a comic book, but he turned the offer down because his schedule producing the Coogy strips kept him busy. That's too bad, because Spector's and Kurtzman's styles would have blended well.
After the run of Coogy ended in the New York Herald Tribune, Spector attempted to sell it to syndicates as a daily strip, and even created a variation involving human characters, called Morgan without success. In 1960, he returned to animation working freelance for many studios and shows including Famous, Hanna Barbara, Chuck Jones's Tower 12, Ed Graham Productions and Filmation. He passed away at age 62 in 1977.
REFPACK048: Irv Spector's Coogy

Adobe PDF File / 33 Pages / 183 MB Download

---
JOIN TODAY To Access Members Only Content
---
HD VIDEO: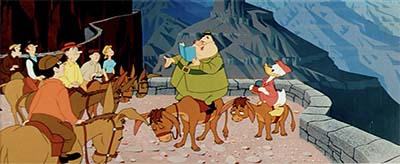 Two Cinemascope Cartoons



Grand Canyonscope 1954 / No Hunting 1955
Film makers often take aspect ratios for granted, because most films are made with standard formats— the Academy aspect (similar to old school television) or 1.85 1 (the current standard for HD TV and movies). However there have been exceptions to these standards over the years, and each aspect has its own pluses and minuses.
There were two ways to create widescreen movies. The most obvious way was to simply crop 35mm film to a narrower frame height. Another method was to use special lenses to squash the image onto the film and then stretch it back out while being projected. This process is known as "anamorphic" widescreen. As early as 1926, films were being made with widescreen sequences, the first being a pirate film called Old Ironsides. Most of these early films were released in both Academy and widescreen formats, depending on the projection equipment in the theater. The films were shot twice, once in widescreen for theaters with projectors and screens that could accommodate it, and again in full screen for normal theaters. But in 1930, Fox gambled big, making a widescreen talking picture called The Big Trail. Instead of using standard 35mm film with cropping or anamorphic squashing and stretching, they used a special camera which ran the film sideways, assigning two frames to each frame. The Big Trail was the first 70mm film, and seeing it today is a revelation. The compositions, which were carefully designed for the widescreen format feel very modern. If you run across this movie, make a point of seeing it.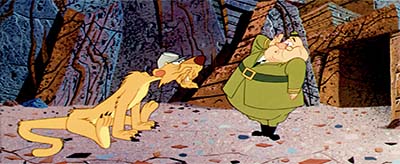 In 1952, Lowell Thomas, Mike Todd and Merian C. Cooper teamed up to create This Is Cinerama, a film shot with three synchronized cameras side by side, and projected on a very wide screen with three projectors. The effect was staggering, but special theaters had to be built to accommodate the process, and triple the cost of film and processing made it very expensive. On top of this, the seams between the separate pieces of film were never perfectly aligned. Cinerama was only used for two narrative movies How The West Was Won and George Pal's Wonderful World Of The Brothers Grimm. The format never really took off, and production of 3 film Cinerama was discontinued in 1963.
But that wasn't the only widescreen format… In the early 1950s, movie studios were feeling pressure from television, and research was underway to develop technical advances that TV couldn't match. 20th Century Fox developed an anamorphic process called Cinemascope which had none of the drawbacks of Cinerama. A widescreen film could be shot on a single piece of film and projected in existing theaters by simply adding a wider screen and using a special lens. Work on the film, The Robe was halted to relaunch it as a Cinemascope film. Other studios created their own widescreen processes… Paramount created VistaVision, RKO had SuperScope and Technicolor offered films in Techniscope. Disney decided that their Jules Verne film, 20,000 Leagues Under The Sea would be shot in Cinemascope, and their last big fairy tale cartoon feature would be in Super Technirama 70.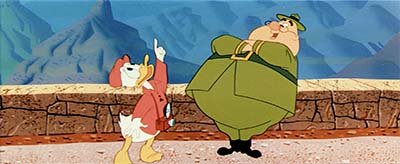 In the early 50s, Disney put their animated feature, Lady And The Tramp into production using Cinemascope, and work began on several widescreen cartoon shorts as well. The first of these was Toot, Whistle, Plunk And Boom in 1953, followed closely by Grand Canyonscope and No Hunting. A half dozen more Cinemascope cartoons were produced by Disney featuring Donald Duck, Chip and Dale and Humphrey Bear. But it didn't last long. By July 1956, Disney animated short releases were down to a trickle, and widescreen was reserved for the big budget fairy tale feature, Sleeping Beauty.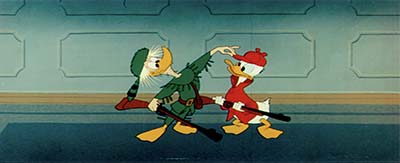 The widescreen animated films involved a considerable number of compromises. By necessity, they were produced in both full screen and widescreen, to accommodate television and older theaters. This meant that scenes needed to be recomposed for full screen, focusing on one section of the background and re-registering the cels to keep them within field. Layouts often included two sets of instructions for the camera department. An example of this was when a character entered from off screen. Simply cropping the sides of the frame would mean the character was off screen for a longer time, leaving gaps of time with nothing happening on the screen. In these cases, a camera move would be added to track the character until he reached the center of the frame. Another problem involved fast cutting. If the audience's attention is focused on screen right and the scene cuts to something happening on screen left, the distance is so great that the viewers would become disoriented for a moment. If the scene cut again before they focused on the left, they could lose track of the continuity. To solve this problem, storyboard artists charted eye direction through the scene cuts and often kept personality animation in the middle of the frame where it couldn't be missed.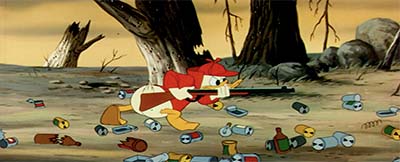 Grand Canyonscope was originally released with 20,000 Leagues Under The Sea, so it received a higher than average budget. Most striking are the background layouts depicting wide vistas of the Grand Canyon. The backgrounds in this film were painted by Eyvind Earle, and they embody everything good about his work… beautiful color harmonies, sophisticated textures and a real feeling of deep space. But they also embody Earle's tendency to go overboard with textures. There are quite a few backgrounds in this film that feel very "itchy", with too many different textures in a single image. Animators complained about his work here and on Sleeping Beauty because the business of the backgrounds didn't always mesh well with the characters. But when they worked, they worked.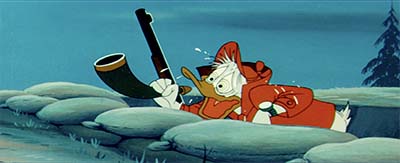 Produced the same year as Tex Avery's Field And Scream at MGM, Disney's No Hunting explores many of the same sorts of gags. Jack Hannah, who directed the film, commented that he based the idea on going hunting when he was a child. "More hunters were shot on opening day than deer.", he said. This film includes some hilarious animation by John Sibley, and it was nominated for an Academy Award in 1955, losing to Warner Bros' Speedy Gonzalez.
It's always nice to see these widescreen cartoons in their original format. I hope you'll consider composing for different aspects with your own work.
REFPACK048: Grand Canyonscope 1954

MP4 Video File / HD / 6:47 / 718 MB Download
REFPACK048: No Hunting 1955

MP4 Video File / HD / 6:10 / 630 MB Download
Many thanks to Steve Stanchfield from
Thunderbean Animation
for sharing these rare films with us.
---
JOIN TODAY To Access Members Only Content
---
Haven't Joined Yet?
Check out this SAMPLE REFERENCE PACK! It will give you a taste of what Animation Resources members get to download every other month!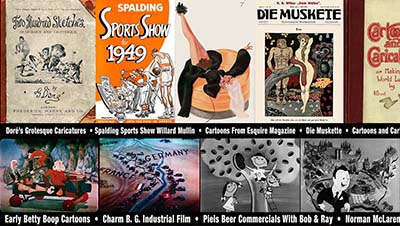 CLICK TO DOWNLOAD A Sample RefPack!
Animation Resources is a 501(c)(3) non-profit arts organization dedicated to providing self study material to the worldwide animation community. Every month, we sponsor a program of interest to artists, and every other month, we share a book and up to an hour of rare animation with our members. If you are a creative person interested in the fields of animation, cartooning or illustration, you should be a member of Animation Resources!
It's easy to join Animation Resources. Just click on this link and you can sign up right now online…
---
JOIN TODAY!
https://animationresources.org/membership/levels/
---


Animation Resources depends on your contributions to support its projects. Even if you can't afford to join our group right now, please click the button below to donate whatever you can afford using PayPal.












by

Comments