People who aren't members of Animation Resources don't understand how comprehensive our Reference Packs are. Over the next couple of weeks, we will be posting what each section of our current RefPack looks like. If you are a member of Animation Resources, click on this post to go to the Members Only page. If you aren't a member yet, today is the perfect time to join! Our current Reference Pack is one of our best yet, and General and Student Members get access to a special Bonus Archive with even more material from past Reference Packs.
What are you waiting for?



JOIN TODAY!
https://animationresources.org/membership/levels/

The world of animation is much bigger than it might appear to us at first glance. We are all familiar with the films we grew up with, but Hollywood wasn't the only place that produced great cartoons… Poland, Japan, Russia, China and Europe all have their own traditions and a rich history of animated film making. Animation Resources' archive contains many foreign films that are rarely seen in the United States. We feature a sampling of interesting animation from around the world in each Reference Pack.
---
JOIN TODAY To Access Members Only Content
---
Princess Iron Fan



The Wan Brothers / Shanghai, China / 1941
Download this article
The Wan Brothers (Wan Laiming, Vancomyein Toad, Wan Chaochen and Wan Dihuan) were born in Nanjing, on the banks of the Yangzi River. Their father, a businessman, expected them to learn a trade from books, so they could make a lot of money when they grew up. But their mother encouraged them to cut paper into the shapes of people and birds, and the sons enjoyed art more than book-learning. When they were young, they performed puppet shows with their paper-cut characters, based on a story from the four classic novels titled Journey to the West, the books that document the legendary Monkey King epic.
In 1916, the family moved to Shanghai. Wan Laiming took a job working for the Shanghai Commercial Press, and held positions in the Department of Fine Arts and the Department of Activities Movie Service starting in 1919. Inspired by American cartoons, China's shadow puppet plays, and cinematic techniques he saw in live action films, Wan Laiming began making his own animated films.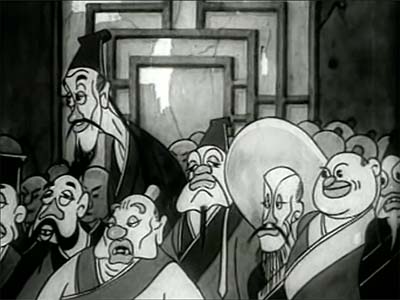 The Wan Brothers were greatly impressed by the cartoons from America. In 1940, they began work on their own 8,000 foot, 80 minute long sound cartoon film, Tieshangongzhu (aka Princess Iron Fan). Produced in a single large room over the span of one year by 70 artists working in two shifts a day, this film lay a solid foundation for the Wan Brothers' career in animation production. Twenty years later, they released a feature film based on another part of the Monkey King saga, Hue And Cry Over The Sky, and followed that up in 1964 with a third segment titled Big Trouble. The last two films were later screened together with an intermission and titled Havoc In Heaven.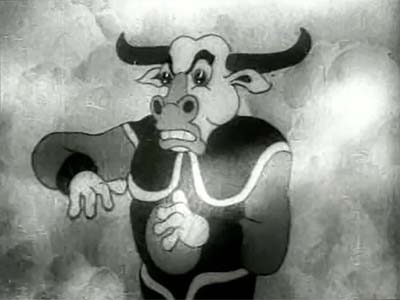 The story line of Princess Iron Fan isn't easy to translate, since it was so deeply rooted in Chinese folklore. But the basic story involves a beautiful demoness who is married to the Bull Demon King. Sun Wukong the Monkey King, is traveling and encounters The Flaming Mountains where he does battle with a fire demon and loses. He joins up with two pilgrims, a pig and a warrior, and they set out to borrow a magic banana leaf from the Princess. This banana leaf has the ability to summon huge winds, capable of extinguishing the flames. The Princess refuses to give the Monkey King the banana leaf fan, so he changes into a bug and hides in her drink. She swallows him and he proceeds to kick her in the guts until she agrees to give him the fan. She gives him a fake one that only fans the fire in the Flaming Mountains higher. The Monkey King barely survives and returns to Princess Iron Fan disguised as her husband, the Bull Demon. He tricks her into giving him the real fan. The real Bull Demon returns home, discovers the deception and does battle with the Monkey King. The Bull Demon is vanquished, the Flaming Mountains are put out, and the Monkey King forgives the Princess and returns the fan to her.
Now that you've read that story, try to imagine it animated in a combination of rotoscope and the surreal metamorphosis animation of the wildest Fleischer cartoons. This film is like no other you've ever seen. Our copy of it isn't the best quality, but it may be all that remains of the pioneering animated feature.
REFPACK054: Princess Iron Fan 1941

MP4 Video File / SD / 01:12:46 / 1,87 GB Download
PLEASE NOTE: This is a large file. Please download this video without any other files downloading in the background. Downloading too many at once might result in an error. If you encounter a time out error, hold down the shift key and reload the page.

---
JOIN TODAY To Access Members Only Content
---
Mr. Rossi Buys A Car



Bruno Bozzetto / Italy / 1967
Bruno Bozzetto is an Italian animator known for his parody of Fantasia titled Allegro Non Troppo. His other feature films include a superhero parody called VIP My Brother Superman and a spaghetti western parody titled West And Soda. Bozzetto's work is often satirical and political in nature, championing the common man and lampooning government inefficiency and oppression.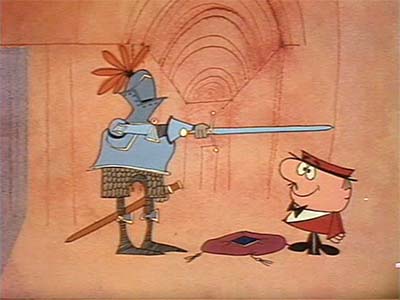 Bozzetto's most famous character is Signor Rossi, an everyman figure he featured in many animated shorts and three feature films, Mr. Rossi Looks For Happiness, Mr. Rossi's Dreams, and Mr. Rossi's Vacation. In the short film we are sharing today, Mr. Rossi buys a car which changes his entire demeanor from a normal calm individual to a speed demon burning with road rage.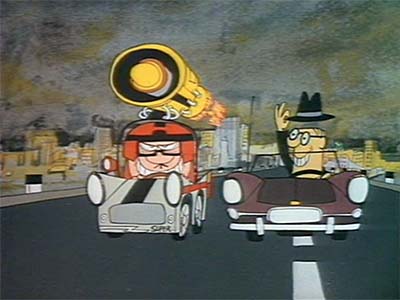 Bozzetto's work is not as well known in the United States as it should be, but it is recognized and appreciated across Europe. Recently, Animation Resources has been working to acquire more of his films for the Animation Archive, and we hope to share them with you in future Reference Packs. We think you'll find a lot to inspire you in Bozzetto's work.
REFPACK054: Mr Rossi Buys A Car 1967

MP4 Video File / SD / 6:39 / 175 MB Download
---
JOIN TODAY To Access Members Only Content
---
Happy Merry-Go-Round Ep. 01



Galina Barinova, Leonid Nosyrev, Anatoly Petrov, Gennady Sokolsky / Soyuzmultfilm / 1969
Happy Merry Go Round was a long-running series of films produced by Soyuzmultfilm. The intent was to provide a format for the directors there to create experimental films. There were ten episodes released theatrically between 1969 and 1978, and after that releases were sporadic. It transitioned to television and ran for 33 seasons up to 2001. In 2012, Happy Merry-Go-Round was revived.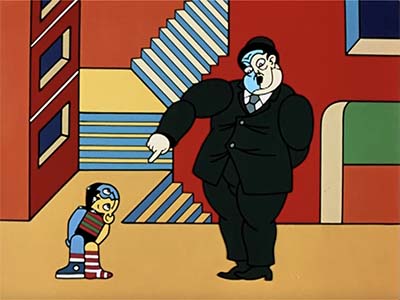 The episode we are sharing today is the first in the series. It includes four short films: "Mosaic" a film with animals designed in the form of mosaics, "Antoshka" a song about a lazy boy who refuses to dig potatoes, "Distracted Giovanni" a cartoon in the style of Ferdinand Lèger about a boy who loses his body parts, and "Well, Just You Wait!" the story of a wolf chasing a rabbit.
The premise of "Nu, Pogodi!" (which translates into English as "Well, Just You Wait!") was pitched by a writing team of satirical humorists to many directors at Soyuzmultfilm, but was rejected every time. Finally in 1969, Gennady Sokolsky agreed to direct a 2 1/2 minute pilot for this episode of Happy Merry Go Round. The general consensus at the studio was that the cartoon was "low class" and beneath the dignity of Soyuzmultfilm, but director Vyacheslav Kotyonochkin strongly believed in the concept, so the studio decided to take a chance and allow him to direct a few episodes… and then a few more… and then more. Kotyonochkin was proven correct. The cartoons were a huge success. Between 1969 and 2006, Soyuzmultfilm ended up making 22 episodes. In a 2014 poll of audiences all over Russia, "Well, Just You Wait!" was voted the most popular cartoon series of all time by a landslide.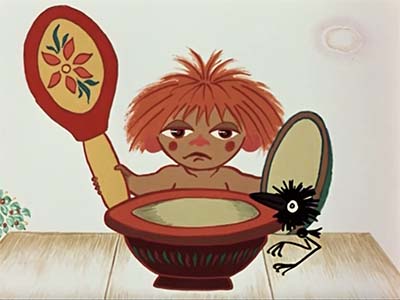 The Russian State Committee for Cinematography criticized Happy Merry-Go-Round for "using children's cinema as a proving ground for abstract art", but critics praised it for its creative freedom and diversity of styles. A lot of young animators received their first opportunity to direct on the series, allowing them to develop a personal style before moving on to create their own series.
REFPACK054: Happy Merry-Go-Round Ep. 01

MP4 Video File / SD / 9:51 / 233 MB Download
---
JOIN TODAY To Access Members Only Content
---
Professor Balthazar in "The Inventor Of Shoes"



Zlatko Grgic / Zagreb Films, Croatia / 1967
In a previous Reference Pack we featured several Maxi-Cat mini-cartoons by Zlatko Grgic, a Croatian animator who later emigrated to Canada to join the Canadian Film Board.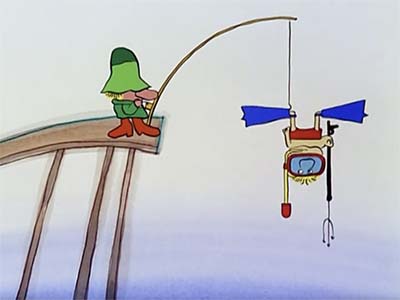 Grgic is best known for his series of cartoons featuring the character Professor Balthazar, an old man who solves problems for his friends by creating inventions with a magical machine. Produced between 1967 and 1973, the series ran all over the world. Its silent pantomime with voice over narration made it easy to translate to other countries. It aired everywhere from New Zealand to Romania to Zimbabwe. In the United States it was featured on Chuck Jones' television program, Curiosity Shop.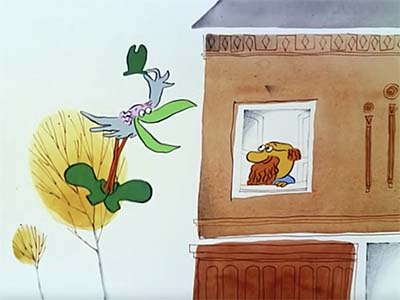 Altogether there were 59 episodes of Professor Balthazar produced between 1969 and 1978. We will be sharing more with you in upcoming Reference Packs.
REFPACK051: Professor Balthazar Ep. 03

MP4 Video File / SD / 9:02 / 83 MB Download

Get your friends to join Animation Resources!

More members mean we can bring you more special downloads.
---
JOIN TODAY To Access Members Only Content
---
Animation Resources is one of the best kept secrets in the world of cartooning. Every month, we sponsor a program of interest to artists, and every other month, we share a book and up to an hour of rare animation with our members. If you are a creative person interested in the fields of animation, cartooning or illustration, you should be a member of Animation Resources!
It's easy to join Animation Resources. Just click on this link and you can sign up right now online…
---
JOIN TODAY!
https://animationresources.org/membership/levels/
---


Animation Resources depends on your contributions to support its projects. Even if you can't afford to join our group right now, please click the button below to donate whatever you can afford using PayPal.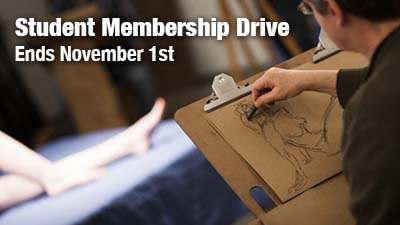 Fall is time to save when you join Animation Resources as a student member. For the next couple of weeks our Student Membership will be discounted to only $60/year! Best of all, you will continue to get that savings every year you renew as a student for up to three years. Yes, this applies to full time educators too. Why should you join? Each day we'll be highlighting more reasons why you should be a member of Animation Resources. Bookmark us and check back every day.


STUDENT MEMBERSHIP



Discount Ends Nov. 6th!
$70/year $60/year (recurring)
FREE SAMPLES!



Not Convinced Yet? Check out this SAMPLE REFERENCE PACK! It will give you a taste of what Animation Resources members get to download every other month!
There's no better way to feed your creativity than to be a member of Animation Resources. Every other month, we share a Reference Pack that is chock full of downloadable e-books and still framable videos designed to expand your horizons and blow your mind. It's easy to join. Just click on this link and you can sign up right now online.
JOIN NOW Before This Offer Ends!
https://animationresources.org/membership/levels/












by

Comments