People who aren't members of Animation Resources don't understand how comprehensive our Reference Packs are. Today we are sharing the current Bonus Archive. If you are an annual member of Animation Resources, click on this post to go to the Bonus Archive page. If you aren't a member yet, today is the perfect time to join! You'll get six new RefPacks a year. Sign up for a General or Student Membership and you'll get access to the special Bonus Archive with even more material from past Reference Packs.
These downloads will expire July 1st.
What are you waiting for?



JOIN TODAY!
https://animationresources.org/membership/levels/
---
Annual Members LOGIN To Download
JOIN TODAY To Access The Bonus Archive
---
PDF E-BOOK: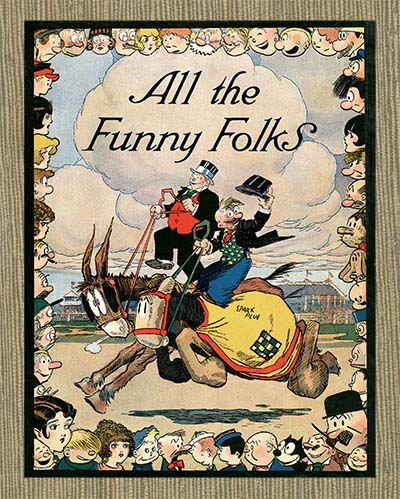 All The Funny Folks



The Wonder Tale of How the Comic Strip Characters Live and Love "Behind the Scenes" (1925)
In 1926, William Randolph Hearst hired cartoonist Louis Biedermann away from Joseph Pulitzer's New York World and assigned him to serve as his first licensing artist at King Features Syndicate. King Features distributed the comic strips and feature stories from Hearst's New York Journal to thousands of newspapers all over the country. Biedermann's initial task was to create a picture book that would bring together all of Hearst's cartoon stars into one story. To write the book, Hearst tapped Jack Lait who served as a jack-of-all-trades staff writer for King Features. Lait was known primarily for celebrity gossip and sports coverage, but for All The Funny Folks he decided to try his hand at rhyming doggerel. The poorly written text jams all of the characters together in crowds organized by species and age, and shoehorns snappy colloquialisms into their dialogue without much regard for the characters' established personalities. The story consists mostly of superficial references to events from the strips, and it manages to provide an anchor for the illustrations, but that's about all that can be said for it.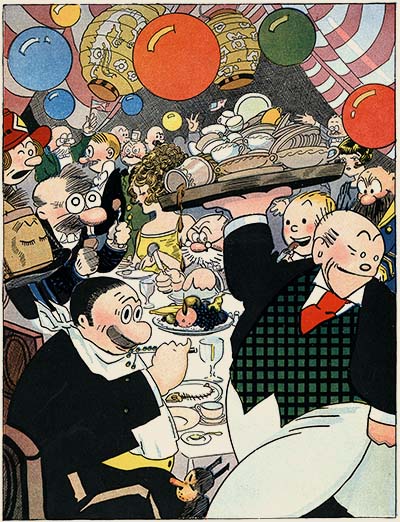 Biedermann was handed an almost unreadable story composed of reams of dialogue and scene after scene of complicated crowd shots. In the newspaper, each comic strip existed in its own world with its own situations and logic. The style of drawing varied from strip to strip too. This wasn't going to be an easy book to illustrate. Clearly Biedermann was more at home with the styles of Winsor McCay and George MacManus than he was Billy DeBeck and George Herriman, but he was able to arrive at a happy medium where the characters could co-exist side by side without clashing.
The layout and color of the book is brilliant. Our high resolution PDF is set up to be viewed as two page spreads so you can appreciate how the images lead from one side of the spread to the other. Not much is known about Biedermann, but he illustrated calendars for King Features as well. If you have more information, please let me know.
REFPACK020: All The Funny Folks

Adobe PDF File / 130 Pages / 345 MB Download

---
Annual Members LOGIN To Download
JOIN TODAY To Access The Bonus Archive
---
DVD QUALITY VIDEOS: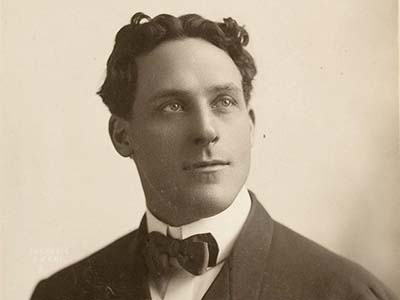 Two Films By Charlie Bowers



He Done His Best (1926) / A Wild Roomer (1926)

What do you get if you take the imagination of a great animator and cross it with the mind of a brilliant slapstick comedian? The answer is… Charlie Bowers. Almost forgotten today and rarely mentioned in histories of silent comedy, in his day Bowers was a successful and well known film maker, a peer of Chaplin, Keaton and Lloyd.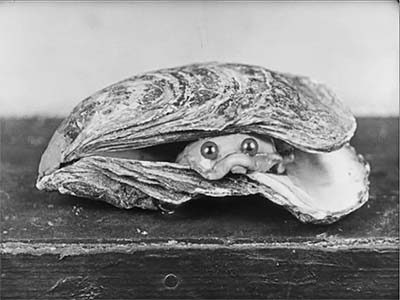 Bowers started his career as a cartoonist for Raoul Barré on the Mutt & Jeff cartoons. But he was a gifted performer as well as being a cartoonist, and in the mid 1920s he starred in a series of silent live action comedies. These shorts are unique because they employ animation to create eye-popping fantastic effects. The French surrealist André Breton spoke very highly of these films. We are happy to be able to share two of these shorts with you… "He Done His Best" and "A Wild Roomer", both from 1926. Bowers performs in these shorts as a "regular fella" much like Keaton and Lloyd, but the slapstick isn't the thing that distinguishes these shorts. I think you'll be amazed by the inventiveness of the mechanical effects and stop motion animation.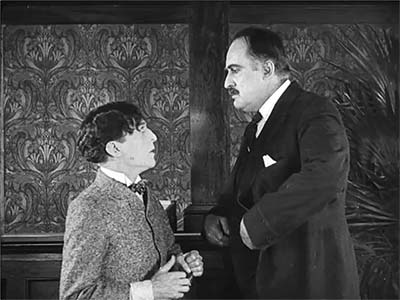 REFPACK020: He Done His Best / Wild Roomer

MP4 Video File / 47:28 / 845 MB Download
---
Annual Members LOGIN To Download
JOIN TODAY To Access The Bonus Archive
---
DVD QUALITY VIDEOS: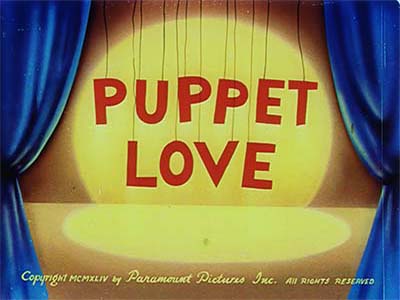 Puppet Love (1944)



A Popeye Cartoon in HD
Thanks to our Advisory Board member Steve Stanchfield, we have another Famous Studios Popeye cartoon to share with you in high definition. Famous Studios cartoons tended to have plot devices derivative of other studios' films, but this short is quite unique. The animation isn't as flashy as the last HD Popeye cartoon we shared, "We're Going Down To Rio", but it makes up for it by engaging in some good natured sadism directed at all three of the principle characters.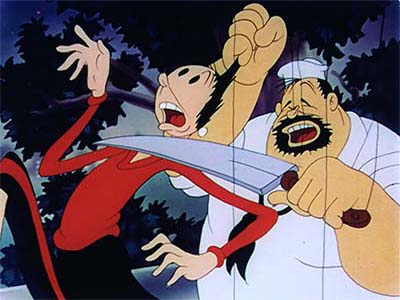 Make a point of still framing through the action in this cartoon. High definition reveals a lot about how the drawings are constructed and how the movement is planned. We hope you find this to be useful for study.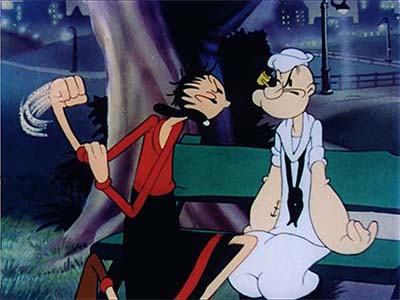 REFPACK020: Puppet Love

MP4 Video File / 7:28 / 420 MB Download
---
Annual Members LOGIN To Download
JOIN TODAY To Access The Bonus Archive
---
Animation Resources is one of the best kept secrets in the world of cartooning. Every month, we sponsor a program of interest to artists, and every other month, we share a book and up to an hour of rare animation with our members. If you are a creative person interested in the fields of animation, cartooning or illustration, you should be a member of Animation Resources!
It's easy to join Animation Resources. Just click on this link and you can sign up right now online…
---
JOIN TODAY!
https://animationresources.org/membership/levels/
---


Animation Resources depends on your contributions to support its projects. Even if you can't afford to join our group right now, please click the button below to donate whatever you can afford using PayPal.












by

Comments