Naught so sweet as Melancholy
One of the key concepts that an animator deals with every day is anthropomorphism… In most cases, this is applied to animals or teapots, but this aspect of caricature has barely been explored in mainstream animated films. Boris Artzybasheff was a master of anthropomorphism. He was able to give life and personality not only to animals, machines and objects, but to ideas.
Artzybasheff had a long career as an illustrator, beginning in the late 1920s with art deco style illustrations for books like Creatures, extending all the way through the 1950s. His most notable achievements are his cover illustrations for Time magazine, depicting a wide range of contemporary people in the news; and also his arresting images for magazine ads promoting Shell Oil, Xerox and Parker Pens.
Animation Resources is lucky to have a friend like Mike Fontanelli. His library of books on cartooning is one of the best in the country. Mike has agreed to share his collection with us. The first book he selected to loan us to be digitized is one of the rarest books in his collection… Artzybasheff's "As I See". The first section of this book is titled "Neurotica" and it is a visual depiction of extreme states of mind.

Anxiety

Frustration

Timidity

Repressed Hostility

Indecision

Infantalism

Paranoia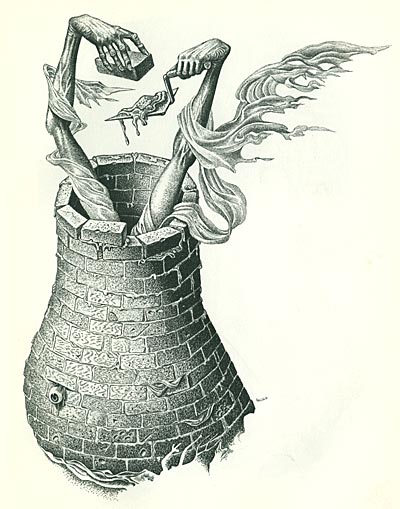 Schizophrenia

Inferiority

So pure, and so relaxing

Hypochondria

Manic-Depressive

Stephen Worth
Director
Animation Resources
This posting is part of a series of articles comprising an online exhibit spotlighting Illustration.













by