We continue to digitize and master the Fleischer Bouncing Ball Screen Songs for inclusion in our database. These cartoons haven't been seen since they were syndicated for television in the 1950s. Today's cartoon is a real gem… "Mariutch" (1930).
Up to now, the history of animation has been told by studio, or by character. But the true history of animation is the story of the people who created these cartoons. "Mariutch" is important because it vividly illustrates the impact that one man had on the Fleischer Studios.
You might remember that we posted a 1929 Screen Song a few weeks ago… It was titled, "I'm Forever Blowing Bubbles"…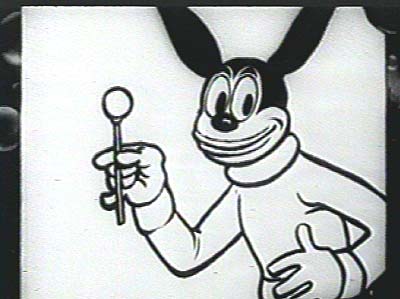 "I'm Forever Blowing Bubbles" looks very much like the Screen Songs and Out of the Inkwell cartoons that preceded it… stark white backgrounds with heavy black lines around the characters. This was the look of the "slash system", a technique using overlapping paper cutouts which predated painting the characters on celluloid. The sound synchronization in this cartoon is pretty clumsy, and charming as it is, some of the drawing and animation is primitive as well.
This style of animation was par for the course at the Fleischers in 1929. But when Grim Natwick joined the studio in early 1930, the look of the Fleischer films changed completely. A full range of gray tones was added to both characters and backgrounds. The animation became much more fluid and well-drawn, thanks in great part to Grim's expert draftsmanship. Along with his crew of kids… Jimmie Culhane, Willard Bowsky and Rudy Zamora, Grim Natwick proceeded to animate things that had never been seen before on the cartoon screen.
"Mariutch" appears to have been animated almost singlehandedly by Grim. It includes many examples of his experimental movement and timing, which you can see in abundance in another cartoon we posted a few months back, "Swing, You Sinners". Most of all, this cartoon is notable for the early examples of "Grim girls".
Throughout his career, Grim Natwick excelled at animating girls. He created Betty Boop for the Fleischers, refined and expanded upon his girls at Iwerks, and ended up at Disney animating the ultimate Disney heroine, Snow White. In later years, he would recharge himself between scenes by drawing all types of girls, lettering in a suitable name for them alongside the sketch. Here are a couple of animation drawings by Grim from "Mariutch"…
The narration and singing in this cartoon features the first recording star, Billy Murray. He was famous for his dialect songs and made hundreds of records of songs like this for Victor, Edison and Columbia. I hope you enjoy "Mariutch". We'll have another Screen Song for you soon.
Mariutch (Fleischer/1930)
(Quicktime 7 / 15 megs)
Stephen Worth
Director
Animation Resources
This posting is part of an online exhibit entitled Grim Natwick's Scrapbook.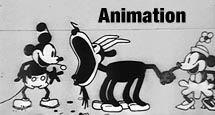 This posting is part of the online Encyclopedia of Cartooning under the subject heading, Animation.













by