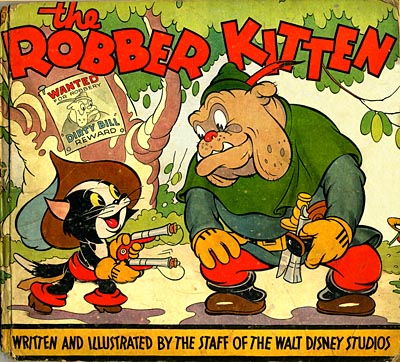 See this vintage Robber Kitten Storybook on Michael Sporn's Splog.
The Robber Kitten (Disney/1935) at YouTube
LEAKING POINTS:
DISNEY ARTISTS CRITIQUE THEIR OWN FILMS
October 7th. 1935
ANIMATION CAN IMPROVE CERTAIN ACTIONS, CAN INSTILL LIFE INTO SMALL CHARACTERS, BUT CAN NOT CREATE A CHARACTER WRONGLY CONCEIVED
"Robber Kitten wa a wrong conception of character at the start. But had the character been conceived properly, I think the badly built story would have wrecked the picture anyway." Dave Hand
"Dirty Bill is a good character, but he simply had nothing to do in Robber Kitten." Bill Shull
IF YoU DO NOT ESTABLISH THE CHARACTER CLEARLY AND INTERESTINGLY AT THE BEGINNING, SPECTATOR WILL BE COLD TO ANYTHING THAT WILL HAPPEN TO THAT CHARACTER AFTERWARDS.
"The opening of Robber Kitten was especially weak. The toy stage coach robbery carried no illusion of a small boy's behavior. He should not have been a little baby who wanted to be hard boiled- but rather a timid boy living in a world of imaginary strength." Bianca
DO WE NEED TO TOUCH SYMPATHETIC CHORDS IN THE HEART OF THE SPECTATOR?
"Although there was an excessive (amount of) dialogue and nothing really happened, the Robber Kitten very forcibly stamped himself in my mind as a contemptible little brat." George Drake
"A few small incidents rendering the Robber Kitten more lovable would have added to the sympathy afforded him in his final predicament." Bianca
"I think his character could have been much more successfully displayed as a little kitten boy who was basically good and wanted to do right, but whom temptations got the better of. The contrast that would have been established by such a demonstration of his make-up would have made him a lot more human." George Drake
WHAT WAS LACKING IN DIRTY BILL?
"Dirty Bill in Robber Kitten was one of the best villains I ever saw. I wish we could use him again somewhere." Otto Englander
"The gag of pulling up the stomach is horribly outworn. Please, let's have no more of it." Bianca
"Dirty Bill wasn't as bad as all that." Bob Wickersham
"There was no time to build up Dirty Bill." G. H. (Ferdinand) Horvath












by