Archive for the 'george pal' Category
Saturday, October 31st, 2015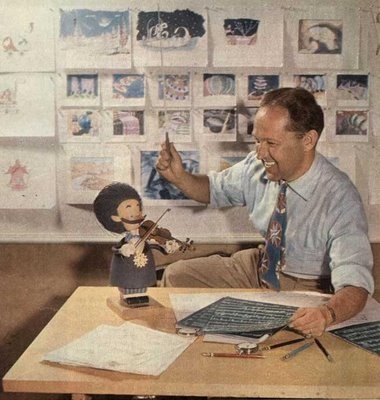 Here is a cartoon produced by stop motion animator George Pal, "Philips Cavalcade" (1934).

https://www.youtube.com/watch?v=a_088MQeIbU
-Nicholas John Pozega












by

Monday, November 29th, 2010
This posting is a stub. You can contribute to this entry by providing information through the comments link at the bottom of this post. Please organize your information following the main category headers below….
Birth/Death
February 1, 1908 Ceglad, Hungary
Death May 2, 1980 Beverly Hills, California (at home; heart attack)
Occupation/Title
Bio Summary
Early Life/Family
Parents, Maria and George, Sr. (theater performers)
Wife, Zsoka Grandjean
Education/Training
George Pal trained at Budapest Academy intending for architecture study but a mistake of the Academy's registrar placed Pal into an anatomy course instead. Despite this, Pal studied both. However, upon graduation, Pal was unable to find work in either field.
Career Outline
After finally securing work as an unpaid apprentice animator at Budapest's Hunnia Films, Pal found paying work in Berlin at the UFA studio. Shortly thereafter, Pal was in charge of UFA's cartoon division despite the fact he spoke no German.
As an immigrant, Pal and his wife, Zsoka, were suddenly on the Gestapo radar. Sensing a dark horizon in Germany, the Pals fled to Prague and established an independent cartoon studio. Supposedly, the lack of a camera made specifically for filming drawings prompted Pal to utilize puppets which broadened the choices of cameras available for Pal. Now equipped with a camera, Pal tried his hand at animated advertising.
Utilizing puppets combined with stop-motion animation for advertising was a success. This led Pal from Prague to France where his animated cigarettes were subsidized by Paris tobacco firms.
A Dutch promoter named Sies Numann convinced Pal to move to Einhover, Holland. Soon, Pal secured his most lucrative client of Philips Radio, the American-based radio manufacturer. These were so successful that Pal's animated puppet advertisings were seen beyond Europe and into over twenty-five other countries. Outside of the United States, Pal's animation studio was considered the largest in the world.
When the Nazis invaded Poland in 1939 the Pals decided their future and very existence faced better odds in the United States. In response to the invasion Pal later produced the Puppetoon Tulips Shall Grow.
Paramount signed Pal to produce a series of seven to ten minute shorts called Madcap Models featuring his stop-motion Puppetoons. In its heyday, the Puppetoons cost $25,000 each with a production crew of 45 people working in a converted garage. Compared to the Disney juggernaut of hundreds of studio employees, Pal's studio was relatively small in terms of staff. Animators included Willis O'Brien, Wah Chang and Ray Harryhausen.
The Pal method of production can best be described as painstaking. Using a type of stop-motion technique called replacement animation, a typical Puppetoon required 9,000 individually carved and machined wooden figures (or sometimes parts of figures). The nearly 12,000 exposures were made on a single negative using a color wheel with successive rotation of red, green and blue filters. Combined with deliberate lighting the Puppetoons were unsurpassed in their day for use of color in animated films.
Music was another signature of the Puppetoons. William Edison, Pal's musical director, scored music ranging from the classical to jazz to the ghetto-influenced styles. Many cartoons, such as Philips Calvacade, featured characters moving, dancing, swaying and jiving in stylistic sync to the music.
His most popular character, Jasper, was a gullible black boy who bumped heads with a scheming scarecrow. Despite current PC cries of racism, it should be noted that Pal also produced John Henry and the Inky-Poo, a tasteful and respectful Puppetoon adaptation of African-American folklore.
In 1949 Pal moved onto feature films produced by Paramount beginning with Destination Moon and The Great Rupert. Pal focused on fantasy and science-fiction themes. A trademark of his films were ground-breaking special effects, some of which were awarded well-earned Oscars.
Comments On Style
Strong uses of color and music in the animated films. A strong element of faith is also evident (i.e. Tulips Shall Grow, War of the Worlds, Conquest of Space)
Influences
Personality
Optimistic, soft-spoken, kind
Anecdotes
Pal was friends with George Lantz. As an homage to his friend, it is said that a woodpecker can be found somewhere in Pal's films. Andy Panda appeared in Doc Savage.
Miscellaneous
Filmography
Animated
Midnight (1932) Dancing cigarettes! The first Puppetoon!
Radio Valve Revolution (1934) for Philips
Ether Ship (1934) for Philips, glass models!
Philips Calvacade (1934-9?) for Philips Radio
Sleeping Beauty (1935) for Philips
The Little Broadcast (1935?)
The Magic Atlas (1935) for Philips
World's Greatest Show (1935) for Philips
In Lamp Light Land (1935) for Philips
Sinbad (1935-6)
Ether Symphony (1936)
Aladdin and the Wonderful Lamp (1936)
Ali Baba (1936)
On Parade! (1936) for Horlick's
What Ho, She Bumps (1937) for Horlick's
The Reddingbrigade (1937)
The Big Broadcast of '38 (1937) for Philips
Southseas Sweethearts (1938) for Horlick's
Hoola Boola (1938?)
The Ballet of Red Radio Valves (1938) Philips
Sky Pirates (1938)
Love on the Range (1939)
Dipsy Gypsy (1940)
Captain Kidding (194?)
Date with Duke (1940-7?)
Gooseberry Pie (1940-9?)
Friend in Need (1940) 2-D animation
Rhythm in the Ranks (1941)
Western Daze (1941)
Tulips Shall Grow (1942)
The Sky Princess (1942)
Jasper and the Haunted House (1942)
Jasper and the Watermelons (1942)
Bravo, Mr. Strauss (1943)
Goodnight Rusty (1943)
500 Hats of Bartholemew Cubbins (1943) Dr. Seuss story!
Jasper and the Choo Choo (1943)
Jasper Goes Fishing (1943)
Jasper's Music Lesson (1943)
Jasper in a Jam (194?)
And to Think that I Saw it on Mulberry Street (1944) Dr. Seuss story!
A Hatful of Dreams (1944)
Jasper Goes Hunting (1944)
Jasper's Paradise (1944)
Package for Jasper (1944)
Two-Gun Rusty (1944)
Little Black Sambo (1944?)
Wilber the Lion (1944)
Jasper and the Beanstalk (1945)
Jasper's Booby Trap (1945)
Jasper's Close Shave (1945)
Jasper's Minstrels (1945)
Jasper Tell (1945)
Jasper's Derby (1946)
Together in the Weather (?) Punchy and Judy
John Henry and the Inky Poo (1946)
Tubby the Tuba (1947) The last Puppetoon short.
Variety Girl (1947) Pal appears with Puppetoons in one sequence
Feature Films
The Great Rupert (1950) PRODUCER
Destination Moon (1950) PRODUCER
When Worlds Collide (1951) PRODUCER
Houdini (1953) PRODUCER
War of the Worlds (1953) PRODUCER
The Naked Jungle (1954) PRODUCER
Conquest of Space (1955) PRODUCER
tom thumb (1958) DIRECTOR, PRODUCER
The Time Machine (1960) DIRECTOR, PRODUCER
Atlantis, The Lost Continent (1961) DIRECTOR, PRODUCER
The Wonderful World of the Brothers Grimm (1962) DIRECTOR (FAIRY TALE SEQUENCES), PRODUCER
7 Faces of Dr. Lao (1964) DIRECTOR, PRODUCER
The Power (1968) PRODUCER
Doc Savage: The Man of Bronze (1975) PRODUCER
Honors
Annie Award: Winsor McCay Award 1978
Academy Award for special effects: Destination Moon (1950), War of the Worlds (1953)
Academy Award for Make-up: 7 Faces of Dr. Lao (1964) ,
nominated for Effects: 7 Faces of Dr. Lao (1964)
Related Links
George Pal Page at Animated Heaven and Hell
Bibliographic References
Mechanix Illustrated November, 1944 Oden and Olivia Meeker
BIO-AAA-506
Contributors To This Listing
Brian Olson
To make additions or corrections to this listing, please click on COMMENTS below…












by