Today, we continue our series of posts on the great cartoonists who worked for Playboy magazine over the years. Today, we feature artists from the late 1950s. Starting with…
JACK COLE
More than any other artist who worked at Playboy, Jack Cole was most responsible for establishing the tone and style of the single panel full page cartoons that appeared in its pages His watercolor technique was loose and free, but the overall impression was brilliantly planned out and remarkably expressive.

Born in 1914 in New Castle Pennsylvania, Cole was a self-taught artist. At age 17, he bicycled across the country to Los Angeles and sold the story of his odyssey, along with his own illustrations, to Boy's Life. After graduating from High School, he moved to New York and took up work in the comic book business. He moved up through the ranks at Harry A. Chesler, Centaur Publications and Lev Gleeson on a variety of crime and action comics. In 1940, he assisted WIll Eisner on The Spirit, ghosting the strip when Eisner was drafted during the War. He is best known though, as the creator of the Marvel superhero, Plastic Man.
In 1954, Cole began selling one panel "girlie" cartoons to various magazines, and his work caught the attention of the editors of the fledgling publication, Playboy. For the next few years, Cole's cartoons appeared in every issue, until his untimely suicide in 1958. Here are a few of Cole's beautiful watercolors from the late 1950s…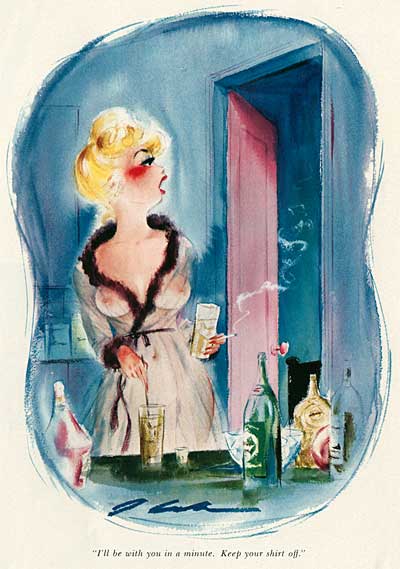 Here's a Valentine's Day feature by Cole…
JACK DAVIS
When you think of Jack Davis, you probably think of his work with Harvey Kurtzman at Mad magazine, his covers for TV Guide, his advertising work and movie posters, and perhaps the Little Annie Fanny comics he painted for Kurtzman at Playboy. But you don't normally think of him as a one-panel cartoonist. Here's a rare example…
CHARLES W. MILLER
I don't have any info on Charles W. Miller. His tighter style is closer to the illustrators who worked for Colliers in the late 1940s than it is the washy, stylized work of Dedini, Sokol or Cole. But he was obviously a very accomplished artist- check out the sophisticated lighting in the second example for proof of that. If you know details of his biography, please post to the comments below.
AL STINE
Al Stine is still living, painting and teaching in South Carolina. In fact, he recently started doing editorial cartoons for the Anderson South Carolina Independent Mail. His masterful transparent watercolor technique really sets him apart. If you enjoy his work, drop him an email through his website- AlStine.com. It would be nice if someone out there would interview him and collect the info for our Biography Page.

If you're a fan of Playboy artists like Cole, Dedini, Wilson and Sokol, you will want to get this great collection of cartoons, Playboy: 50 Years- The Cartoons. Check it out!
Stephen Worth
Director
Animation Resources

This posting is part of the online Encyclopedia of Cartooning under the subject heading, Magazine Cartoons.













by