---
REFPACK 039

April-May 2021
---
MEMBERS LOGIN To Download E-Book
JOIN TODAY To Access Members Only Content
Every other month, members of Animation Resources are given access to an exclusive Members Only Reference Pack. These downloadable files are high resolution e-books on a variety of educational subjects and rare cartoons from the collection of Animation Resources in DVD quality. Our current Reference Pack has just been released. If you are a member, click through the link to access the MEMBERS ONLY DOWNLOAD PAGE. If you aren't a member yet, please JOIN ANIMATION RESOURCES. It's well worth it.
James Gillray the Caricaturist



His Life and Works
James Gillray (1756–1815) was an English caricaturist and printmaker famous for his political and social satires, mainly published between 1792 and 1810. Best known for his works satirizing King George III, prime ministers and generals, Gillray's wit and humour, knowledge of life, fertility of resource, keen sense of the ludicrous, and beauty of execution, at once gave him the first place among caricaturists.
The name of Gillray's publisher and print seller, Miss Hannah Humphrey is inextricably associated with that of the caricaturist himself. Gillray lived with Miss (often called Mrs) Humphrey during the entire period of his fame. It is believed that he several times thought of marrying her, and that on one occasion the pair were on their way to the church, when Gillray said, "This is a foolish affair, methinks, Miss Humphrey. We live very comfortably together. We had better let well alone." Gillray's plates were displayed in Humphrey's shop window, where eager crowds gathered to view them whenever a new one was published.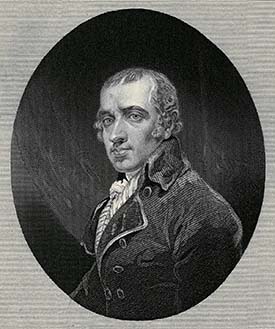 The times in which Gillray lived were peculiarly favorable to the growth of a great school of caricature. Party warfare was carried on with great vigour and not a little bitterness; and personalities were freely indulged in on both sides. Gillray is honorably distinguished in the history of caricature by the fact that his sketches are real works of art. The ideas embodied in some of them are sublime and poetically magnificent in their intensity of meaning, while the forthrightness— which some have called coarseness— represent the general freedom of treatment common in all intellectual departments in the 18th century.
Gillray's caricatures are generally divided into two classes, the political series and the social, though it is important not to attribute to the term "series" any concept of continuity or completeness. The political caricatures comprise an important and invaluable component of the history extant of the latter part of the reign of George III. They were circulated not only in Britain but also throughout Europe, and exerted a powerful influence both in Britain and abroad. In fact, his work exerted such a force that the Prince of Wales paid Gillray a large sum of money to prevent him from caricaturing him unflatteringly.
Gillray is still revered as one of the most influential political caricaturists of all time among the leading cartoonists on the political stage today. The 20th-century cartoonist David Low described Hogarth as the grandfather and Gillray the father of the political cartoon.
In 1851 Henry George Bohn put out an edition from the original plates, with coarser sketches— commonly known as the "Suppressed Plates"— being published in a separate volume. The next edition, entitled The Works of James Gillray, the Caricaturist: with the Story of his Life and Times (Chatto & Windus, 1874), was the work of Thomas Wright, and introduced Gillray to larger public. This is the edition that we are presenting to members of Animation Resources in the form of two e-books, one containing the text outlining Gillray's life and career, and the other containing the full page plates. Both e-books are set up ready to be printed double sided on two sided 8 1/2″ by 11″ punched paper, and is optimized for viewing on iPads with retina screens. This e-book will only be available to Animation Resources members for two months, July and August of 2016, after which it will be removed from the download area of the website.
BONUS: James Gillray: His Life and Times

Adobe PDF File / 331 Pages / 1.85 GB Download
BONUS: James Gillray: Catalog of Works



Adobe PDF File / 92 Pages ' 447 MB Download


---
MEMBERS LOGIN To Download E-Book
JOIN TODAY To Access Members Only Content
---
---
MEMBERS LOGIN To Download E-Book
JOIN TODAY To Access Members Only Content
---
Not A Member Yet? Want A Free Sample?
Check out this SAMPLE REFERENCE PACK! It will give you a taste of what Animation Resources members get to download every other month!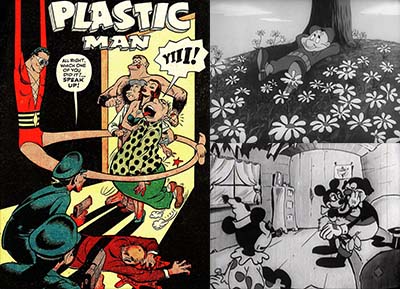 by