REFPACK 036

Members Only Download
Every other month, members of Animation Resources are given access to an exclusive Members Only Reference Pack. These downloadable files are high resolution e-books on a variety of educational subjects and rare cartoons from the collection of Animation Resources in DVD quality. Our current Reference Pack has just been released. If you are a member, click through the link to access the MEMBERS ONLY DOWNLOAD PAGE. If you aren't a member yet, please JOIN ANIMATION RESOURCES. It's well worth it.
---
MEMBERS LOGIN To Download Video
JOIN TODAY To Access Members Only Content
---
Brotherhood of Man



UPA / Bobe Cannon / 1945
Recent current events have inspired many cartoonists and animators who haven't engaged in political cartooning before to start applying their talents to help change the world for the better. Obviously, that is a huge undertaking… much more difficult than just putting across simple characters and situations. How do you go about tackling an issue of monumental importance with small budget animation? The cartoon we are sharing today proves that perhaps the best way to approach complex issues is with simple animation.
In 1943, Zack Schwartz, David Hilberman and Stephen Bosustow formed a company called Industrial Film and Poster Service (later known as United Productions of America). Their first client was the United Auto Workers, and they were contracted to create industrial films to be shown to UAW members. The first film they produced was Hell-Bent For Election, which was directed by Chuck Jones in 1944. The film promoted the re-election of Franklin Roosevelt, and it was very successful. The following year, work began on Brotherhood of Man, directed by Bobe Cannon.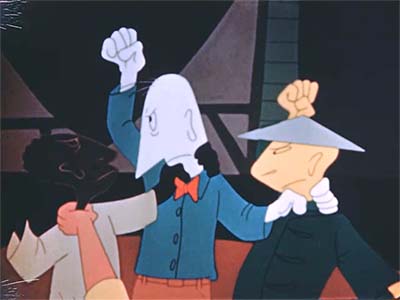 Brotherhood Of Man was designed to promote racial tolerance and co-operation. The arguments used in the film derive from a pamphlet distributed in the mid 1940s by a New York organization called Public Affairs Committee. During World War II, the military had established integrated units for the first time, and Black, Asian and Native American soldiers had distinguished themselves in service to the country. Segregation was beginning to crumble, so an effort was made to begin taking the first steps towards equality on the home front. This was a subject that had never been addressed in an animated film before.
This film was revolutionary from a graphic standpoint as well. It employed a totally new design aesthetic. Simple, stylized characters and backgrounds based on line and solid shapes of bold color were employed, rather than rendered volumetric forms with realistic perspective. This style of artwork had become popular in magazine cartooning- Virgil Partch, Henry Syverson and Sam Cobean had all worked at Disney before the strike, and had built careers by pioneering a clear, simplified style at Colliers, The Saturday Evening Post and The New Yorker. But stylistically, most animated films in the mid-1940s were still following Disney's lead.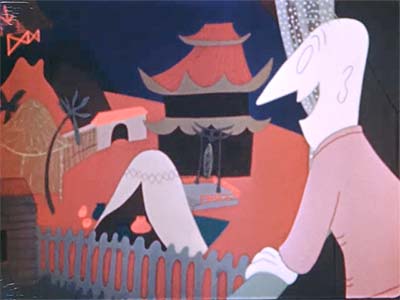 Bobe Cannon had animated on Chuck Jones's The Dover Boys which experimented with stylized designs and graphic simplicity, as well as Hell-Bent For Election. He wanted to try taking it even further with Brotherhood Of Man. Along with a story team that included John Hubley, Ring Lardner Jr. and Phil Eastman, and animators Ken Harris and Ben Washam, Cannon established the house style for UPA that would dominate for the rest of its existence.
One of the core precepts of political cartooning is boiling an issue down to a clear, simple image. When a person sees a strong, direct statement visually, it defuses counter arguments, and makes the viewer understand the point immediately. Trying to convince people with words isn't like that… you have points and counter-points, rhetorical arguments and digressions that cloud the issue. A simple image is much harder to refute than words. Cannon's simple designs boil these difficult concepts down into a basic, universal symbol of humanity. The drawing style alone succeeds in putting across the point of the film before the characters even speak.
We hope this film gives you ideas of how to put your own cartooning skills to use to enrich and educate. Many thanks to Animation Resources' Advisory Board member, Steve Stanchfield of Thunderbean Animation for sharing this important film with us.
REFPACK036: Brotherhood of Man (1946)

MP4 Video File / SD / 10:36 / 125 MB Download
---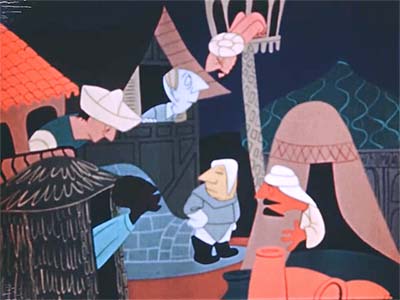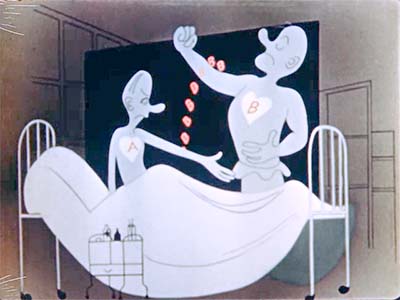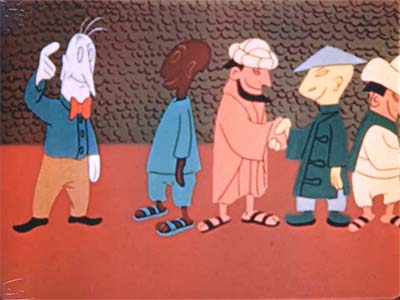 ---
MEMBERS LOGIN To Download Video
JOIN TODAY To Access Members Only Content
---
Not A Member Yet? Want A Free Sample?
Check out this SAMPLE REFERENCE PACK! It will give you a taste of what Animation Resources members get to download every other month!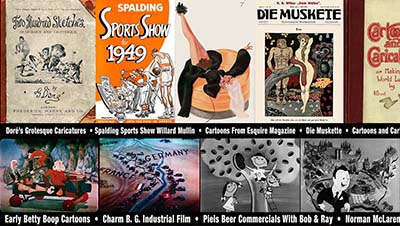 by