Animation Resources supporter, Kent Butterworth dropped by with a wonderful children's book by the great illustrator Feodor Rojankovsky. Titled, Frog Went A-Courtin', this book won the Caldicot Prize in 1955 for Best Children's Picture Book of the year.
Rojankovsky was born in Russia in 1891, and served in the Russian army in the first World War. He spent some time in France, then emigrated to the United States when war broke out again in 1940. He was a prolific illustrator, creating over 100 picture books for Western Publishing's Golden Books line and for other publishers as well. When asked how be began his interest in art, he replied…
Two great events determined the course of my childhood. l was taken to the zoo and saw the most marvelous creatures on earth: bears, tigers, monkeys and reindeer, and, while my admiration was running high, l was given a set of color crayons. Naturally, I began immediately to depict the animals which captured my imagination. Also when my eider brothers, who were in schools in the capital, came home for vacation, I tried to copy their drawings and to imitate their paintings.
Later when l went to school in Reval Tallinn, an ancient town on the shores of the Baltic sea, my love for art was enhanced and strengthened by a passion for nature. Tallinn was surrounded by forest. The sea presented wonderful opportunities for excursions and study of sea life. But there were also steamers, sailboats, flags, and all the excitement of a port. This was no less exciting than playing Red Indians or reading James Fenimore Cooper, the beloved author of all Russian children before, during, and after the Revolution.


SELECTED ILLUSTRATIONS FROM
FROG WENT A-COURTIN'
>Make sure to click on these to see them large. Rojankovsky was a master of texture, and the smaller size images don't show that as well.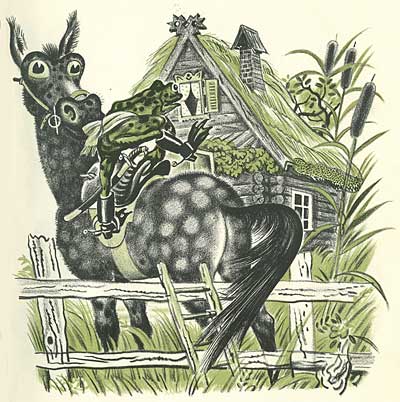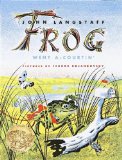 If you like this book, you're in luck… it's still in print. You can find it at Amazon.
Stephen Worth
Director
Animation Resources

This posting is part of a series of articles comprising an online exhibit spotlighting Illustration.













by