Today, in David Apatoff's great blog Illustration Art I read the amazing life story of pioneer newspaper cartoonist Jimmy Swinnerton. David's article is titled, Jimmy Swinnerton At The Dawn of Comic Strips, and it's well worth reading.
David's vivid history lesson inspired me to dig into our collection and post some more examples of Swinnerton's pioneering genius. These images were donated by Jonathan Barli of Digital Funnies. Jonathan contributed thousands of high resolution scans of rare newspaper comics two years ago, and we are just now finishing up processing the images for inclusion in our database.
As I always say when I post newspaper comics… if you're one of those folks who don't click on the images because you don't think it's worth the time it takes to read… YOU DON'T KNOW WHAT YOU'RE MISSING!
Here are some magazine illustrations by Swinnerton from the late 20s…
Many thanks to Jonathan Barli and David Apatoff for their great work!
Stephen Worth
Director
Animation Resources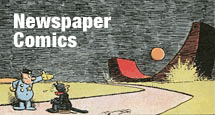 This posting is part of the online Encyclopedia of Cartooning under the subject heading, Newspaper Comics.













by

Comments