FONTANELLI ON KELLY

One of the great heavy-hitters in the entire history of cartooning, Walter Crawford Kelly, Jr. was born in Philadelphia on August 25, 1913, although his family relocated to Bridgeport, Connecticut during his second year.
Migrating to California to work on Donald Duck cartoons at Walt Disney Studios in 1935, he stayed until the strike in 1941, long enough to animate on Snow White, Fantasia, Dumbo and The Reluctant Dragon. As good as Kelly's animation was, (had he stayed on, we'd all doubtless be reading about Disney's TEN "Old Men") his greatest achievements still lay ahead.
After leaving Disney, Kelly worked for Dell Comics. Here is a story he did for a 1946 Raggedy Ann & Andy comic book (the cover is from a 1948 issue)…
During his stints at Dell and the New York Star, Kelly introduced his most memorable creation to the world- in the unassuming form of a philosophical, swamp-dwelling possum named Pogo. The true heir of Herriman's Krazy Kat and Uncle Remus, Pogo was an American comic strip masterpiece. A flawless blend of slapstick, parody, allegory, political commentary, intellectual whimsy, social satire and Irish poetry- Pogo can be read on several levels at once, and it set a new standard of excellence in newspaper humor strips that has never been equaled.
Kelly has been compared to everyone from James Joyce to Lewis Carroll to T.S. Sullivant. He was named "Cartoonist of the Year" in 1952, and was elected president of the National Cartoonists Society two years later. He was the first strip cartoonist to be invited to contribute originals to the Library of Congress, and published some three dozen books during his lifetime- classics, all.
It's impossible for Gen X-ers weaned on modern tripe like Dilbert and Drabble to imagine the incredible graphic brilliance within the panels of Pogo. I remember literally getting lost in a Kelly Sunday page as a child, staring at the inspirational artwork for hours on end.
More than any other influence, I owe my choice of profession to the master, Walt Kelly. Here's some cool stuff from my collection. Enjoy!
Mike Fontanelli
Los Angeles, 2007
MIKE'S ORIGINAL KELLY SUNDAY PAGES
Make sure you click on these… They're amazing!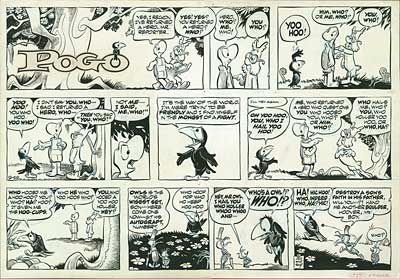 ARCHIVAL POGO
Thanks, Mike for allowing us to digitize your original Pogo Sunday pages. For those of you out there who still don't understand how our archive works, what you see here on this blog is just a small representation of what our archive contains. For instance, we scanned Mike's Pogo inks at 1200 dots per inch- much larger than you see here on the blog. Each one of the Sunday pages comes out at a filesize of 1.7 gigs. For a sample of how detailed our scans are, click on the image below and compare it to the last panel of the last Sunday page…
You can see the grain in the paper! We scan every image in our collection at this resolution.


Fantagraphics has just embarked on publishing a complete set of Kelly's "Pogo" dailies and Sunday pages. The first volume is out now and every cartoonist should have a copy in their library. Check it out!
Stephen Worth
Director
Animation Resources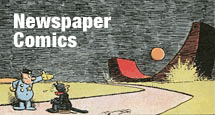 This posting is part of the online Encyclopedia of Cartooning under the subject heading, Newspaper Comics.













by

Comments