Not a creature was stirring… except Mickey Mouse!
The weather is turning snappy, and the holiday cards are beginning to arrive, so Christmas must be close on the horizon. It's time again to share this batch of wonderful Christmas cards from the Disney studio collected by Disney animator, Claire Weeks from 1938 through the mid-1950s. The designs on these cards are so much fun, it makes you wish the films themselves looked this cartoony.

1938
1948
1949
1950
1951
1952
1953
1954
1955
1956
All of us at Animation Resources wish you and your families the best this holiday season.
Stephen Worth
Director
Animation Resources
This posting is part of a series of articles comprising an online exhibit spotlighting Illustration.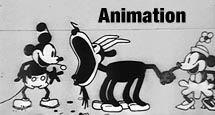 This posting is part of the online Encyclopedia of Cartooning under the subject heading, Animation.













by

Comments