---
REFPACK 014

January-February 2017
---
MEMBERS LOGIN To Download Video
JOIN TODAY To Access Members Only Content
Every other month, members of Animation Resources are given access to an exclusive Members Only Reference Pack. These downloadable files are high resolution e-books on a variety of educational subjects and rare cartoons from the collection of Animation Resources in DVD quality. Our current Reference Pack has just been released. If you are a member, click through the link to access the MEMBERS ONLY DOWNLOAD PAGE. If you aren't a member yet, please JOIN ANIMATION RESOURCES. It's well worth it.
DVD QUALITY VIDEO: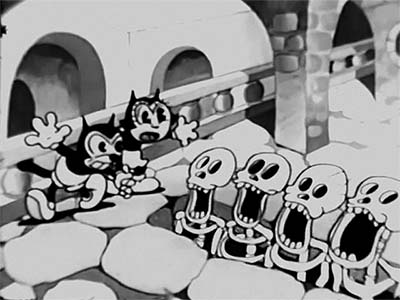 Three Van Beuren Shorts



"Cubby's Stratosphere Flight" (1934) "Jolly Good Felons" (1934) "Wild Goose Chase" (1932)
Of all of the golden age cartoon studios, Van Beuren is the closest in tone to current cartoons. The humor is quite random with plenty of surreal touches, and the drawing is basic but appealing. They truly represent the time and place they were made- New York City in the mid 1930s. In this Reference Pack, our Advisory Board member, Steve Stanchfield has selected three typical examples featuring three different sets of characters… Cubby Bear, The Little King and a pair of Mickey and Minnie clones.
Cubby Bear's Stratosphere Flight (1934): The title of this Cubby Bear cartoon refers to the 1933 World's Fair balloon flight by Jean Piccard. But the majority of the film deals with a polar night club inhabited by seals, penguins and walruses. A polar bear cop raids the joint and everyone scrambles.
Jolly Good Felons (1934): This short is probably the best of the series based on Otto Soglow's Little King comics. It features some amazing early animation by Jim Tyer and astoundingly politically incorrect gags. Incongruously, the design of the prison riot at the end perfectly merges Soglow's gentle style with the ruff and tumble Van Beuren animation style.
The Wild Goose Chase (1932): This Aesop's Fables cartoon stars the boy and girl cat featured in "Silvery Moon" (aka "Candy Town") another early Van Beuren cartoon. The plot of the cartoon defies description, so I won't even try! But be assured it includes tons of surreal eye candy… Frogs playing banjos, tree stumps coming to life, singing skeletons… all to the tune of "Let A Smile Be Your Umbrella", which you probably know from "Roger Rabbit".
Many thanks to Animation Resources Advisory Board Member, Steve Stanchfield for sharing these three rare films with us.
REFPACK014: Three Van Beuren Shorts



MP4 Video File / 21:47 / 398 MB Download

---
MEMBERS LOGIN To Download Video
JOIN TODAY To Access Members Only Content
---
---
MEMBERS LOGIN To Download Video
JOIN TODAY To Access Members Only Content
---
Not A Member Yet? Want A Free Sample?
Check out this SAMPLE REFERENCE PACK! It will give you a taste of what Animation Resources members get to download every other month!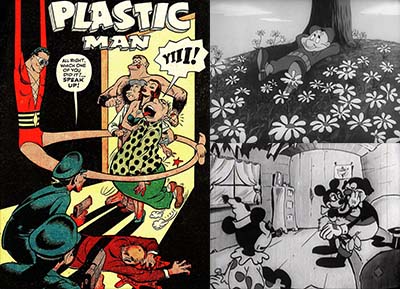 by

Comments