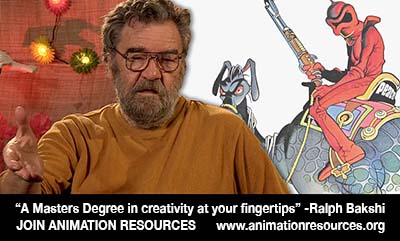 For those of you who are on the fence about joining Animation Resources, over the next three days, I am going to post a sample of our Members Only bi-monthly Reference Packs. Every other month, members are given the opportunity to download two DVD quality cartoons, and a high resolution PDF e-book curated by the Board of Animation Resources. The Reference Packs are available for a limited time, and once they expire off the site, they may never be available again.
Click to BECOME A MEMBER



OF ANIMATION RESOURCES!
Today's animated cartoon was provided by our Advisory Board member, Steve Stanchfield. Thanks, Steve!
---
DVD QUALITY VIDEO:


Aesop's Fables: Circus Capers



Van Beuren Studios (1930)

Disney admitted that in the 1920s, his goal was to produce cartoons as good as the Aesops Fables series. However after the Fables introduced a boy and girl mouse that bore a strong resemblance to Mickey and Minnie, Disney filed suit and had the cartoons pulled from theaters. This cartoon is one of the most blatant Mickey ripoffs, and one of the funniest.
REFPACK001: CIRCUS CAPERS



M4V Video File / 9:13
230.5 MB Download
To download the file, RIGHT CLICK on the link (Mac users OPTION CLICK) and select SAVE TO DISK. We are delivering high resolution files to you. When you click, it might take several minutes to finish the download, so please be patient.
This DVD quality MP4 file is provided courtesy of Thunderbean Animation and is included on Uncensored Animation from Van Beuren.
---

Click to JOIN TODAY!
---












by

Comments