---
REFPACK 012

September-October 2016
---
MEMBERS LOGIN To Download Video
JOIN TODAY To Access Members Only Content
Every other month, members of Animation Resources are given access to an exclusive Members Only Reference Pack. These downloadable files are high resolution e-books on a variety of educational subjects and rare cartoons from the collection of Animation Resources in DVD quality. Our current Reference Pack has just been released. If you are a member, click through the link to access the MEMBERS ONLY DOWNLOAD PAGE. If you aren't a member yet, please JOIN ANIMATION RESOURCES. It's well worth it.
Three Columbia Color Rhapsodies Shorts



"The Kangaroo Kid" (1938) / "Midnight Frolics (1938) / "Pickled Puss (1948)
The Columbia Studios animated cartoons are rarely shown today, and their reputation has been disparaged by numerous animation historians, but that doesn't mean they have little to offer. The premises and character designs from these films are derivative of the work of other studios. "Kangaroo Kid" might easily be mistaken for an early color Merrie Melodies cartoon, "Midnight Frolics" clearly draws upon Disney's "Lonesome Ghosts" for its characters, and "Pickled Puss" apes MGM's Tom & Jerry all the way down to the details of Irv Spence's animation and posing style. But even if the ideas in these cartoons aren't original, there's some excellent animation and background work. An interesting side note is that the direction of "Midnight Frolics" is credited to Ub Iwerks, even if very little of it reflects his personal style. Many thanks to Animation Resources Advisory Board Member, Steve Stanchfield for sharing these three rare films with us.
REFPACK011: Three Columbia Color Rhapsodies Shorts



MP4 Video File / 20:11 / 484 MB Download

---
MEMBERS LOGIN To Download Video
JOIN TODAY To Access Members Only Content
---
---
MEMBERS LOGIN To Download Video
JOIN TODAY To Access Members Only Content
---
Not A Member Yet? Want A Free Sample?
Check out this SAMPLE REFERENCE PACK! It will give you a taste of what Animation Resources members get to download every other month!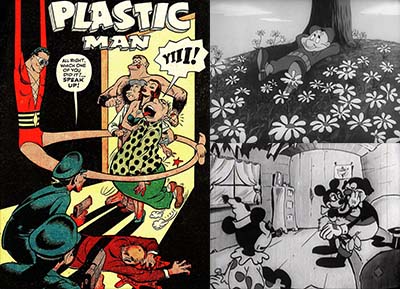 by

Comments